1. 'Mata':
Mata, a black comedy movie, released in 2006, starring Jaggesh, Vaijanath Biradar Born in a village in the district of Bidar, Karnat >> Read More... , Mandya Ramesh Ramesh is an actor and director, goes by the name >> Read More... and others is about a driver who is driving to a monastery in Thirthahalli, Shimoga. He keeps the passengers entertained by telling them about different stories. The film with its funny dialogues and scenes shows us how we can be enlightened if only we give up our lustful desires, worldly pleasures, arrogance, etc. The film got positive reviews and was accepted by both fans and critics. The movie through its comedy gives a strong message to the audience. Each one of us is fighting for recognition in the society. This movie talks a lot about people like us. Hence, it is a must watch.
...
2. Kulla Agent 000:
Kulla in Kannada means short. This movie which released in 1972 is a comedy- detective movie. It is about a man who wants to pursue his career as a detective. He is rejected due to his short height. One day, a female detective gives him the chance to be her secret co-detective. Their first mission together was to catch a group of smugglers. B.S. Dwarakish and Jyothilakshmi play the lead roles. The film got a lot of praises for its story and music.
...
3. Guru Shishyaru:
As the name suggests, this Comedy Musical is the story of a teacher and his seven disciples. The film is a remake version of a Telugu movie. It was released in 1981. Vishnuvardhan and Manjula played the lead roles. It is a fiction story wherein the Guru and his disciples are cursed by an angel Chitralekha. Hence, because of the curse, they would act moronic till the angel enters into wedlock. One of the famous comedy songs which most of us would know "Doddavarella Janaralla" is from this film. Watch the movie to find out if their curse gets cured.
...
4. Bhagyada Lakshmi Baramma:
This movie will make you laugh so badly that your face will turn pink. I could definitely say it was one of the most hilarious Kannada movies of that period. Rajkumar, Madhavi and K.S.Ashwath play the lead roles. The film did extremely well and was one of the biggest hits of 1986. Lakshmi is known as the goddess of wealth and yes the movie is all about the greed for money. There is a competition hosted in the town offering huge prize money as reward. But the competition is only meant for adults. Hence, the lead pair Pandu and Parvathi pretends to be a married couple and participate in the competition.
...
5. Eddelu Manjunatha:
...
This comedy drama which released in 2009 has Jaggesh and as the lead pair. The film has won many awards as well as the state award for best screenplay. This film, with its funny and witty dialogues takes us through the dark sides of the society. This movie is about a very lazy man who doesn't want to work to earn a living. So he gets married to a very hardworking woman who works in a garment factory. She is not happy with Manjunatha's lazy character. Hence she tries different ways to change his lazy attitude. This movie might relate to many women in our state, with lazy husbands.
...
6. Nodi Swamy Navirodu Hige:
The movie released in 1983 starring Shankar Nag Shankar Nag, most influential and talented Kannada >> Read More... , Arundathi Nag Arundathi Nag is an Indian actress and theater per >> Read More... and Ramesh Bhat Ramesh Bhat is the most familiar face in Kannada t >> Read More... . The title song "Bhagyada Laxmi Baramma" was a big hit. The movie is about a couple and their bachelor friend Mysore Math. Mysore was the one who helped the two lovers get married even though there was a lot of opposition. After a few days, the couple started fighting and a lot of issues arose between them that they plan to separate. The movie shows how Mysore Math stays in their house and tries to bring them back together.
...
7. Ulta Palta:
This comedy movie based on Shakespeare's "The Comedy Of Errors" was released in 1997. Ramesh Aravind Ramesh Aravind [born 1964] is an Indian writer, ac >> Read More... , Kashi and Sushma Veer Sushma Veer is Indian classical dancer, theater ar >> Read More... play the lead roles. The movie won State awards for Best Dialogue and Best Acting. The movie is about two pairs of identical twins. They are not aware that their twin is alive as they got lost during childhood. Two of the twins are big industrialists, while the other two who got lost come to the same town in search of a job. The people in the town mistake the two for the industrialists.
8. Lifeu Ishtene:
This dark comedy drama which released in 2011 is the story of a guy named Vishal who has no aim in life and is a big flirt. He falls in love with a girl named Nandhini. Though she too loves him, she is forced to marry someone else, as Vishal chooses his Music career over her. He later falls in love with a Journalist named Rashmi, but, they part ways. It is a must watch for every boy or girl who is in their twenties. The film got a lot of praises as the women weren't made to wear a lot of make-up and stuff like that. The women carried their natural self. The story is fresh. The movie won many awards and was positively accepted by the public and critics.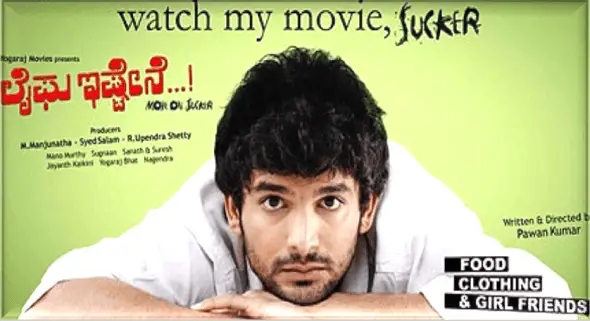 9. Ganeshanan Madhuve:
This romantic comedy- drama film, released in 1990, stars Anant Nag Anant Nagarakatte was born in the year 1948 on 4th >> Read More... , Vinaya Prasad Vinaya Prasad (or Vinaya Prakash) is a popular sen >> Read More... , Mukhyamantri Chandru and Ramesh Bhat. It is one of the greatest Kannada comedy films and a big blockbuster in its period. The movie is about Ganesha who falls in love with Shruthi, whose song he hears on the radio. He writes her letters and she too falls in love with him. He fakes his name in the letters. Both of them do not realise that they are neighbours. Shruthi's father is totally against love marriages. Watch the movie to see what happens in the end.
10. ' Googly Click to look into! >> Read More... ':
Love and ego do not go together. That is what this romance-comedy movie which released in 2013 conveys. The lead roles are played by Yash and Kriti Kharbanda Model-turned- actor Kriti Kharbanda is a popular >> Read More... . The film won South Indian International Awards for Best Director, Best Cinematographer, etc. The story is about a Commerce student, Sharath, and a Medical student, Swathi, who fall in love, but, they do not want to confess it due to their ego. Due to a lot of misunderstandings between them, Swathi leaves the town. After two years they meet again at a friend's wedding. Will they confess their love for each other? Watch the movie to find out.