Many actors have created a fan base by giving their best work in various films. However, many actors simply take a break from acting and pursue another career. They simply stepped away from the spotlight without providing any information. So, here are the Top 10 Celebrities who have suddenly disappeared from the film industry.
10. Preeti Zinta
Preeti Zinta ruled her era with blockbuster hits like Dil Chahta Hai Click to look into! >> Read More... , Kal Ho Na Ho, Salaam Namaste Click to look into! >> Read More... , and Jhoom Baraabar Jhoom. In 2016, she married Gene Goodenough. Since then, the actress has appeared in only a few films. She rose to prominence as a member of the IPL's Kings XI Punjab team. Her most recent film was a flop called 'Bhaiji Superhit.' The actress has disappointed her fans by stating, ""I quit when every top producer wanted to cast me, to become an entrepreneur." Why should an actress stay an actress her entire life when she is capable of so much more? I'd stabbed the hero if another NRI love story came my way."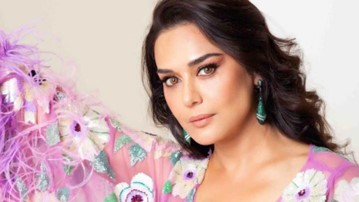 Fardeen Khan is a rare find. He was one of the actors who vanished after appearing in hit films alongside well-known actors. Khan is best known for his films All The Best All the Best is a vintage-era Tv program in Hindi >> Read More... , starring Ajay Dev Click to look into! >> Read More... gn and Sanjay Dutt July 29, 1959, was the day when the two legends of >> Read More... , and Heyy Babyy Click to look into! >> Read More... , starring Akshay Kumar Akshay Kumar was born on 9th September 1967 and hi >> Read More... and Ritesh Deshmukh. His last film, ' Dulha Mil Gaya Click to look into! >> Read More... ,' was released in 2010. "I had different priorities," Khan explained about his long sabbatical. "In the interim, I got into the real estate business, which worked out well for me. My family was my top priority at the time. I loved being a parent. We had difficulties having children, so we decided to leave the country. We attempted to complete our family in London, and it went well."However, he has been news for his upcoming film 'Visfot'.
8. Amisha Patel
With Kaho Naa Pyaar Hai, in which she starred opposite Hrithik Roshan Hrithik Roshan with his unimaginable dance moves i >> Read More... , she was a rising star. Later, she appeared in Gadar alongside Sunny Deol Sunny Deol is a film actor, director and producer. >> Read More... and Thoda Pyaar Thoda Magic alongside Saif Ali Khan Saif Ali Khan is a film celebrity born to actress  >> Read More... . The actress appeared in Race 2 alongside Anil Kapoor Anil Kapoor was born on 24th December 1956 in Mumb >> Read More... . She is, however, making a comeback with films such as Gadar 2 and Desi Magic Click to look into! >> Read More... . "We have a fantastic film called 'Desi Magic' coming out early next year. For the first time, it features me in a dual role. It is the most difficult role I have ever had in my career. I play a prostitute in the David Dhawan film. "I'm really looking forward to seeing all three films," "She stated.
...
The actress rose to prominence after appearing in the film 'Welcome,' alongside Katrina Kaif Latest Videos of Katrina Kaif >> Read More... and Akshay Kumar. She plays the love interest of Anil Kapoor and Nana Patekar Nana Patekar is a popular Indian actor who was bor >> Read More... in the film. Later, she played Sanjay Dutt's wife in the film Double Dhamaal Click to look into! >> Read More... . The actress has appeared in numerous item numbers. "I lost 20-30 movies because I refused to give in to things I didn't believe in," she explained. What I do as a character on the screen is not who I am in real life. I had to make the line very clear from the start, which cost me those films. But I'm glad I was able to get work on my terms and a string of great opportunities."
...
6. Aftab Dasani
After the year 2000, Aftab Shivdasani Aftab Shivdasani is an actor and producer of Indi >> Read More... used to make a lot of films. However, after Kya Kool Hai Hum 3, he disappeared from the film industry. He recently completed a film called Setters, which gone unnoticed. "I was not happy with the offers that I was getting at the time," the actor previously stated. So I decided to disappear for a while and wait for the right kind of role. Instead, I was given the opportunity to come in and work on myself. After a two-year wait, I received a 1920's offer, which I accepted. In fact, I'm really looking forward to seeing the film. Then there was Grand Masti Click to look into! >> Read More... , which I am currently filming." The actor has been famous for his movie ' Hungama Click to look into! >> Read More... ' and '1920 Evil Returns'.
...
5. Ashish Chaudhary
Ashish Chaudhary was last seen in Double Dhamaal in 2011 as 'Boman,' alongside Sanjay Dutt and Arshad Warsi Arshad Warsi is most popular for his role as Circu >> Read More... . However, he later appeared in the popular television series 'Dev,' in which he played a detective. As the actor once stated- "In 2001, I began my career with a popular daily soap called Hum Pardesi Ho Gaye, and by the time I started another TV show called Saara Akaash, I had been chosen for my first film. As a result, I had to leave the television industry to pursue a career in film. TV actors could not work in films back then; you were either meant to be on the big screen or on TV; there was no other option. But I regret foregoing television for movies."
...
4. SushmitaSen
Miss Universe Sushmita Sen gave an outstanding performance as Shahrukh Khan's love interest in Main Hoon Na Click to look into! >> Read More... and as Salam Khan's sweetheart in Biwi No. 1. Her most recent film was No Problem Click to look into! >> Read More... , in which she played Kajal opposite Anil Kapoor. In 2020, she will star in the TV series 'Aaryan.' "You know, I'd love to say I'm working on something, but that's not true at all," she said during her sabbatical. I'm actually just pausing because I believe I need to. "It's been a long time, and I kind of look back at all the work I've done, all the flops I've delivered, and I have to reassess a little bit," she says.
...
Amrita Rao, the actress from the movie " Vivah Click to look into! >> Read More... ," offered her films during the 2000s, but she quietly left the movie business. Thackeray, starring Nawazuddin Siddique, was the last movie in which she was spotted. The actress said about her being picky in movies- "Yes, I agree and that's because I am very picky about the roles that I choose, the actress responded when asked about being selective while choosing movies. I have boundaries for my comfort. Within that confinement, I want to explore and be as creative as I can. It's challenging for me to quantify, declare that anything is the limit, or even explain it properly, but just to be clear, I can't expose for fun. I need to feel confident performing it. I'll never say never, but I try to avoid kissing and other romantic situations."
...
During the time of 'I Hate Luv Stories,' 'Jaane Tu Ya Jaane Na,' Imran Khan won the hearts of his audience. In 2013, he gave her best performance with Kareena Kapoor in 'Gori Tere Pyaar Mein.' The actor also appeared in 'Mere Brother Ki Dulhan.' Regrettably, the actor has stepped away from the spotlight. However, Imran Khan's best friend, Akshay Oberoi Akshay oberoi is an Indian actor, who belongs to a >> Read More... , stated publicly, "Imran Khan has left acting at the moment." As far as I know, Imran is a better writer and director; I don't know when he will direct his own film; I'm not going to put any pressure on him, but as a friend, I believe he will direct his film soon." His most recent film was Katti Battii.
Harman Baweja, best known for his role in Priyanka Chopra's 'What's Your Rashee,' took a break from acting in 2009. "My previous films were unsuccessful, so I decided to take a break and consider what else could be done. Then we realised what we had done wrong. I needed time to focus on myself, to develop my talent, and to do something that would make me happy. I wanted to do something to which I could relate. Whatever I tried didn't work, but you have to try. You must re-invent yourself. People in this industry criticise not only your work but also you. So it becomes personal, and you must handle it correctly." It's My Life was his most recent film.