Love is the strongest force. Though not a fundamental force according to science, it surely has more power than any other force existent.Finding your soul mate and not just understanding them but also supporting them in presence of all the misunderstandings is what makes a couple grow and last. Determination and love can truly do wonders. This list is about those passionate and adorable twosomes that are an inspiration to each and every relationship today –
1) Bill Gates and Melinda Gates
Melinda was hardworking and focused from the very beginning of her student life she grew up to be one of the most intellectual and intelligent ladies and was offered a job in Microsoft as a software manager, with all her days of hard work and sweat she was promoted to be the general manager.She didn't only showing growth in her career but also in America's most famous drop outs heart .Bill always felt how should he make a woman as educated as her to date him, but less did he know that the woman headed ed over heel in love with him ,she found him extremely interesting and funny .Soon Bill gathered the guts to ask her out and finally the two went on their first date, Melinda couldn't have been happier .Life has its own tricks another month she discovered her mother was suffering from cancer and soon her mom died .In 1994 Melinda and Gates got married .Melinda made this money minded entrepreneur a soft hearted person and brought the issue of poverty and diseases which people face as the issues in limelight and Bill started taking initiative to cure diseases globally and control poverty .Melinda has focused on growing the foundation against these social evils she spends 30 hrs a week to promote this foundation .The couple is one of the richest and a most socially conscious couple today .They are with their support making world a better place.
...
2) Barack Obama and Michelle Obama
Love bloomed for the most romantic couple to have lead America when Michelle worked as a legal adviser to the Barack a summer associate from Harvard Law the initial meeting was not very pleasant but as they spent time and discovered each other they were able to feel the love in the air. Barack kept on asking Michelle out and she would turn the proposal down by saying she was just an adviser and had no other than professional relationship with him , finally Barack left the job and asked her out , this is when Michelle accepted the proposal and two went out on a date , on their first date they went to art institute of Chicago and had lunch there in the courtyard after lunch they went for drama 'do the right things' and had some ice cream the best Baskin and Robbins had to offer at the time. As the day ended the ice between the two had broken both were in love, and ready to build a life together. In 1993 the couple tied the knot and started a never ending journey together, Michelle and Barack being understanding and loving became the support and push off each other. Today the couple is the most powerful couple of all time, as promised Barack has created a really adventurous life for the lady of his life. The couple has two baby girls Natasha and Malia but Barack doesn't leave any chance of surprising his lady love and woes her time and again to spice up the relationship after two decades of their marriage.
...
3) Mukesh Ambani Mukesh Ambani is an Indian entrepreneur and an ind >> Read More... and Neeta Ambani
...
The story of this couple is unique; it is a love story which was arranged by Mukesh's father Dhirubai Ambani. Dhirubai Ambani a well-established businessman then, saw Nita for the first time when she was performing Bharatnatyam during Navratri then and there he had decided to make her his daughter in law he got Nita's no. from the organizers and called her up childlike and flashy Nita wasn't able to believe or even understand why such a big personality would make a call to her so she took it as a prank and replied "yes if you are Dhirubai Ambani I am Elizabeth Taylor" And hung up the phone as the call was made again her father told her to behave and talk properly, she was shocked to find that Dhirubai Ambani wanted to meet her in his office. When stoked Nita went to meet him Dhirubai asked her to meet his son Mukesh, so Nita went at his place to meet Mukesh and soon they became good friends. One day the couple was driving through Peddar road in Mukesh's fiat on a crowded jammed road Mukesh stopped the car and proposed Nita, he was not ready to drive through until the time she would accept his proposal, Nita accepted the proposal in a hustle and the couple soon after her graduation got married.Nita and Mukesh have been growing closer to each other and have two sons Akash and Anant. Together they run one of the biggest enterprise in the world and many NGO's and support groups for the needy, the couple has an ocean of love which resides between them which they not only share amongst themselves but also with others in form of any help possible.
4) Hillary Clinton and Bill Clinton
...
The couple met in the law school where they started dating each other, as they graduated bill took hill to a trip to England where on the shore on Ennerdale he proposed to her , Hillary rejected the proposal asking for some more time to settle in life as they went back home bill again took a chance and proposed but she again dumped it, as Hillary was her way home she laid her eyes on a house in Fayetteville, Arkansas, she desperately wanted to live in it .Bill bought the very same house for his lady love and proposed her again hoping of a yes and both started living in together in that house. Soon they got married in a very private ceremony organized in their own living room, the people attending the wedding numbered 15.After the wedding, they organized a large scale wedding reception in their backyard. It seemed that success sought the couple's way and the bill became the 42nd president of America and Hillary is now hoping to get in shoes of her husband with the elections lined up in America. They have a girl Chelsea and are blessed with a granddaughter Charlotte. They have spent a great life. The couple believes in not just seeing dreams but making them real , the philosophy has worked well for them till now what happens next is to be seen.
...
5) Prince Williams and Kate Middleton Kate Middleton was born in Berkshire, England on 9 >> Read More...
The duo first met in the St.andrew University in Scotland. When Kate first met Prince Williams she felt butterflies in her stomach she turned red blushing. It wasn't long that the two became really good friends For quite a long time the state of this growing relationship was in diapauses the two had a strong attraction but were not dating and were friends, they even shared an apartment along with some other friends in the university and got to know each other very well during that time. Finally when the two thought it was a time in 2002 the couple started dating. The relationship slowly grew deeper and deeper and the couple was so much in love that Prince Williams decided to introduce Kate to the royal family .Kate's warm and comforting attitude attracted not just William but also his family and as royal summons take time, the marriage took a great time to take place with all the grand arrangements and royal traditions and finally the couple got married on 29 April 2011. The Duke and Duchess of Cambridge are now blessed with a royal successor George and live a life filled with love fulfillment and contentment.
...
6) Mark Zuckerberg and Priscilla Chan
...
Their first meeting was weird enough to not be mentioned, but to tell the story they first met in the waiting line of the washroom at a party thrown by their common friend. At the very first meeting, the two started taking interest in each other and they start dating each other at Harvard. Soon Mark dropped out of college to start an enterprise called Facebook .Priscilla was a very strong woman and had faith in her relationship even when she got negligible time from her then boyfriend Mark. Mark was a workaholic and would keep working for days on his project to make it worth a drop from Harvard. Their love was deep to be uprooted by distance and time, from a regular college guy to one of the youngest multi-billionaire of all time, Priscilla's feeling or love has never been washed with the flashes of fame. Priscilla moved California with mark and is a pediatrics, there she joined the University of California for her further studies. She was one of the very first people to join Facebook and has also influenced mark for charity and organ donation programs through his enterprise. Priscilla graduated in 2012 and the two decided to get married and soon the two tied knot. The couple is the youngest to have taken such a big risk keeping all faith in their strategy that has paid of well. They are a sensation to all the couples.
7) and Jaya Bachchan Born on 9th April 1948 Jaya Bachchan is an Indian >> Read More...
One fine day K. Abbas, the famous film director arrived with his group of actors at Pune Film Institute that included Amitabh Bachchan, for Jaya it was love, at first sight, trying her luck with Amitabh and having no success at the campus Jaya lost hopes of being with her dream man. But at the sets of Guddi destiny gave her a chance to start her love story with her prince charming. Love brought the then Superstar Jaya close to struggling Amitabh. At the sets of Ek Nazar, Amitabh realized his love for Jaya and this was the turning point of a never-ending relationship with fathomless love. Jaya's relatives and friends disapproved of struggling Amitabh but it won't affect her.In 1973 Amitabh gave his first hit Zanjeer , overjoyed Jaya planned a trip to London to celebrate Amitabh's success . Amitabh's parents were not comfortable with the couple moving out without marriage, so the wedding bells rang and the couple left for London the very same day of their marriage. The couple saw ups and downs but was strong enough to go through all this and move forward towards the epitome of success. Amitabh after three years of marriage met Rekha on the set of Do Anjaane they were rumored to have an extra marital affair but this hush affair wasn't enough to shake the pillars of Jaya's faith. The couple has been married for 43 years and has a son Abhishek and a daughter Shweta. The couple truly is the happily ever after couple which every couple dreams of being.
8) Shahrukh Khan and Gauri Khan Born on Ocotber 8 1970, Gauri Khan (originally kno >> Read More...
The fairytale of this couple began in when Shah Rukh had laid eyes on his lady of dreams Gauri Chibber for the first time in a common friend's party in 1984, falling for her at the first sight he asked Gauri for a dance, Gauri who was uninterested turned him down by saying she was waiting for her boyfriend which actually was her brother, Shahrukh was shattered that very moment. But later as he discovered that it was his brother he called her up and mockingly said "mujhe bhi apna bhai samjho" and this is how they started dating and fell for each other complimenting each other's nature perfectly. Shahrukh was really possessive of Gauri and would stop her from talking to other boys or going out alone and even open her hair. Gauri an independent woman would get frustrated by all the foundations and just try to let it go. But one day she finally needed some air; this is when she after celebrating her birthday at Shahrukh's place left Mumbai with her friends without telling him. This made Shahrukh realize that his love was greater than his clinging nature which he can meet up because all he wanted was Gauri. With his friend he tried to find her out at every possible place and was finally able to catch her at a beach, Gauri had also by the time realized the worth of Shahrukh in her life and was ready for some sacrifices. Breaking down in each other's arms, with each drop of tear they knew that they couldn't live without each other and decided to get married.This is where all the complications started, Gauri a Brahmin girl and Shahrukh a Muslim boy. Gauri's family was sure to have objections they also considered Shahrukh as an unsettled, struggling talent and their daughter young and immature to take such a decision. After all the tussle – bustle including keeping the relationship secret for 5 years and Shahrukh trying to impress Gauri's parents and convincing them by faking a Hindu boy they were able to get Gauri's parents blessings and finally got married on October 25, 1991, After two decades they still seem to be drenched with love. They are proud parents of three lovely children Aryan, Suhana, and Abram.Both of them are well established in their fields Shahrukh being a well-known actor and Gauri his superwoman manages family production, house and her work of interior designing all by her own. They both complete each other and have created milestones for all those trying to build their relationship into something which lasts for life.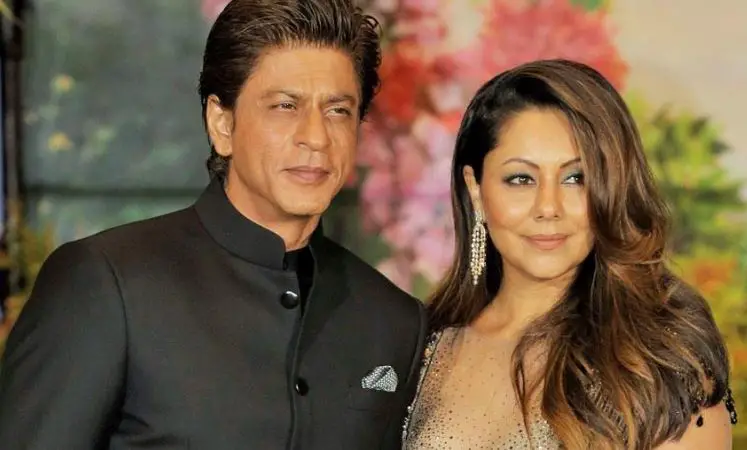 9) David Beckham David Beckham, whose actual name is David Robert J >> Read More... and Victoria Beckham Victoria Caroline Beckham is an English fashion de >> Read More...
The alluring story of pop girl Victoria and superjock David began in 1997 when already drooling Victoria met David after the match of Manchester United game against Sheffield when Victoria's friend Mel C and David's teammate Ryan gigs were dating. Victoria tried to crack a conversation but extremely shy David didn't respond much but knew with her smile that everything was going to be fine, they started dating in 1997 and fell more in love with each day passing for the first quarter of the year the relationship was a secret and the couple would sneak around but as the relationship was made public fans were charmed. In 1998 David finally knelt down to the love of his life. Later during her tour with spice girls, Victoria discovered that she was pregnant and the couple was ecstatic, in March the following year baby Brooklyn was born , two months later head over heels in love posh and Beck got married , the ring bearer being baby Brooklyn. Years have passed but the couple's love has not been forgotten in the sand of time but has grown stronger and more beautiful with trust and time they have spent with each other , the family has grown from posh, Beck and Brooklyn to three new members two boy Cruz and Romeo and baby girl Harper. The couple is an example of a mature relationship with two stable pillars which keep growing deeper and deeper in love.
10) Madhuri Dixit Nene and Dr.Nene
The story of this couple is a living fairytale Madhuri an Indian superstar had made the hearts of many skip a beat and always had that star aura. She went to visit her brother in the USA, then she had rejected many marriage proposals, of course, she is still the dream girl of many. Dr. Nene was a friend of his brother in the USA, the simple guy was approached by Madhuri's brother for marriage with his sister.When Madhuri was first asked to meet Nene she was totally uninterested and even thought that why is everyone in the world behind me to get married, every time they call some guy he gets dumped by me so why do they repeat this over and over again, but as his brother insisted she finally agreed on meeting Dr.Nene once. When she met Nene she was surprised to find a person with whom she would love to spend her life, she couldn't believe that she had finally found the one, the guy who would treat her more as her wife and less as a star. When Madhuri was later asked what she thinks about the proposal, in a very hesitant way because of her earlier tantrums Madhuri said a yes. Madhuri and Dr.Nene got married in October 1999 and are still going strong; they have a family of four the couple and their two sons Raayan and Arin.
11) Rishi Kapoor Rishi Kapoor is an actor born in the prominent Kap >> Read More... and Neetu Singh TV actress Neetu Singh is a popular face on Indian >> Read More...
This twosome starting dating at a very early age when Neetu was 14 and Rishi 20, Rishi was a well-established actor and Neetu was fighting for her place in the Industry. Rishi Kapoor being a prankster would tease Neetu in every possible way, young Neetu fell for Rishi's funny ways, and soon Rishi also started reciprocating the love. Neetu's mom was not very happy with the way things were turning out; she didn't want her girl to be talked about for anything other than her work. It was in a wedding at Rishi's home in Delhi that Rishi made an announcement about the engagement, Neetu unaware was in awe and was astonished by the sudden proposal, soon they got married in January 1980. Rishi well know of Neetu being the only bread earner in the family invited her family to live along with them. It has been three decades these love birds are still very much in love and are blessed with two children, elder who is a famous fashion designer and the younger our very own heartthrob Ranbir Kapoor Ranbir Kapoor is a noted Indian film actor. He was >> Read More... . Many controversies took place about the couple, including Neetu leaving the industry after marriage due to stereotypes and Rishi turning into an alcoholic and even that of domestic violence but the couple put all the rumors to rest with their never ending love and thirst for each other. They supported each other during thick and thin and are known for their togetherness and success.
12) Kareena Kapoor Khan Kareena Kapoor is a super hit actress working in I >> Read More... and Asif Ali Khan Asif Ali Khan is a supporting actor in the Indian >> Read More...
The couple fell in love at the sets of Tashan when heartbroken Bebo after her break up with Shahid was low and found a great friend and support in Saif although the onscreen chemistry wasn't able to win the hearts of many the chemistry going on off-screen was something notable. The Nawab and his begum started dating after Tashan had hit the theaters, they were never reluctant on making public appearances and the fans would always be left in awe seeing the couple. The couple not only met up with their religious boundaries but also age boundaries, after 5 years of dating the two decided of tying the knot in a big fat star-studded Indian wedding on the 12th of October 2012 . With all the reeti and riwaaz of both the religions, the marriage was a week's affair ahead of which lived a whole life which the two had to spend together with some controversies and misunderstandings the couple has managed to stick together amongst all the comments and views of people and media about the difference between the two. The couple is a perfect example of unlike Attract and will soon be having a royal baby shower for the expected descendant of the Nawabs.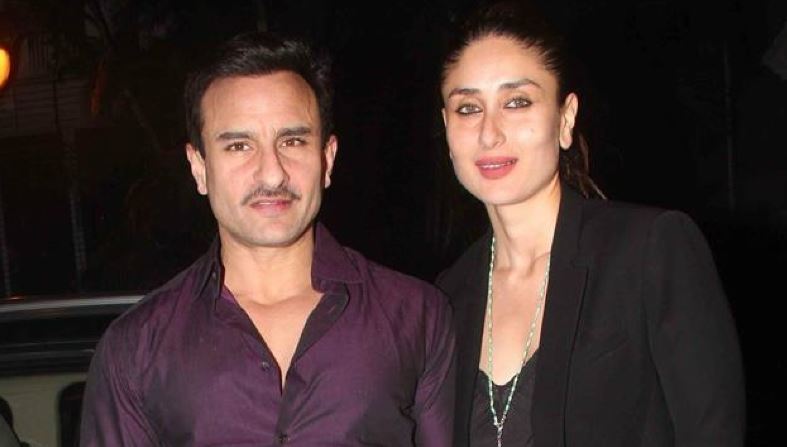 13) Sania Mirza Anybody who follows tennis in India will be well-a >> Read More... and Shoaib Malik
The two met each other the first time in Australia when Sania had just been knocked out of Australia open and the Pakistani team has suffered a shameful loss against the kangaroos. The second meeting happened when Shoaib along with the then fast bowler of that time went to see her match, the match might not have been significant in Mirza's career but the meeting surely made her life change, Mirza broke up with her fiancé and childhood friend Sohrab Mirza. The break up shocked the fans as the recent engagement was fresh on everyone's mind; speculations were that the break up had happened because of Sania's meeting with Shoaib. The two started dating and love bloomed and the understanding between the two was such that the two had themselves realized that they wanted to get married and no official mundane cheesy proposal took place. The marriage was enveloped with only limited guests invited due to many who were against this cross-border romance looking at the then scenario of the Mumbai attacks which had recently taken place amongst all the hullaballoo the marriage took place in secrecy away from media, to create a scene out of a regular wedding of the love birds. The marriage has been successful and has gone beyond the geographical boundaries of two rival countries. Love for the couple has bloomed due to the respect for each other's feelings, beliefs, traditions, and nationality. The couple is an example that loves doesn't have any boundaries.
14) and Twinkle Khanna Twinkle Khanna made herdebut in Indian film indust >> Read More...
They met the first time for a Filmfare photoshoot where both were able to impress each other some much so that they eventually started dating, twinkle always trusted Akshay blindly, Akshay was famous as a Casanova in the Industry, twinkle keeping faith in him started dating him. Soon Akshay decided of marrying this woman who had changed his life completely bringing to it the balance which he always desired for. Love has blossomed for the two and the couple has two kids Aarav and Nitara, they teach them the importance of hard work and that whatever has come to them from their parents wasn't easy to get and wasn't obtained in a single day. Twinkle is a responsible and loving mother and Akshay is a caring father and also and a self-made a superstar of bollywood.
15) Aamir Khan Aamir Khan or Mohammed Aamir Hussain Khan is Bolly >> Read More... and Kiran Rao She is an Indian film producer, screen writer and >> Read More...
When Kiran was just 14 she knew that Aamir was the man of her dreams. It was on the sets of Lagaan when Kiran used to assist Ashutosh Govarikar that she first came in touch with Aamir at that time Aamir was married to Reena, in Lagaan Aamir wore the Kiran's earrings and thought of them to be lucky so after the shoot he didn't return it to her and instead with his wife Reena bought her new earrings. It was only around that time that Reena and Aamir got divorced. Soon the Kiran and Aamir became 2 am friends and would rescue each other in each and every problematic situation as their friendship grew. They finally decided of turning this friendship into a lifelong relationship. The relationship was soon made public and people would treat Kiran in a very weird way so the two decided to get married in 2005 .Kiran has always been very influential not only in movies but also in the personal life to Aamir. With Kiran's advice, the couple has turned vegan and are practicing a very healthy lifestyle to keep them fit, active and healthy. They are still very much in love and even greater friends they define the basis of their relationship to be their strong friendship and their nature to value each other , they have a son Azad Rao Khan who is their surrogate baby. Friendship is the foundation of this love story.
16) Chetan Bhagat Chetan Bhagat is a renowned Indian author who was >> Read More... and Anusha Bhagat
The very famous tale of love, 2 States is based on the story of this very couple.Chetan a Punjabi Munda and Anusha a simple south Indian girl were a total contrast to each other. As they say unlike attract the simple Anusha was in love with Chetan's jolly and peppy nature. Anusha was the dope of the campus and Chetan was the last one in people's notice till the two became friends and guys turned jealous of why does she hang out with him. Soon Chetan realized that Anusha was just beyond his radius and that almost every guy in the campus was after her. He thought there to be no reason that the girl would choose him. But to his surprise, Anusha had fallen for him and Chetan was the drug she needed every day, after dumping so many proposals from guys in the college she accepted his and their love story began. MBA in IIM though prestigious wasn't enough for their parents due to different family backgrounds, many clashes took place between their parents but finally, they settled for the greater good of their children who were so in love. After the completion of MBA both decided to get married and after a lot of hustle-bustle things settled and they got married in 1998, they have two sons and are extremely successful, Chetan has released many books of which one the 2 states is based on their own marriage.
17) Javed Akhtar Javed Akhtar is an Indian poet, lyricist, film scr >> Read More... and Shabana Azmi Shabana Azmi is a film actress of Indian origin an >> Read More...
They got married in 1984 and the couple thinks that their relationship is based on their friendship as understood by "we are such good friends that marriage couldn't ruin it' as quoted by Javed Akhtar. They first met when Javed used to visit Shabana's father to say poetries which he had written but she never took much much interest in him until one day when everything changed. Shabana thought of Javed to be a very immature and of a low intelligence compared that to her, at a party thrown by Sai in success of the movie Sparsh the two met and had a deep and long conversation where the woman realized about the intellect and the wit Javed had after that day the conversations grew deeper and deeper. But Shabana's family was not very fond of Javed as he was already married and her mother was totally against this married man with whom her daughter was involved. They decided to break up and planned a final meet where they started conversing and just forgot of breaking up. After a lot of restrictions and problems the two got married they were very similar in many ways but had grave differences with the each other which brought many conflicts between the two, but it could never split them apart. Supporting and Teaching each other in every sphere of life the couple has grown not just as a duo but also as individuals Javed Akhtar is a star of words and Shabana an international personality but they never let their ego's clash when they are together they are just two people in love who are home to each other.
18) Jennifer Aniston She became a household name in 1994 as she appeare >> Read More... and Justin Theroux Born in Washington, D.C., Justin is an American ac >> Read More...
Jennifer and Justin were old friends and met on the sets of rom-com Wanderlust. She thinks she has finally found love after the she break-up with Pitt in 2005 all Jennifer wanted was love. When the shooting started for wanderlust initially Aniston thought of Justin to be a very dark and introvert person but as the days passed the two became open and friendly she eventually got to know him and came to know that he was very kind, generous and sweet. Both think that they have found the nicest person in the world. They started dating and when they felt like starting a family they adopted a puppy named Sophie . Both Jenny and Justin are disciplinarians and know how to limit things to make their life balanced as a couple and as individuals .They finally got married in 2015 when Justin bent to his knees asking Jennifer for a lifetime. The couple is doing well professionally, Jennifer was recently awarded the most beautiful woman 2016.They are planning on reaching greater heights and growing their family.
19) MS Dhoni and Sakshi Dhoni
Nothing can be better than childhood buddies growing into lifelong lobsters. Dhoni and Sakshi were childhood friends and their fathers were collogues .Both of them went to the same school and grew up in the same environment.Sakshi's family shifted to Dehradun to her grandfather's home before the puppy love could bloom. After a decade fate brought the two together when Sakshi met MS at Taj Bengal when India was taking on Pakistan at the Eden Gardens, it was her last day of internship where she was introduced to the very same person again, after which she left the very next day. When MS came to know that she had left he asked for her number. It took Dhoni a lot of effort to woo this princess living in her own dreamland. Dhoni would make all the efforts to give her time and attention in all that was going on around him. Finally after some years of dating the couple got married in 2010. Sakshi was not known by many before she got married to Captain cool, the wedding was a starry affair and took place in Dehradun.Post marriage Dhoni's performance improved with the support of his very loving wife. The two keep their relation and personal life quite a secret to the media and believe in focusing on the career rather than making it to the headlines. The duo lives a happy adventurous and sorted life managing all the spheres of life efficiently including career, family, friends and their very own baby girl Ziva.
20) Virat Kohli Virat is counted amongst the very best players, th >> Read More... and Anushka Sharma Born in an army family to Col. Ajay Kumar and Ashi >> Read More...
For relationship so healthy that it shines, Pantene made this Jodi. The couple first met at an advertisement shoot for Pantene, where they became familiar with each other and soon became good friends. Though the couple was hesitant to get into a relationship at first they never skipped a chance to see each other. They would make time for each other in every circumstance. Virat would not leave any stone unturned to make Anushka feel like a princess and would grab any opportunity he would get to surprise her.In 2014 finally they made their eyes – spies relationship public and became quite open about it ,including going to a public date to the Indian super league , to blowing a kiss towards Anushka during the match ,the couple was much into a public display of affection. The couple even had a tiff on Anushka shooting for a men's magazine, but later everything got sorted out. Media did help publicize the couple but also brought controversies which led to split of the two in January this year. After all the fights and even a split the couple has reconciled and are happy together , they keep their relationship personal and try to avoid answering the media about any inside stories.