We all have that epic memory in our life, but we forget to capture them all. The glamour life has also been in a good and a bad situation but always had a media glaze. Here are some mind-blowing pictures of Bollywood stars' weddings.
1. ABHISHEK BACHCHAN AND AISHWARYA RAI
...
Aishwarya Rai Bachchan Aishwarya Rai Bachchan is a popular Indian actress >> Read More... and Abhishek Bachchan Abhishek Bachchan, or Abhishek Srivastava, is a ve >> Read More... are the best Bollywood couple. Their love story is just as perfect as their wedding photos. The wedding was held in two types, first in North Indian rituals and then in South Indian rituals. The rare pictures were captured by their family members.
2. HRITHIK ROSHAN AND SUSSANNE KHAN
...
Hrithik Roshan Hrithik Roshan with his unimaginable dance moves i >> Read More... , the dashing actor of Bollywood, married . Hrithik's love was the same as seen in his movies. Although they are no more together, they share a great bonding. This is the rare photo where Sussanne, and Hrithik were cutting their wedding cake and on the other side, Sussanne had a Mehendi ceremony.
3. AJAY DEVGN AND KAJOL
...
The Bollywood love partner of Shah Rukh Khan Shah Rukh Khan or also known as SRK is a prominent >> Read More... , Kajol married Ajay Devgn. The marriage was in typical Marathi style. In this picture, Ajay Devgan Ajay Devgn is an Indian film actor. He is perhaps >> Read More... was tying Mangalsutra with Kajol Devgan Born on 5th August 1974, Kajol was the heartthrob >> Read More... . This epic bond is fantastic, and people love to see them together always. They have also done many movies as reel partners and their latest movie together is Tanhaji.
4. SHAHRUKH KHAN AND GAURI CHIBBER
...
The most successful Bollywood couple, Shah Rukh Khan and Gauri Khan Born on Ocotber 8 1970, Gauri Khan (originally kno >> Read More... give us the unbreakable true love story. They have kept their relationship private. The short story has been narrated by Anupama Chopra Anupama Chopra is a very prominent author of many >> Read More... in the book King of Bollywood: Shah Rukh Khan and the Seductive World of Indian Cinema. Though they had a tough time together, they never gave up on each other, and finally, they got married. They got married in the Hindu ritual traditions.
...
5. SAIF ALI KHAN AND AMRITA SINGH
...
and Amrita Singh Amrita Singh is an Indian film and TV actress. She >> Read More... have an unusual love story. Both fell in love when they were shooting for the same movie. Their bond was so strong that even their age difference was not taken care. They are the parents of two children Sara Ali Khan Sara Ali Khan is the daughter of the Bollywood act >> Read More... and Ibrahim Ali Khan Yet another B-Town star kid whose face is quite fa >> Read More... . Later, they divorced. Saif again fell in love with another lady Kareena Kapoor Khan Kareena Kapoor is a super hit actress working in I >> Read More... and got married and has a son with her.
6. ARBAAZ KHAN AND MALAIKA ARORA
...
The well-known director and producer of Bollywood, Arbaaz Khan Born in a family that has strong ties in the film >> Read More... , married his girlfriend, . The wedding was held in the Christian rituals where Malaika wore a pretty white dress and Arbaaz with the perfect black blazer. They parted their ways and now have their own choice and life.
7. R. MADHAVAN AND SARITA BIRJE
" R Madhavan R Madhavan is a popular film actor in Tamil and Hi >> Read More... " married his long term girlfriend, Sarita Birje. The wedding was a traditional one in the South Indian style. Their love bond is very much private than any other Bollywood couple. Madhavan plays not only in Bollywood movies but Kollywood and Tollywood too.
8. AKSHAY KUMAR AND TWINKLE KHANNA
married the legendary actor Rajesh Khanna's daughter, Twinkle Khanna Twinkle Khanna made herdebut in Indian film indust >> Read More... . Akshay Kumar had many rumored love affairs, but he married his love of life. They are also blessed with a son Aarav Kumar Though not a Bollywood or Hollywood actor, he has >> Read More... and a daughter, Nitara Kumar Bio coming soon... >> Read More... . The rare picture where Akshay is holding the hand of Twinkle during their wedding is adorable.
9. RANVIR SHOREY AND KONKONA SEN SHARMA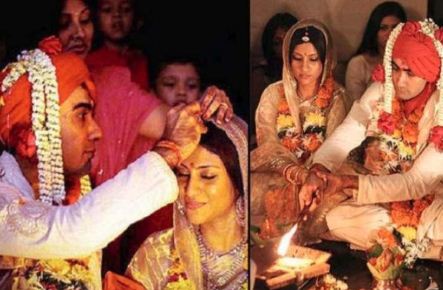 The best Bollywood actor Ranvir Shorey Intro: Ranvir Shorey is a popular Indian movies ac >> Read More... married the dashing Bollywood performer Konkona Sen Sharma Konkona Sen Sharma is a Bollywood actress hailing >> Read More... . They had the perfect wedding ceremony. Both of them fell in love when they were working together.
10. BIPASHA BASU AND KARAN SINGH GROVER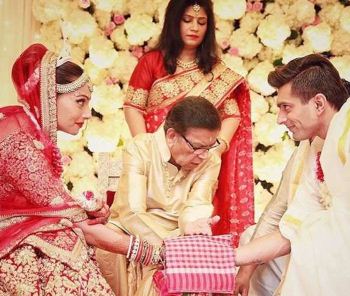 The Bollywood actress Bipasha Basu Bipasha Basu, born in January 7,1979 in Delhi, is >> Read More... married the Indian model Karan Singh Grover Karan Singh Grover is a famous Indian actor who is >> Read More... . Karan has married thrice, and finally, he found his true love. The wedding was held in a perfect Bengali style. They look perfect.
11. RITEISH DESHMUKH AND GENELIA D'SOUZA
The funniest actor of Bollywood, Riteish Deshmukh Riteish Deshmukh is the son of a politician, late >> Read More... , married the simple and beautiful actress Genelia DSouza Genelia Dsouza is a popular Indian actress who has >> Read More... . Both had a good bonding in Bollywood. After marriage, Genelia is rarely seen in the movie.
12. DIA MIRZA AND SAHIL SANGHA
Miss Asia Pacific 2000 winner married Sahil Sangha Sahil Sangha is a producer and director in the Hin >> Read More... . She had a good start in Bollywood cinema, but after marriage, she ended up her career. She was the co-owner of Born Free Entertainment company. Recently they set apart from each other.
13. NIKITIN DHEER AND KRATIKA SENGAR
The Tangaballi of Bollywood, Nikitin Dheer Nikitin Dheer is the sharp and sleek city boy who >> Read More... , met the TV actress Kratika Sengar Kratika Sengar or Kratika Sengar Vedant is an Ind >> Read More... . They had an amazing bonding for a long time and finally decided to get married. He has found the perfect life partner qualities in the Kratika. Their gorgeous look shows how they are happy together.
14. SHAHID KAPOOR AND MIRA RAJPUT
The Chocolate boy of Bollywood, Shahid Kapoor Shahid Kapoor also identifies as the name Shahid K >> Read More... , married his childhood friend Mira Rajput Mira Rajput is the wife of the charming Bollywood >> Read More... . It was based on proper Sikh tradition, and now they are a fabulous Bollywood couple. They are also blessed with a baby girl.
15. SAGARIKA GHATGE AND ZAHEER KHAN
The Indian bowler Zaheer Khan Zaheer Khan is a former Indian cricketer who playe >> Read More... married the Bollywood actress Sagarika Ghatge The gorgeous lady, Sagarika was in the limelight a >> Read More... in the year 2017. The marriage was held with a few personal friends and family members. They look perfect together and after marriage, they had thrown a grand reception in Mumbai.