The entertainment industry has beautiful actresses with lots of talent, yet it doesn't need to be said that the actresses wear a lot of makeup for all their scenes. And why will they not? If we want to watch something we would obviously want it to be beautiful right? So, they all look gorgeous onscreen. But when they are in public, flying somewhere they are caught without makeup and that, sometimes is very shocking to see. Here is a list of top ten celebrities that look shockingly different when they don't have their makeup on.
When we are making a list, how can the Queen be left behind? Here, we start the list with this beauty. Of course, Deepika is beautiful and has an stunning body, yet doesn't she look completely different in these two pictures?
2. Bipasha Basu
This lady is considered to be one of the hottest in the tinsel town. Isn't she? All credits to her look, but do you know how she looks without her makeup? Have a look.
3. Juhi Chawla
Did you imagine that this Darr star would look so different without her makeup? Though even without makeup, Juhi is pretty. Also, with her phenomenal acting skills, she just takes out heart away every single time.
4. Rani Mukerji
Are you shocked to see this picture? I bet you are. Doesn't she look just like one of us! If she can look so beautiful after makeup, so can we! Just saying, it will be a little hard to spot Rani in public if she doesn't wear makeup! But she sure has gotten our hopes up.
5. Tabu
Makeup is one magical thing. Can you see how wonderfully it transforms one average looking person to a complete angel? We are glad Tabu got these looks with her amazing skills. That's just cherry on the cake!
She has the perfect face and also a great body! You know that, don't you? We couldn't agree more. Adding more to her beauty the makeup surely makes her a visual treat.
We know Sonakshi has gone through a lot of struggle to get into Bollywood, right from losing her weight to altering her entire lifestyle. She has done that very well ,and the only thing that's left is her beauty. Makeup helps her to enhance that too.
8. Neha Dhupia
Don't you agree she looks a little different with and without makeup but will you look at her? Isn't she amazing? Not many know that she won the Femina Miss India title in 2002.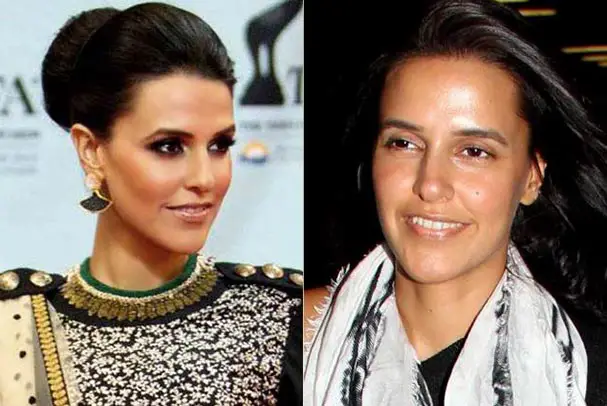 This diva has been ruling the industry with her acting skills for a long time now. But aren't you shocked to see her transformation before and after makeup?
10. Kajol
Anjali! She has won our hearts with the beautiful characters that she has played over the years ,and we hope she keeps playing them. She still looks stunning without makeup.