Bollywood is a place which converts dreams into reality, and we as audience love it. The way Bollywood portrays the story is brilliant. But there are times when Bollywood fails to display a story perfectly. The stories we wish to cherish for our lives have become scary because of the special effects used by the creative team of the movie. Some movies which will haunt us in our dreams are:
1) Jaani Dushman
The movie is the one no one will go to watch for the second time. It was a multi-star movie having every Bollywood star including Sunny Deol Sunny Deol is a film actor, director and producer. >> Read More... , Sonu Nigam Sonu Nigam is a renowned Bollywood singer and comp >> Read More... , Akshay Kumar Akshay Kumar was born on 9th September 1967 and hi >> Read More... , Manisha Koirala Manisha Koirala, is a Bollywood actress of Nepales >> Read More... , Amrish Puri Amrish Lal Puri was born on 22nd June, 1932 in Pun >> Read More... , and Arshad Warsi Arshad Warsi is most popular for his role as Circu >> Read More... . The movie had bad special effects, and was really baked by the audience as well as the critics.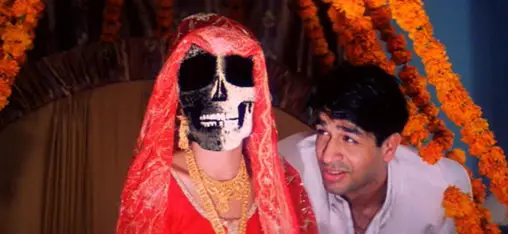 2) Nayak
The story had an amazing story line, and was very much appreciated for it. Anil Kapoor Anil Kapoor was born on 24th December 1956 in Mumb >> Read More... had great chemistry with Amrish Puri. But the movie also had a love song where the creative team tried to show their magic by converting Amrish Puri into a snake. This movie was then never remembered for its song.
3) Krish 3
The movie had a fantasy background, and the creative team made it worse. The bizarre VFX destroyed the perfectly cast movie. The audience was taken aback by watching such an unrealistic things and the story then didn't go that well.
4) Rudrakhsha
Here, the VFX was introduced in Bollywood, and this movie took to another level. The movie had all the type of VFX objects one could include. If the there are times when you feel low, this is where you can have a good laugh.
5) Ra. One
The movie had a great story line, and the cast was perfect. Shahrukh Khan, and Kareena Kapoor, what else would we want, also SRK as a superhero is perfect for little kids. But then, the VFX happened, and the movie could not live up to its expectations.
6) Creature 3D
I guess the creator here didn't know the difference between horror, and humour. The creatures they designed to induce horror in us, went wrong, and opposite. The cast had the lead as Bipasha Basu Bipasha Basu, born in January 7,1979 in Delhi, is >> Read More... , and her choice here was not respected to work in such movie.
7) Abra Ka Dabra
The movie was released when the VFX were improved, and the movie used the basic VFX. The movie had a stolen story line of Harry Potter and every think in the movie was weird. The flying heads, the mirror, everything gave chills.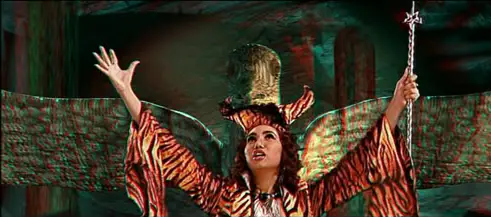 8) Main Prem Ki Deewani Hoon
The movie was a normal Bollywood movie with a boring storyline. The actors did too much acting in the movie as if it was a theatre. There was also a flying dad in the movie with a VFX parrot, and a dog. Not able to understand why?
9) Love Story 'Love Story' was a series that was telecast on SAB >> Read More... 2050
The movie is a perfect example why Bollywood should not try to step in Sci-Fi movies. The cast consisted of Priyanka Chopra Born on 18 July 1982, Priyanka Chopra is an establ >> Read More... , and Harmen Baweja. They did not live up to the expectations.
10) Junoon
The movie was a copy of the American Werewolf in London, and we all can imagine how it would have gone. The movie had desi werewolves with masks, and the cast had Pooja Bhatt This chubby star of Bollywood had a different styl >> Read More... , Tom Alter Tom Alter is a multifaceted acting personality who >> Read More... , and Rahul Roy Rahul Roy is a well-known Indian model-turned-acto >> Read More... . This movie makes us wonder why we are even watching this movie in the first place.