Bollywood actors do much more than just films and advertisements. Recently, they have been seen appearing in the music videos of popular singers. It helps them to stay in public view as much as possible. When there is a gap between two releases of an actor, these appearances give them fame and publicity. The trend of making music videos is returning to Bollywood after a long time. The participation of established actors helps to encourage this trend. Here are ten such music videos featuring Bollywood stars.
1. Dheere Dheere
...
Dheere Dheere is Yo Yo Honey Singh's version of the old song " Dheere Dheere Se Story coming soon... >> Read More... " from the movie Aashiqui. It was released in the year 2015 and became very popular with the audience. The music video of this song starred Bollywood actors Hrithik Roshan Hrithik Roshan with his unimaginable dance moves i >> Read More... and Sonam Kapoor Sonam Kapoor, Daughter of Anil Kapoor and model Su >> Read More... . It was directed by Ahmed Khan Ahmed Khan is a multi talented personality of the >> Read More... and Bhushan Kumar Bhushan Kumar was born on 27 November in 1977 in D >> Read More... was the producer. The song topped popular music lists for many weeks.
2. GF BF
...
GF BF is a music video released by T-Series in the year 2016. The single was sung and composed by Gurinder Seagal One of the impressive talents in Bollywood, Gurind >> Read More... . The video starred actors Sooraj Pancholi Sooraj Pancholi is the new chocolate face hero who >> Read More... and Jacqueline Fernandez Jacqueline Fernandez is one of the top actresses i >> Read More... . The song became a very popular party anthem and was played at every occasion. The video is quite attractive, and the lyrics are catchy.
3. Main Rahoon Ya Na Rahoon
...
This song came out in 2015 and was sung by Armaan Malik On 22 July, 1995, Armaan Malik was born in the cit >> Read More... . It tells the story of a one-sided love between two friends. The stars of this video are Emraan Hashmi Emraan Hashmi is one of the most successful & cont >> Read More... and Esha Gupta Esha Gupta was born in Delhi, India, where she gre >> Read More... . The song is very soulful and touches the hearts of the listeners. It has won many awards and nominations too. After its release, it became a sort of anthem for one-sided lovers and their pain.
4. Zindagi Aa Raha Hoon Main
...
This song released in 2015 as a single composed by Amaal Malik and sung by Atif Aslam Named Muhammad Atif Aslam when he was born, he is >> Read More... . The lyricist of this song is Manoj Muntashir Manoj Shukla also known as Manoj Muntashir, is one >> Read More... . The song is catchy and upbeat, with a positive approach towards life. The video featured Bollywood actor Tiger Shroff Jai Shroff or popularly known as Tiger Shroff is a >> Read More... as the star. It gave an impetus to Tiger Shroff's career as well. The song is still frequently aired on TV as well as FM stations.
...
5. Pyaar Manga Hai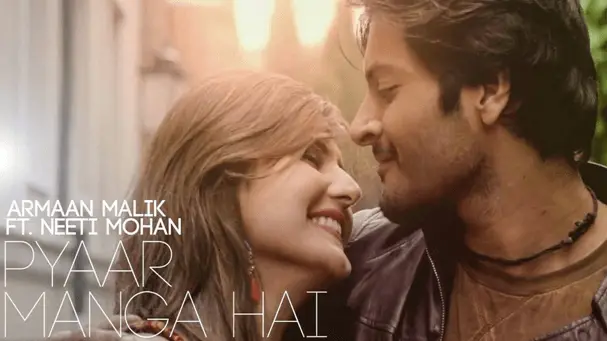 ...
This is another song composed by Amaal Malik and sung by Armaan Malik and Neeti Mohan Intro: Neeti Mohan appeared on Hindi television wh >> Read More... . The song is an adaptation of the old song "Pyaar Manga Hai Tumhi Se" by Kishore Kumar Kishore Kumar is an Indian playback singer, who ha >> Read More... from the album College Girl. The song was rehashed and released as a passionate rendition of the love between two people. The video starred Ali Fazal Ali Fazal is an Indian actor who was born on 15th >> Read More... and Zareen Khan. It is a quite popular song and has unique beats and rhythm.
6. Aaj Mood Ishqholic Hai
...
This single is a hip-hop number featuring actress Sonakshi Sinha Sonakshi Sinha is a well-known Indian Actress. She >> Read More... . The song was sung Sonakshi Sinha and Anjjan. Kumaar is the songwriter and Meet Bros Anjjan the composer. The song came out at the end of 2015 and became popular as a party song. This is Sinha's first attempt at singing. She got a lot of praise and appreciation for her endeavor by big names in the industry.
7. Chal Wahan Jaate Hain
This song is a single which T-Series has produced. The song was sung by talented singer Arijit Singh Most famous for his songs in Aashiqui 2, Arijit Si >> Read More... and is a romantic number based on the love story between a rich girl and a poor boy. The video starred the Heropanti couple, Tiger Shroff and Kriti Sanon Kriti Sanon is a model-turned-actress who made her >> Read More... . The end of the video is extremely emotional and heart-wrenching which tugs at the tear glands of the viewers. The couple received a lot of appreciation for the video. The magical voice of Arijit Singh made the song even more special.
8. Tumhe Dillagi
This is a 2016 music video by the great singer Rahat Fateh Ali Khan. The song tells about the differences between two lovers due to their personal ambitions. The video is romantic and emotional, just like the song. It stars Bollywood actors Vidyut Jammwal and Huma Qureshi Huma Qureshi is a model-turned-actress in Bollywoo >> Read More... as the pair of lovers. The song is an example of the excellence of Rahat Fateh Ali Khan.
9. Befikra
Befikra is a single produced by Bhushan Kumar and released in 2016. It was composed by Meet Bros and featured singer Aditi Singh Sharma Aditi Singh Sharma is an Indian singer, who was b >> Read More... as well. The video of the song starred actor Tiger Shroff and newcomer actress Disha Patani Disha is an India based model turned actress. She >> Read More... . The song became instantly popular upon its release. It is one of Tiger Shroff's three music videos which increased his fame and star power.
10. Gal Ban Gayi
Gal Ban Gayi is an independent song by the composer duo Meet Bros. It featured the singers Sukhbir and Neha Kakkar Neha Kakkar is a prominent Indian comedian and pla >> Read More... . The rap portion of the song was rendered by Yo Yo Honey Singh. The video of this song is a dance number starring actors Vidyut Jammwal and Urvashi Rautela Urvashi Rautela is an Indian actress and a top mod >> Read More... . The song has a large number of views on YouTube and is a popular party song in India. Close