Every Bollywood movie comes with some expectations. We expect certain movies to do very well and do not have any expectations from certain others. After watching the trailer, the publicity, and the star cast of the movie, we sometimes dismiss certain movies as unworthy of our attention. However, it often happens that such a movie may perform very well and surprise the audience. There have been several examples of these underdogs who came and scored at the box office. Here is a list of ten such movies that pleasantly surprised us.
1. Kahaani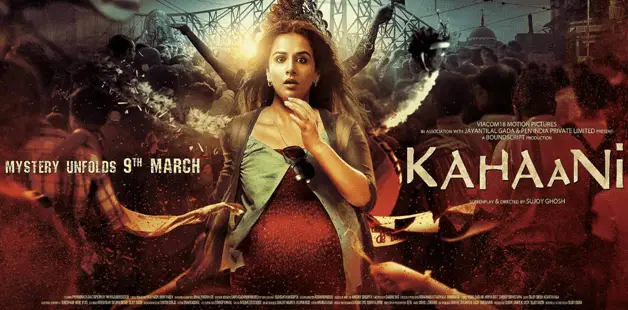 ...
This 2012 movie is one of the best thrillers that Bollywood has seen in a long time. Directed by Sujoy Ghosh Sujoy Ghosh born in Kolkata had his schooling at S >> Read More... , Kahaani did not have any popular names in the star cast except Vidya Balan Vidya Balan is an award winning Bollywood actress >> Read More... and a few regional actors. This movie had one of Nawazuddin Siddiqui's early appearances before he became a rage in Bollywood. Kahaani is the story of a pregnant woman wandering the streets of Kolkata alone, in search of her missing husband. Kahaani had a climax that shocked the viewers. Though it was made on a limited budget, Kahaani did well at the box office and was immensely praised by critics and viewers.
2. Queen
...
This is a 2014 movie by Vikas Bahl Vikas Bahl (Born 1971) is an Indian film producer, >> Read More... which is based on the journey of a shy woman who learns to live life on her own terms after she is ditched at the altar by her fiancé. Queen stars , Rajkummar Rao Raj Kumar Yadav, also known as Rajkummar Rao, star >> Read More... , and Lisa Haydon Lisa Haydon is an Indo Australian model, who born >> Read More... in important roles, along with several foreign actors. The movie did not have much publicity and was not imagined to do as well as it did. Within a few days of its release, the film became a rage. It became a feminist symbol and a source of hope for several shy Indian women who are overshadowed by men in their lives.
3. Vicky Donor Click to look into! >> Read More...
...
Vicky Donor was Ayushmann Khurrana's debut film in Bollywood, produced by John Abraham Like some of our sexy stars, John Abraham has had >> Read More... and directed by Shoojit Sircar Shoojit Sircar is an Indian film producer and dire >> Read More... . This movie had a small budget, and its cast included Ayushmann and Yami Gautam Yami Gautam is a Hindi television and movie actres >> Read More... . The story was based on the life of a man who works as a donor at a sperm bank. The film's theme and treatment were very fresh, and it struck the right chord with the audience. Its music also became quite famous.
4. Jaane Tu…Ya Jaane Na
...
Abbas Tyrewala Abbas Tyrewala is an Indian film director, story w >> Read More... made this movie starring Imran Khan Imran Khan is an Indian film actor, who is famous >> Read More... and Genelia D'Souza, Jaane Tu…Ya Jaane Na was a romantic comedy about the love story between two best friends, Jai and Aditi. The film did not seem to have any unique elements or big stars. Hence there was not much expectation from it. However, after release, the film turned out to be refreshingly funny and brilliant. All the elements of the movie came together and formed a great package which the viewers loved and accepted with a whole heart.
...
5. Tanu Weds Manu Click to look into! >> Read More...
...
This 2011 film was a quirky love story between a gentleman and a madcap woman. Tanu Weds Manu was directed by Anand L. Rai and starred R. Madhavan, Kangana Ranaut, and Jimmy Shergill Jimmy Shergill is a renowned Indian actor and prod >> Read More... . The film looked like just another love story but turned out to be much more than that. The characters and the actors made the film very successful. It performed quite well at the box office, surprising the viewers and even warranting a sequel.
6. Pyaar Ka Punchnama Click to look into! >> Read More... 2
...
Directed by Luv Ranjan Luv Ranjan is a director and writer. He has acquir >> Read More... and starring Kartik Aaryan His name is Karthik Tiwari, and he was born in Gwa >> Read More... , Divyendu Sharma Divyendu Sharma is an upcoming actor in Bollywood. >> Read More... , Raayo S Bakhirta, Nushrat Bharucha Who will forget the dictator and bossy girlfriend >> Read More... , Sonalli Sehgall, and Ishita Raj Sharma Ishita Raj Sharma is a well-known Actress and Mode >> Read More... , Pyaar Ka Punchnama was made targeting the young audience who are frustrated with their love lives. It tells the story of three friends who are tormented by issues with their girlfriends and lose the piece of their mind in all this mess. The movie had an unrecognized cast, meagre budget, and not much publicity before its release. However, the Indian youth could relate greatly to the film and made it a box office success. The film even has a sequel named Pyaar Ka Punchnama 2.
7. Vivah
Vivah was Sooraj R.Barjatya's movie about the arranged marriage between two young people and how they fall in love. In theme, it was not much different from Barjatya's other movies. In addition, it starred actors like Shahid Kapoor Shahid Kapoor also identifies as the name Shahid K >> Read More... and Amrita Rao Amrita Rao was born on June 7, 1981 in Mumbai, Mah >> Read More... , who were then not as well-known. The film might have been boring and repetitive. However, the freshness of the love story, the honest performances of the lead actors, and the simplicity of its treatment won the hearts of the viewers, making Vivah a surprise hit of 2006.
8. ABCD: Any Body Can Dance
This 2013 movie was promoted as India's first 3D movie based on dance. It was directed by choreographer Remo D'Souza and starred several dancers as the lead stars, like Salman Yusuff Khan Salman Yusuff Khan, the fabled television actor en >> Read More... , Dharmesh Yelande Dharmesh Yelande was born on 31 October 1983 in Ba >> Read More... , Lauren Gottlieb Lauren Gottlieb is a famous dancer and actress .Sh >> Read More... , Punit Pathak Punit Pathak is an Indian dancer, choreographer an >> Read More... , etc, apart from Prabhu Deva Story soon >> Read More... and Kay Kay Menon Kay Kay Menon or K.K. Menon or Krishan Kumar Menon >> Read More... . The film did not have a known leading actress or any other typical attractions. Yet it became a box-office success and did great business commercially. It also has a sequel named ABCD 2.
9. Ishqiya
This movie was a dark comedy directed by Abhishek Chaubey Abhishek Chaubey, an Indian Film Director was born >> Read More... and starring Arshad Warsi Arshad Warsi is most popular for his role as Circu >> Read More... , Naseeruddin Shah Naseeruddin Shah is an experimental actor and asso >> Read More... , and Vidya Balan. The movie had an unconventional film and no major stars. It did not get much publicity before its release. But it turned out to be a wittily made film having all the factors to entertain the audience. It performed well commercially and had a sequel called Dedh Ishqiya Click to look into! >> Read More... .
10. Tere Bin Laden
Tere Bin Laden was a small-budget movie made as a satirical take on the enmity between Osama Bin Laden and the United States. It presented the repercussions of the 9/11 attacks on the society. Starring Ali Zafar and Pradhuman Singh Pradhuman Singh, is a Hindi actor who portrayed t >> Read More... in the lead roles, Tere Bin Laden turned out to be a hilarious film with a message underneath the comic scenes. The movie did great at the box-office and earned a lot more than its small budget. Its sequel is called Tere Bin Laden: Dead or Alive.