Music is something that never fails to attract and impress the audience. All over the world, music shows are extremely popular and many in number. Shows having different formats are made, and most of them gain a lot of popularity. In India, too, there are several music oriented shows which have produced singers, composers, and other artists. Often, popular musical personalities appear on shows or judge them to increase the credibility of the show. Here are 10 music oriented shows of India.
1. " Mtv Unplugged Season 1 MTV Unplugged is a kind of reality show which feat >> Read More... ", " MTV Unplugged Season 2 MTV Unplugged Season 2 belongs to the music genre. >> Read More... ", " MTV Unplugged Season 3 MTV Unplugged Season 3 belonged to the music genre >> Read More... ", " MTV Unplugged Season 4 MTV Unplugged (India) is a music oriented show whe >> Read More... "
...
MTV Unplugged is a music-based show in India which is currently in its sixth season. In this show, popular singers and music composers sing their pre-released songs. Often, they make an acoustic or unplugged version of their song. The show is extremely popular with the viewers. The song versions created in this show are also released on the internet and YouTube for people to download them. It is one of the best shows on MTV India.
2. "", "Indian Idol Season 7"
...
Indian Idol is an Indian music contest show which has been adapted from the Pop Idol format. It started airing in India in the year 2004. Till date, the show has had seven seasons. The judges of this show are always big names in the Indian music industry, like Anu Malik Anu Malik is considered as one of the most famous >> Read More... , Sunidhi Chauhan Sunidhi Chauhan, a very famous Indian playback sin >> Read More... , Asha Bhosle Asha is considered to be the second greatest femal >> Read More... , Sonu Nigam Sonu Nigam is a renowned Bollywood singer and comp >> Read More... , Udit Narayan One of the famous playback singers of Indian Film >> Read More... , Javed Akhtar Javed Akhtar is an Indian poet, lyricist, film scr >> Read More... , Kailash Kher Kailash Kher was born on 7 July, 1973 in New Delhi >> Read More... , Vishal Dadlani Vishal Dadlani mostly known by duo name Vishal She >> Read More... , etc. Actors such as Sonali Bendre Sonali Bendre, the epitome of beauty and grace was >> Read More... and Sonakshi Sinha Sonakshi Sinha is a well-known Indian Actress. She >> Read More... have also judged the show. It is a very popular talent show in India.
3. " Coke Studio Mtv Season 1 Coke Studio MTV is a type of reality show which sh >> Read More... ", " Coke Studio Mtv Season 2 This was a 2012 Hindi music Tv series created by C >> Read More... "
...
Coke Studio India is an adaptation of a Pakistani music show also titled Coke Studio. It is an extremely popular music show in India. The format of the show rests heavily on live performances. The artist sings and records the songs in front of a full studio audience. The guests are note-worthy names in the musical world. The show is also famous for its fusion elements. Genres such as Carnatic, Classical, folk, hip-hop, pop, and rock music are combined to create masterpieces. It also organizes concerts throughout the country.
4. Sa Re Ga Ma Pa
...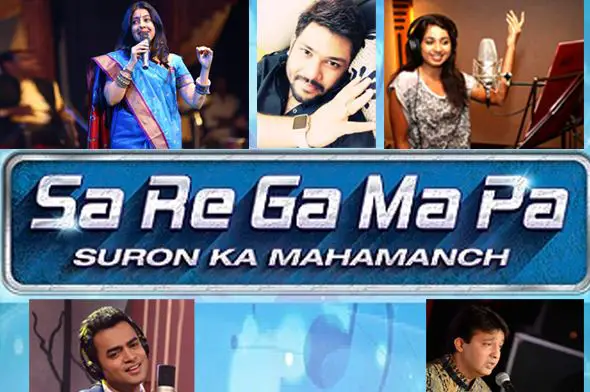 The show Sa Re Ga Ma Pa is aired on Zee TV in India. It is an old show, having started in the year 1995. The format and hosts of this show have changed several times to revamp it and attract more audiences. It is a show which searches for singing talents among the common people. The show has also had branches like Sa Re Ga Ma Pa Little Champ, Sa Re Ga Ma Pa Super Seniors, etc. Some of the hosts have been Sonu Nigam, ' Shaan Shantanu Mukherjee is a very popular singer and kn >> Read More... ', , Javed Ali Javed Ali (Javed Hussain) was born in Delhi in 198 >> Read More... , etc. The show has been airing for more than ten seasons in the original and little champs format.
...
5. " The Dewarists Season 1 The Dewarists is an Indian television series which >> Read More... ", " The Dewarists Season 2 The Dewarists is an Indian television series which >> Read More... ", " The Dewarists Season 3 Tommy Dewar, a Scottish whisky distiller, became f >> Read More... ", " The Dewarists Season 4 The Dewarists is a musical journey sponsored by De >> Read More... "
...
The Dewarists is a music show on MTV India which can also be considered a travelogue. The show has a format of traveling all over the country, searching for talented musicians and bringing them to the limelight. It is also one of the very few shows where original music is created. It has had five seasons till date, featuring musicians like Vishal Dadlani - Shekhar Ravjiani Shekhar Ravjiani is a renowned Indian music direct >> Read More... , Shantanu Moitra Shantanu Moitra is a music composer in Bollywood. >> Read More... , Swanand Kirkire Swanand Kirkire is a multi-talented personality of >> Read More... , Mohit Chauhan Mohit Chauhan is a Bollywood playback singer. He w >> Read More... , Shilpa Rao Shilpa Rao is perhaps the youngest Bollywood singe >> Read More... , ' Papon Angarag Mahanta, better known as Papon, was born o >> Read More... ', Rabbi Shergill Gurpreet Singh Shergill was born in 1973 in Punjab >> Read More... , etc. The specialty of the show lies in the fact that it showcases talent hidden in the interiors of India and also focuses on the composition of original music.
6.
...
MTV Sound Trippin is a fresh young show on MTV India which also focuses on the making of original music. The format of this show is unique and interesting. Music composer Sneha Khanwalkar She is a famous Indian music director known for he >> Read More... travels across India and visits ten places. There she records local sounds unrelated to music. Then she uses them to compose ten songs, highlighting the essence of each place. Her crew, a backpack, a recorder, and a laptop accompany her in this journey for the search of music. The show has been applauded by critics and viewers for being a unique approach towards music composition.
7. Sur Kshetra Sur Kshetra was a music battle between the singers >> Read More...
Sur Kshetra is a music show that airs as a contest between the musicians of India and Pakistan. The host of the show is actress Ayesha Takia Ayesha is a Bollywood film actress, born on 10th A >> Read More... , and it is aired on Colors TV and Sahara One. It is also aired simultaneously in Pakistan. The show's format follows a competition between two teams. At the end of the contest, the marks obtained individually by the team members are added and the team with a higher score wins. The jury of this show comprises of Abida Parveen Abida Parveen is a graceful Pakistani Singer born >> Read More... , Runa Laila Runa Laila is one of the most popular singers in t >> Read More... , and Asha Bhosle. Apart from them, guest judges keep appearing on the show.
8. The Voice India The Voice is an Indian singing reality TV show. It >> Read More...
The Voice India is the Indian version of the Dutch music reality show named The Voice of Holland. It follows an international format which has a panel comprising of four judges who coach their trams to compete against the others. It has had two seasons till date. The coaches are Himmesh Reshammiya, Mika Singh Mika Singh is an actor, singer, stage presenter an >> Read More... , Shaan, and Sunidhi Chauhan in the first season; and Salim Merchant Salim Merchant is a mesmerizing Music director, pl >> Read More... , Benny Dayal Benny Dayal is an Indian Pop-Singer. Born in Kolla >> Read More... , Neeti Mohan Intro: Neeti Mohan appeared on Hindi television wh >> Read More... , and Shaan in the second season. The show has achieved very high ratings on television soon after its inception.
9. " Rock On With Mtv Season 1 Rock On with MTV is a reality music hunt show pres >> Read More... ", " Rock On With Mtv Season 2 After the immense success of the first season of R >> Read More... "
MTV Rock On is a TV show on MTV India which is a contest between amateur Indian bands to win the show's title. Here, music groups from different parts of India compete to create original music and win the hearts of the judges and viewers. Season One featured individual singers, whereas Season Two focused more on bands and their music. The hosts of this show have been Ayushmann Khurrana This Vicky donor worked as radio jockey, Video joc >> Read More... , Anusha Dandekar Anusha Dandekar, a pretty lady from Australia, is >> Read More... , and Lisa Haydon Lisa Haydon is an Indo Australian model, who born >> Read More... . The show is one of the rare ones in India which lets music groups compete.
10.
This music reality show in India is a competition between singers. It started airing in the year 2014. Popular singer, rapper, and composer Honey Singh Honey Singh was born on 15th March 1983 in Hoshiar >> Read More... appeared on the show as a judge and mentor for the contestants. The show was hosted by Gauhar Khan Gauhar Khan or Gauahar Khan or Gauahar Zafar Khan >> Read More... . The show focused a lot on the stage presence and star power of the contestants. They were looking for not only singers but all-round performers who could entertain the audience. Himmesh Reshammiya also appeared on the show as a mentor.