Akshaye Khanna Akshaye Khanna is a popular Indian film actor. He >> Read More... is an Indian actor born March 28, 1975, known for his work in Hindi cinema, and is the son of Vinod Khanna Vinod Khanna, the name of the tinsel town, is alwa >> Read More... . Some of the achieved hits are Border, Dil Chahta Hai Click to look into! >> Read More... , Race, and Section 375. He won the Best Male Debut Filmfare Award for Border.
1. Dil Chahta Hai
Dil Chahta Hai is a movie directed by Farhan Akhtar One of the most recognized young director of India >> Read More... and was released in 2001. The film stars Akshaye Khanna, , and Aamir Khan Aamir Khan or Mohammed Aamir Hussain Khan is Bolly >> Read More... . The film's plot revolves around the friendship and the love interests of Akash, Sameer, and Sid. Akash is in love with Shalini, who is already engaged. Shalini leaves her fiancé as she loves Akash. Akash and Sid get into an argument, and Sid slaps him. Sameer helps Pooja heal after her breakup, and eventually, they both catch feelings and get together. Meanwhile, Tara is on her deathbed, and Sid will be with her in her final moments. Later, all the friends reconcile and meet up in Goa, sorting out their differences and having a good time together.
2. Border
Border is an Indian War film directed by J. P. Dutta and was released in 1997. The film is set in 1971, right before the Indo-Pakistani War. Major Kuldip Singh Chandpuri is the leader of a small base at the Longewala Border Post in Rajasthan. This base houses soldiers, Lieutenant Dharamvir Singh and Subedar Ratan Singh. These people bond with each other and share their life stories while at the base and prepare to defend against the Pakistani attack. Major Kuldip Singh's tactics helped the Indian Soldiers win the combat even without having the support of aerial troops. Although they win the battle, the survivors are left impacted by the deaths of their fellow soldiers and their enemies.
3. Taal
Taal is an Indian Film directed by and was released in 1999. The film stars Aishwarya Rai, Akshaye Khanna, and Anil Kapoor Anil Kapoor was born on 24th December 1956 in Mumb >> Read More... . The film's plot revolves around Jagmohan Mehta, who visits India with his family and son, Manav. Here, he meets Tara, and they become friends. Tara also has a daughter named Mansi. Manav and Mansi soon fall in love. A harsh incident occurs when Tara is insulted by the family, which leads to Mansi and Manav breaking up. Later, Mansi signs a contract with Vikrant, a musician, becomes a star. They both fall in love and plan to get married, but Manav tries to win Mansi back after eventually realizing his family's ill-treatment of Tara and Mansi. The film ends with Mansi and Malav marrying each other.
...
4. Race
Race is an Indian Film directed by Abbas-Mustan and was released in 2008. The film stars Akshaye Khanna, Saif Ali Khan, and Anil Kapoor. The film is about how Ranvir "Ronny" Singh escapes the murder attempts of his younger brother, Rajiv. Rajiv's main intention is to inherit the life insurance money. Rajiv recruits Sonia, Ronny's girlfriend, who pretends to be on Rajiv's side and pushes Ronny off a building. In the end, Ronny and Rajiv get into a dangerous car race, which ends with Rajiv dying.
...
5. Humraaz
Humraaz is an Indian film directed by Abbas Mustan. This film revolves around Karan and Priya, who fall in love. They are part of a dance team participating in a competition to perform on Raj's luxurious cruise. Karan kills Jojo, who is a rival dancer. Harry finds out about this and blackmails Karan for money. Karan ends up killing Harry as well. Priya weds Raj for his money but later falls in love with him and refuses to divorce him. Karan is furious and manipulates Raj into hating Priya and wanting to kill her. At the film's end, Priya and Raj end up killing Karan.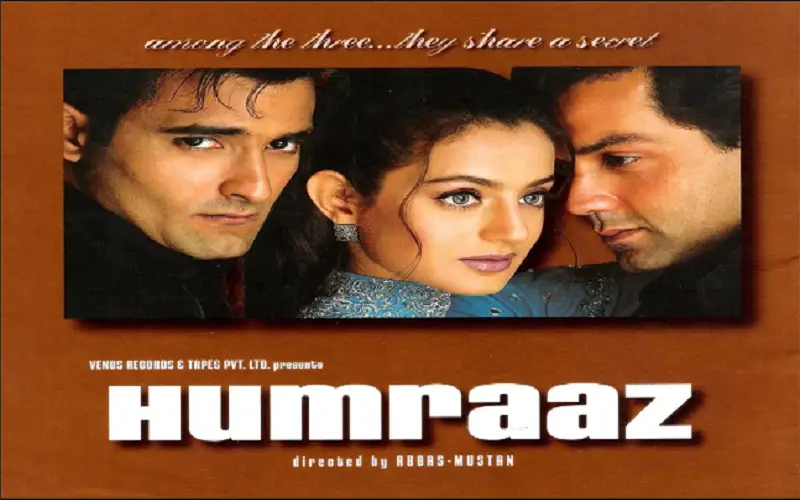 ...
6. Hulchul
Hulchul is an Indian film directed by Priyadarshan and stars Akshaye Khanna and Kareena Kapoor. The film revolves around two families, Patels and Malhotra. The two families had been in a feud for decades, but this changes as and Anjali Malhotra fall in love. The two get separated due to family issues but attempt to reunite when Jai's sister weds Anjali's brother. The families constantly poke each other, but as the secrets are revealed, the two families set their differences aside and end the feud.
...
7. Aakrosh
Aakrosh is an Indian film directed by Priyadarshan and was released in 2010. The story revolves around the disappearance of three medical friends. CBI officers Siddhant and Pratap investigated the case. The Shool Sena is involved in the disappearance of the boys, but no person in the village assists the officers with the investigation except for Geeta and Roshni. A corrupt IPS officer tries to ruin the investigation, but Pratap finds traces and uses CCTV evidence to capture the criminals. Justice is not fully served so Siddhant gives a gun to Jamunia, who kills the criminals.
...
8. Section 375
Section 375 is an Indian film directed by Ajay Bahl If there is any director who drew the attention of >> Read More... and was released in 2019. The plot of the film revolves around a court case involving Rohan Khurana Rohan Khurana is an Indian actor born on the 1st o >> Read More... and Anjali Dangle, who are represented by Tarun Saluja and Hiral Gandhi, respectively. Anjali accuses Rohan of rape, but the judge rules in favor of Anjali even though the evidence points to fake charges.
...
9. Deewangee
Deewagee is an Indian film directed by Anees Bazmee Anees Bazmee was born in the place of Modasa, Guja >> Read More... and was released in 2002. This film stars Akshaye Khanna, Ajav Devgn and Urmila Matondkar Urmila Matondkar is an Indian actress born on 4th >> Read More... . The film's plot is about how a lawyer, Raj, defends his client, Tarang, for killing a music producer. Raj tries to know about Tarang and finds out he is suffering from dissociative identity disorder known as DiD. Raj wins the case but later realizes it was all a facade. Tarang kidnaps Sargam and tries to flee away, but Raj catches up, and they get into a fight. In the end, Raj pushes him into a river, and Raj, and Sargam, enjoys their vacation.
10. State Of Siege: Temple Attack
State of Siege: Temple Attack is an Indian film directed by Ken Ghosh Ken Ghosh is a Bollywood Director who started his >> Read More... and was released in 2021. The film revolves around Hanut Singh and how he manages to fight off terrorists who try to capture a temple in Gujarat.