Anupam Kher Anupam Kher is a very popular actor, director, and >> Read More... is an Indian actor born on March 7, 1955. He is the former Chairman of the Film and Television Institute of India. He has appeared in 532+ films in several languages and also has won two National Film Awards The National Film Awards gets presented every year >> Read More... and eight Filmfare awards. He has also been a part of the international films Bend It Like Beckham, Lust, Caution, Silver Linings Playbook.
1. The Kashmir Files
The Kashmir Files is a Bollywood drama directed by Vivek Agnihotri Vivek Agnihotri is the man behind some of the most >> Read More... . The film is about the fictional storyline that took place back in 1990 in which Kashmiri Hindus were forced to leave Kashmir. In the movie, this incident is portrayed as a genocide, which means the killing of a large group of people, but experts deny this portrayal. This film also uncovers many secrets about the incident. The story is about a young Kashmiri Hindu student raised by his grandfather, unaware of his parent's tragic fate. After his grandfather's death, he uncovers the truth behind his family's demise.
2. Khosla Ka Ghosla
Khosla Ka Ghosla is a Bollywood comedy-drama directed by Dibakar Banerjee Dibakar Bannerjee is a director and screenwriter a >> Read More... . This film is about Kamal Kishore, a middle-class man who buys land to build a house. The land is trespassed by a corrupt local tycoon, Khurrana. Cherry, Kamal's son, and his family come up with a clever plan by which they can reclaim their land. Cherry, whose goal was to go to the US, cancels it and stays with his family, and marries Meghna and they build a house.
3. A Wednesday!
A Wednesday! is a thriller film directed by Neeraj Pandey Neeraj Pandey is an Indian movie producer, directo >> Read More... . The film revolves around an anonymous caller who places fake bombs and demands the release of four terrorists. Mumbai Police Commissioner Rathod gets this case on the day before his retirement. The caller tricks the police into killing the terrorists. Later, after it's done, Rathod confronts the caller who's a regular person seeking justice. The person's name is not revealed, but Rathod thinks it led to something good, though it's unclear.
...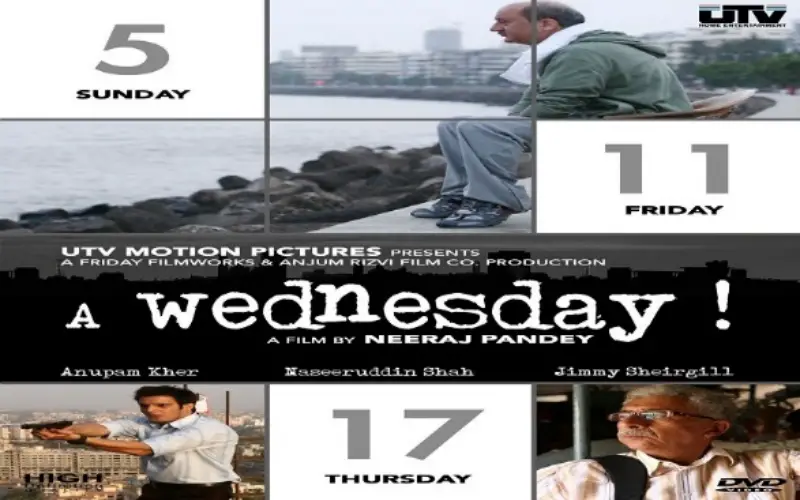 4. Saaransh
Saaransh is a Bollywood drama directed by Mahesh Bhatt Filmmaker Mahesh Bhatt created a niche for himself >> Read More... . The film starts with B.V. Pradhan writing a letter to his son, who stays in New York Click to look into! >> Read More... , but he hasn't accepted that his son was killed in a mugging. He was left with no source of income, so he rents his room to an actress named Sujata. Despite challenges, he helps and supports Sujata when she is pregnant with Vilas's baby, who was a son of a powerful politician named Gajanan. Gajanan tries to stop them, but with Pradhan's determination and help from a former student who's now a Chief Minister, he gets justice. Pradhan helps Sujata and Vilas to start their new life and make his wife accept their son's death.
...
5. Special 26
Special 26 is a Bollywood period heist thriller film directed by Neeraj Pandey. The film starts with a fake job interview for the CBI, leading to a flashback. Ajay and P.K., along with their friends, pretend to be a CBI officer and do successful raids. An honest CBI officer named Khan and Ranveer teams up with each other to catch them. The gang plans a final attack, but Khan and Ranveer figure out their plan. Ajay's motive is to take revenge on the CBI. During the raid, Khan replaces authentic jewelry with fakes. Ajay's plan is revealed later in the movie, to trick Khan and police as Ranveer was part of the gang. The film ends with Khan getting a call that the CBI has information about the perpetrators.
...
6. M.S. Dhoni: The Untold Story
M.S. Dhoni is a Bollywood biographical sports drama directed by Neeraj Pandey. The film is about a famous Indian cricketer, MS Dhoni. The film starts with Paan Singh Dhoni in 1981, having a boy named Mahendra Singh Dhoni Mahendra Singh Dhoni Ak MS Dhoni or Dhoni was born >> Read More... . Mahi is spotted by a cricket coach while practicing for goalkeeping in a football game. He invites him to try out as a wicketkeeper, and selects him. He became interested in cricket, and despite the challenges, he worked hard and got into the national cricket team. He leads India to victories, mainly the 2011 World Cup. He marries Sakshi and finds success. The film ends with India winning the World Cup and Dhoni's real-life presence at the boundaries.
...
7. Baby
Baby is a Bollywood action spy film directed by Neeraj Pandey. This film is about attacks and terrorists, a temporary force formed by Feroz Ali Khan in response to the 26/11 attacks in India. Agent Ajay catches a traitor who tells about the bomb plot. Maulana, the mastermind of terrorists, escapes; however, the team tracks down his associates and secretly brings him to India. Ajay gets injured in all this but succeeds. The team's achievement result in their task force being made permanent and all celebrating victory.
...
8. Dil Hai Ke Manta Nahin
Dil Hai Ke Manta Nahin is a Bollywood romantic comedy directed by Mahesh Bhatt. Pooja Dharamchand, daughter of a wealthy Bombay shipping tycoon, falls in love with Deepak Kumar Bio coming soon... >> Read More... . Pooja escapes from her father's yacht as he disapproves of her being with Deepak and takes a bus to Bangalore to be with Deepak while his father sends detectives to find her. On the bus, he meets a journalist, Raghu Jetley, who offers to help her in exchange for a story. After some time spent together, they fall in love with each other. Misunderstandings lead Pooja to break up with Raghu and agree to marry Deepak. Later, she realizes Raghu's sincerity and reunites with him on her wedding day.
...
9. Dilwale Dulhania Le Jayenge
DDLJ is a Bollywood musical romance film directed by Aditya Chopra Aditya Chopra is an Indian film director, scriptwr >> Read More... . The film revolves around the love story of two NRIs, Raj and Simran. Raj and Simran meet each other on a European trip with their friends. Raj falls in love with Simran, and later, Simran feels the same. When she returns from the trip, she learns that Simran's family arranged her marriage to Kuljeet, Simran's father's friend's son. Raj learns and befriends Kuljeet's family to gain acceptance, but when Simran's father discovers Raj's past, he rejects him. Further in the film, after the fight, Raj and Simran leave on a train. Baldev lately realizes their love and allows Simran to join Raj as they depart.
10. Maine Gandhi Ko Nahin Mara
Maine Gandhi Ko Nahin Mara is a Bollywood drama directed by Jahnu Barua Jahnu Barua, an Assamese Filmmaker, born on 17 Oct >> Read More... . Uttam Chaudhary, a retired Hindi professor, falls victim to dementia. His confusion increases after he sees an ashtray on a newspaper photo of Gandhi. One night, his children find his room on fire and take him to a doctor who says nothing can happen now and confirms his condition. Uttam believes that he shot Gandhi accidentally with a toy gun. For further details, his children visit his brother, who recalls their childhood game of balloon darts game. Another doctor, Siddharth, helps him as Uttam thinks that his home is jail and his food is poisoned, but the doctor eats the food to prove it's safe. In court, it is proved that a toy gun can't kill anyone.