Every movie story differs from the another. Some are based on action; some are romantic, some are comedy, etc. There are movies which are based on father-daughter relations. These movies are very adorable and very different. They show how father and daughter respect and take care of each other. It is moreover a closer to the real world by being based on the real-life situations. Father - daughter relation is unique and showing it in the movie is something very different.
List of the movies is:
1. Piku
...
It is a recent movie based on the concept of father-daughter relation. It is about how Deepika Padukone Deepika Padukone is an Indian actress and model. S >> Read More... (the daughter) take cares of (the father) who is very old and is dealing with constipation. Deepika is an independent girl and tries her best to enjoy her life but due to her father, she cannot do it properly. Still, she always chooses her father in front of her career. It is a very sweet, simple yet an emotional movie. This is how every girl does for her father. It has a very sad ending.
2. Daddy
...
This movie was released in the year 1989. Pooja Bhatt This chubby star of Bollywood had a different styl >> Read More... is playing the character of the daughter and Anupam Kher Anupam Kher is a very popular actor, director, and >> Read More... is the father. Pooja, who is living with her grandparents, starts getting phone calls from an unknown person. The only said hello then used to hang up the phone. When her grandfather traced the phone call, he found out that it was her father who was calling. This movie was directed by Mahesh Bhatt Filmmaker Mahesh Bhatt created a niche for himself >> Read More... .
...
3. Mohabbatein
This movie is a romantic movie based on the love story of Shah Rukh Khan Shah Rukh Khan or also known as SRK is a prominent >> Read More... and Aishwarya Rai Bachchan Aishwarya Rai Bachchan is a popular Indian actress >> Read More... . In this movie, when Aishwarya (the daughter) confesses her love for Shah Rukh in front of her father Amitabh, he refuses to acknowledge it. He was not in favor of his daughter's love and hence, Aishwarya couldn't go against her father's decision. She decides to commit suicide.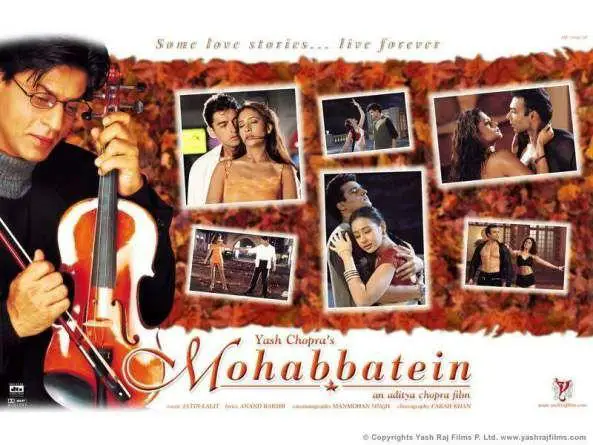 ...
4. Khamoshi: The Musical
This movie is Sanjay Leela Bhansali's debut as a director. It is a very heart touching movie. It is based on the relation of a mute father and his normal kid. There is a scene which is very emotional when the mute father tries to revive his daughter from coma by delivering a mute speech.
...
5. Aarakshan
...
It based on a daughter who is independent and very strong minded (Deepika Padukone). She supports her father (Amitabh Bachchan) to fight against reservation. The family has to go through many difficult times, but they never fail and continue their battle.
...
6. Chachi 420
This movie is about how a father can go beyond all the boundaries and limits just to be with his daughter. This movie is a remake of a Tamil movie. Kamal Hassan (the father) dresses up as a female and become the nanny of his daughter just to be with her.
7. Cheeni Kum Click to look into! >> Read More...
This movie was released in 2007. It is a very different movie. It is based on the relationship of a young girl (Tabu) with an older man (Amitabh). The girl's father ( Paresh Rawal The Padma Shri award winner who shot to fame with >> Read More... ) is against the marriage of his daughter.
8. Kya Kehna Click to look into! >> Read More...
This movie is about a family which is very supportive of their children. When the daughter ( Preity Zinta Preity, also known as Preity Zinta is a famous Act >> Read More... ) finds that she is pregnant, her family especially her father (Anupam Kher) supports her despite being neglected by the society.
9. Papa Kahte Hain
This movie is based on a rebellious girl who is never allowed to talk about her father (Anupam Kher). She runs away from home just to meet her father who lives in Seychelles, but there, she bonds like a father and daughter with a man who afterwards revels that he is her father.

10. Kuch Kuch Hota Hai
This movie is a blockbuster. It is based on a love triangle. Shah Rukh Khan is a father of a 8 year old girl child. He cares for her and can do anything for her daughter. After the death of the mother, Shah Rukh becomes his daughter's everything. Later, he falls in love with his best friend (Kajol). And all this was planned by his daughter.