Who doesn't love a nice dance number that just puts everyone in the mood to groove? The number of item songs has increased immensely and rightly so, after all, these help the movie rope in audiences in huge numbers. The viewers love seeing their favorite celebrities' just sway to these peppy dance numbers. Everyone knows and admires Helen Jairag Richardson for her beautiful cabaret performances in songs like 'Aa Jane Jaan' from the film 'Intequam', 'Piya Tu Ab To Aa Jaa' from the movie 'Caravan' and 'Mehbooba Mehbooba' from the film 'Sholay'. Even ' Madhuri Dixit Madhuri Dixit is not just known as the also a smil >> Read More... 's dance number 'Ek Do Teen' in the movie 'Tezaab, and 'Sridevi's 'Hawa Hawai' from Mr. India were amazing dance numbers. An item number by definition is one that has nothing to do with the movie in relation to its story but is still there to attract audiences to the theaters and create hype about it.
These are the top 10 item numbers of Bollywood-
10. Desi Look-
This item number from the movie Ek Paheli Leela Click to look into! >> Read More... is a very popular song these days. You hear it everywhere from marriages and parties to night clubs. It has an amazing beat and just puts you in the groove. Kanika Kapoor Kanika Kapoor is a renowned playback signer in Ind >> Read More... sang the song and Sunny Leone Sunny Leone, a famous porn star, has recently ente >> Read More... featured in the video. This song has become one of the most watched item songs on YouTube. Sunny Leone's amazing dance has been appreciated by all.
9. Lovely-
This magnificent dance number is from the movie Happy New Year Click to look into! >> Read More... . Deepika Padukone Deepika Padukone is an Indian actress and model. S >> Read More... gave a scintillating performance and looked as beautiful as ever. The singer of this song is Kanika Kapoor. Even though the star cast included big names such as Shah Rukh Khan Shah Rukh Khan or also known as SRK is a prominent >> Read More... , Boman Irani Boman Irani is a well known name today in the Bol >> Read More... , Abhishek Bachchan Abhishek Bachchan, or Abhishek Srivastava, is a ve >> Read More... and Deepika Padukone, the movie was a drag, the song 'lovely' being the only good highlight of the film. From pole dance to aerial acts, Deepika Padukone has tried everything to look sexy in this song and has succeeded. Her perfectly toned body and shimmery dresses make her look breathtaking.
8. Ghagra-
From the movie " Yeh Jawaani Hai Deewani Click to look into! >> Read More... ", this spectacular item number features Madhuri Dixit proving why she was called the best dancer of Bollywood in the past. She danced alongside Ranbir Kapoor Ranbir Kapoor is a noted Indian film actor. He was >> Read More... , and it was fantastic to watch. She is still the graceful and amazing dancer she was and continues to be our 'dhak dhak girl'. Sung by Rekha Bhardwaj Rekha Bhardwaj is a dynamic and versatile Indian p >> Read More... and Vishal Dadlani Vishal Dadlani mostly known by duo name Vishal She >> Read More... - Shekhar Ravjiani Shekhar Ravjiani is a renowned Indian music direct >> Read More... , it has a fantastic beat and has been picturised beautifully.
7. Kajra Re-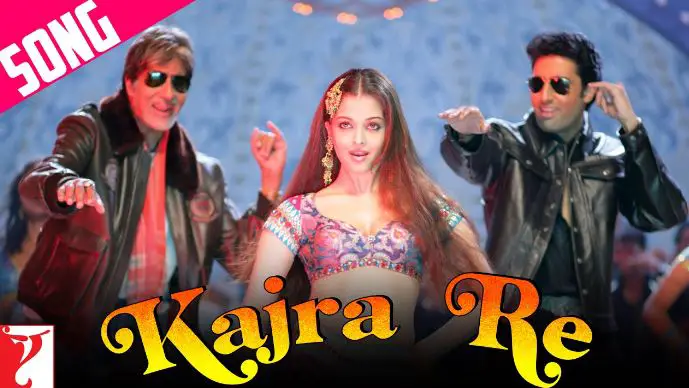 One of my personal favorites, 'Kajra Re' is from the movie Bunty Aur Babli Click to look into! >> Read More... in which Aishwarya Rai Bachchan Aishwarya Rai Bachchan is a popular Indian actress >> Read More... looked stunning. Her chemistry with Amitabh Bachchan Amitabh Bachchan was conceived on October 11, 1942 >> Read More... and Abhishek Bachchan was interesting to watch. What makes it even more interesting is that Aishwarya Rai went on to become the Bachchan bahu later on. Her perfect expressions and dance moves made this song spectacular. Alisha Chinai Alisha Chinai was born on 18th March 1965 and her >> Read More... with Javed Ali Javed Ali (Javed Hussain) was born in Delhi in 198 >> Read More... sang this song.
6. Sheila Ki Jawaani-
Sung by Sunidhi Chauhan Sunidhi Chauhan, a very famous Indian playback sin >> Read More... and Vishal Dadlani, featuring Katrina Kaif Latest Videos of Katrina Kaif >> Read More... along with Akshay Kumar Akshay Kumar was born on 9th September 1967 and hi >> Read More... , the song is one of the most viewed songs on YouTube. The movie Tees Maar Khan Click to look into! >> Read More... was a flop but the song was unforgettable. Katrina Kaif's stunning dance moves took everyone by surprise. The song became a blockbuster hit and is popular even now.
5. Baby Doll-
This item number was in the movie "Ragini MMS 2" featuring Sunny Leone. Sung by Kanika Kapoor, this sassy number created waves when it came on the air and still is one of the favorites to be played at parties and nightclubs. The tune is catchy making the song an instant blockbuster.
4. Fevicol Se-
This incredible dance number from the movie "Dabbang 2" featured Kareena Kapoor Khan Kareena Kapoor is a super hit actress working in I >> Read More... shaking a leg with the one and only Salman Khan Salman Khan is a very famous Indian actor and a pr >> Read More... . Fevicol is a fun item song that makes you want to bust a move whenever you hear it. Kareena and Salman's chemistry is amazing to see. This song received a great response from the audience and rightly so. Mamta Sharma Mamta Sharma is a very renowned playback singer of >> Read More... is the singer of this song.
3. Chikni Chameli-
This spectacular item number from the movie ' Agneepath Click to look into! >> Read More... ' sung by Shreya Ghoshal Shreya Ghoshal, one of the most famous singers in >> Read More... , was a hit as soon as it came out. Katrina Kaif outdid her Sheila Ki Jawaani's enchanting performance with this one. Her impressive style and attitude made everyone fall in love with her. Her fast-paced dance routine and flirty expressions made the song a huge hit.
2. Ram Chahe Leela-
This spectacular item number by Priyanka Chopra Born on 18 July 1982, Priyanka Chopra is an establ >> Read More... from the movie "Goliyon Ki Rasleela: Ram Leela", was sung by Bhoomi Trivedi Bhoomi Trivedi is a female playback singer in Guja >> Read More... . The stunning Priyanka Chopra looks as beautiful as ever while captivating the audiences with her amazing dance moves. She gave the performance of her life and will be remembered by one and all in times to come for this song.
1. Munni Badnaam Hui-
This superb item number from the film ' Dabangg Click to look into! >> Read More... ' by Malaika Arora Khan broke all records of popularity by remaining the best item song of 2010. Malaika Arora Khan's beautiful performance made all the difference. She looked so stunning that it was difficult for everyone to keep their eyes off her. The choreography was equally impressive, and Malaika did full justice to it. This outstanding number was sung by Mamta Sharma.