10 Bollywood movies to begin your New Year with
Wishing you a very happy new year…. here are ten must watch movies to begin the new year with.
1. Anjaana Anjaani Click to look into! >> Read More...
...
Ranbir Kapoor Ranbir Kapoor is a noted Indian film actor. He was >> Read More... as Akash
Priyanka Chopra Born on 18 July 1982, Priyanka Chopra is an establ >> Read More... as Kiara
...
Anjaana Anjaani is the story of two unknown people Akash and Kiara who meet while attempting suicide. They decide to wait and try together on New Year's Eve till then they will fulfil all their unfulfilled wishes. The next 20 days change their life for the better and the new year is indeed a "happy" one for them as they start a new life together.
2. Ek Main Aur Ekk Tu
...
Kareena Kapoor Khan Kareena Kapoor is a super hit actress working in I >> Read More... as Riana
Imran Khan Imran Khan is an Indian film actor, who is famous >> Read More... as Rahul
...
Riana, a fun-loving hair stylist, lives life on her terms. Rahul, a reserved architect, lives life according to his father's wishes. Riana and Rahul two opposites meet at the psychiatrist's office and later at a bar on Christmas Eve Click to look into! >> Read More... . After a night of heavy drinking, they end up getting married in a chapel in Las Vegas Serial Story Coming Soon... >> Read More... . They learn from their mistakes and Rahul makes major life changes so he can live his life the way he wants to.
3. Dil Chahta Hai Click to look into! >> Read More...
...
Aamir Khan Aamir Khan or Mohammed Aamir Hussain Khan is Bolly >> Read More... as Akash
...
as Sameer
Akshaye Khanna Akshaye Khanna is a popular Indian film actor. He >> Read More... as Siddharth (Sid)
...
Dil Chahta Hai Kabhi naa beetein chamkeele din
Dil Chahta Hai Hum naa rahe kabhi yaaro ke bin
True to the title track the movie is all about the once in a lifetime teenage youthful days filled with fun and unbreakable bonds of friendship. The movie shows you an amazing friendship, a fun road trip to Goa and how even after being apart for a while their friendship remains the same.
4. Dil Dhadakne Do Click to look into! >> Read More...
Ranveer Singh Ranveer Singh Bhavnani is an Indian movie actor wh >> Read More... as Kabir
Priyanka Chopra as Ayesha
This family entertainer is about the well-to-do famous Mehra family residing in the posh locality of Delhi. The family has its share of problems but head out on a cruise to celebrate Kamal and Neelam's 30th wedding anniversary. On the cruise, each feels free and help bridge the gap between each other. The beautiful locations and fun songs add up to the amazing plot of the movie.
5. Queen
as Rani
Rani a middle-class Delhi girl. A day before the wedding her fiancé breaks off the marriage since his lifestyle has changed after living abroad. Rani then decides to go for her honeymoon to Paris and Amsterdam alone. She meets new people and makes new friends. The trip changes Rani and opens new doors for her. She starts living life "queen" size.
6. Tamasha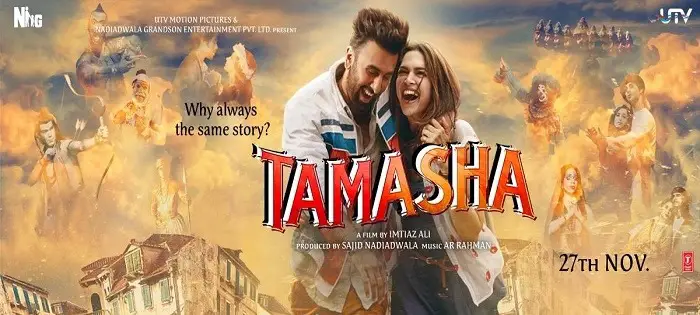 Ranbir Kapoor as Ved
Deepika Padukone Deepika Padukone is an Indian actress and model. S >> Read More... as Tara
Ved and Tara meet in Corsica and decide to give each other a pseudonym so they enjoy the trip on a no strings attached holiday romance. Later they realize their love for each other, and how Tara always brings out the best in Ved. This rollercoaster of life shows all ups and downs and also teaches us to live our dream because all the world's a stage for us to display our story.
7. Zindagi Na Milegi Dobara
Farhan Akhtar One of the most recognized young director of India >> Read More... as Imraan
Hrithik Roshan Hrithik Roshan with his unimaginable dance moves i >> Read More... as Arjun
Abhay Deol Abhay Deol is an actor and director of the TV indu >> Read More... as Kabir
Three friends head out on a bachelor road trip around Spain. They resolve their issues and make peace with the past to start a new happy future. We never get life to live again so live it without boundaries and fulfil all that your heart desires. Life is like a movie so make it beautiful and worth the watch.
8. Jaane Tu Ya Jaane Na
Imran Khan as Jay
Genelia D'Souza as Aditi
This movie will take you back to your college days. College friends have a special place in your heart, and they are invaluable assets in life. Jaane Tu Ya Jaane Na explores college friendships that last a lifetime.
9. Happy Ending Click to look into! >> Read More...
Saif Ali Khan as Yudi
Ileana D'cruz as Aanchal
Yudi is a struggling writer who wrote a hit book five and a half years ago and is not able to write anymore because of his severe writer's block. He has written a lot of books but cannot find a suitable ending to any of them. He meets Aanchal who helps him believe in "Happy Endings" and he finds himself able to finish his books. Every story has a happy ending. If it is not happy, it is not the end.
10. Highway
Randeep Hooda The strong macho image of Randeep Hooda graces the >> Read More... as Mahabir
Alia Bhatt Alia Bhatt is a trendsetting actress from Mumbai, >> Read More... as Veera
This movie is about self-discovery. Veera was kidnapped by Mahabir, and while moving through highways, she finds herself. She finds freedom in bondage.