Parveen Babi The actress who changed the face of Bollywood and >> Read More... , born on April 4, 1949, made her acting debut in the 1973 movie "Charitra." However, the movie did poorly at the box office. Later, Parveen and actress Zeenat Aman Zeenat Aman is a trendsetter and the most versatil >> Read More... reversed the pattern of Indian heroines and disproved the clichés of the Bollywood film industry. Parveen Babi worked on several well-known movies, including " Suhaag Click to look into! >> Read More... ," " Deewar Deewar is a Hindi serial broadcasted on DD Nationa >> Read More... ," "Namak Halaal," "Majboor," "Kaala Patthar," and others. During that golden age, her partnership with and Vinod Khanna Vinod Khanna, the name of the tinsel town, is alwa >> Read More... was extremely popular.The top 10 timeless films by Parveen Babi are listed below:
1. Chandi Sona
The famed Parveen Babi Cleopatra outfit that Time magazine saw and featured on its cover was a treasure in Sanjay Khan's interminably ridiculous treasure-hunt movie. The other top actresses of the era were envious of her remarkably. The movie's sole claim to fame is this. She was always stylish and glitzy, but we rarely saw her making jokes about her characters.
...
2. Charitra
Parveen rejected the idea of the stereotypical heroine in her debut film by taking on the role of a young woman forced to sleep with her father's creditor, who then impregnates her and keeps the child a secret. A new emancipated Hindi film heroine, whose Charitra was not faultless and who surprisingly engaged in pre-marital sex, had to be introduced by an unconventional director like B.R. Isaara. It was immediately evident that Parveen Babi wouldn't conform to the standard Sati Savitri Story Coming Soon. >> Read More... mold.
3. Yeh Nazdeekiyan
For Parveen, 1982 was a hectic year. In Rang Birangi, she collaborated for the first time with Hrishikesh Mukherjee Hrishikesh Mukherjee is a film director, writer an >> Read More... , who later said in an interview that he regretted not giving her a more significant role. She portrayed the Other Woman in three movies that same year: Eshmayeel Shroff's Dil Aakhir Dil Hai, J. Om Prakash's Arpan (where she stole Jeetendra away from Reena Roy The 80s was a landmark in the film career of Reena >> Read More... ; Parveen Babi was the ritzy female Arpan cowboy), and Vinod Pandey's Yeh Nazdeekiyan, where she played a hot model named Kiran who stole Shabana Azmi Shabana Azmi is a film actress of Indian origin an >> Read More... 's husband but returned. Parveen sunk her crooked teeth into her meatiest section ever with wolfish glee.
...
4. Deewar
Parveen Babi collaborated with Amitabh Bachchan on some highly successful movies, including Amar Akbar Anthony, in which she played Jenny, Anthony's sweetheart. They both appeared in the film like Easter eggs and held the audience's attention. Our favorite of her films with Amitabh Bachchan, though, is Deewar, in which she portrayed the uninhibited, unrestricted, and unconventional Anita, who shares a bed with Vijay without any restrictions. The topic she chose, "I'm falling in love with a stranger," was ideal because it reflected Parveen Babi's career path.
...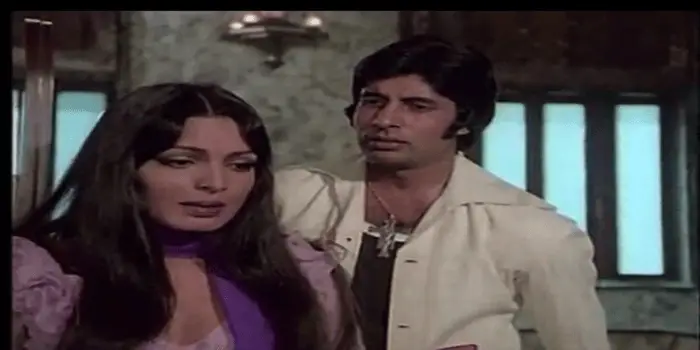 5. Ashanti
Charlie's Angels by Umesh Mehra Umesh Mehra is a prominent filmmaker in Bollywood >> Read More... , starring Parveen Babi, Shabana Azmi, and Zeenat Aman. Parveen appeared to love playing the part of a fierce female fighter with a rifle and a karate kick. And because there was such high sexual tension on the sets, this was one movie she enjoyed making. Fans have always wished to see this gorgeous woman as an action figure. Parveen Babi eventually seized the opportunity that came her way.
...
6. Amar Akbar Anthony
The 1977 masala film Amar Akbar Anthony, written by Kader Khan Kader Khan was born on 12 November, 1937 in Kabul, >> Read More... , was produced and directed by Manmohan Desai Manmohan Desai is an Indian film producer and dire >> Read More... . Shabana Azmi, Neetu Singh TV actress Neetu Singh is a popular face on Indian >> Read More... , and Parveen Babi play the film's female leads, with Vinod Khanna, Rishi Kapoor Rishi Kapoor is an actor born in the prominent Kap >> Read More... , and Amitabh Bachchan playing supporting roles alongside Nirupa Roy Nirupa Roy had acted in over 100 films as a heroin >> Read More... , Pran, and Jeevan. The primary characters of the film are three brothers who were raised by three different religious families (Hindu, Muslim, and Christian) and who were eventually separated as kids. They become adults and go on to have successful careers as police officers, qawwali singers, and owners of illegal bars in underprivileged areas.
...
7. Suhaag
In 1979, Manmohan Desai and Kader Khan, along with Prayag Raj Prayag Raj has been a profound name in Film Indust >> Read More... and K.K. Shukla, wrote the script for the action drama Suhaag. In addition to Amjad Khan Amjad Zakaria Khan was born on 12th November, 1940 >> Read More... , Nirupa Roy, Kader Khan, Ranjeet, and Jeevan, the film also stars , Amitabh Bachchan, Rekha, and Parveen Babi in essential roles. Laxmikant Pyarelal Laxmikant Shantaram Kudalkar and Pyarela l Rampras >> Read More... was the composer of the music.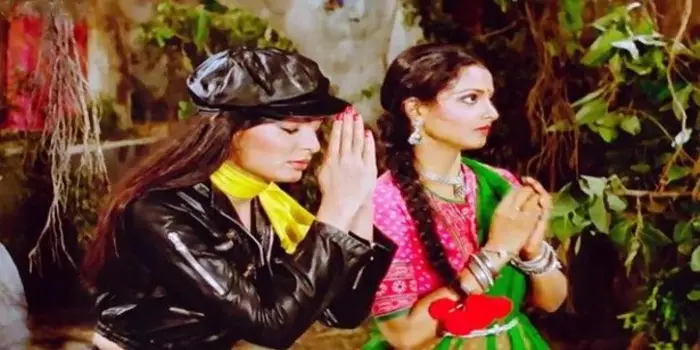 ...
8. Shaan
Upon its original release, the movie had a mediocre box office performance. However, it did well during re-runs and landed the services of Sholay's music composer, R.D. Burman, whose songs received a Best Music nomination at Filmfare. The James Bond film series' Ernst Stavro Blofeld served as an inspiration for Shakaal's persona.
...
9. Raksha
Ravikant Nagaich Bio coming soon... >> Read More... and P. Mallikarjun Rao collaborated on the 1982 Hindi-language spy movie Raksha, produced under the Bharathi International Films brand. Starring Parveen Babi and Jeetendra and featuring R. D. Burman's music. The movie is a remake of Telugu's Rahasya Gudachari (1981).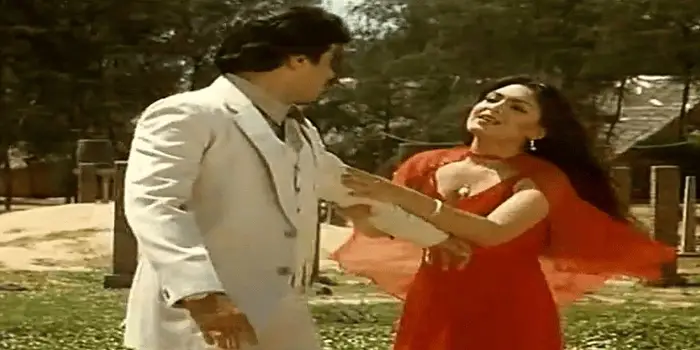 10. Do Aur Do Paanch
The 1980 Hindi action-comedy film Do Aur Do Paanch was made by Devar Films and helmed by Rakesh Kumar Rakesh Kumar is a very famous lyricist. Kumaar is >> Read More... . Amitabh Bachchan, Parveen Babi, Hema Malini Hema Malini is perhaps the only dream girl of the >> Read More... , Shashi Kapoor, and others star in the film. Rajinikanth starred in a Tamil remake of the movie Ranga (1982).