Bollywood movies have become a part of our culture and growth. We watch it, and we learn from it. There are different genres of movies like comedy, romance, action, thriller, etc. Usually, a Bollywood movie is incomplete without an actress in the lead role. Besides, there are many women-centric movies, but here's the list of movies which do not have a female in the lead role still it managed to garner appreciation from the audience as well as critics.
1)Dhamaal
...
With the first one being Dhamaal, a comedy film without any female lead. This movie pretty much managed to impress the audience and make them laugh out loud with Sanjay Dutt July 29, 1959, was the day when the two legends of >> Read More... , Ritesh Deshmukh, Arshad Warsi Arshad Warsi is most popular for his role as Circu >> Read More... , Javed Jaffrey Javed Jaffrey is a talented actor, dancer, comedia >> Read More... and Aashish Chaudhary Aashish Chaudhary is a Former Model and an Actor w >> Read More... in the lead roles. They are initially happy with their lives having fun all around but it all takes another turn when they happen to know about the Hidden Treasure through the Don, and they get in pursuit of that with a lot of twists and turns on their way to reach the "Big W" in the Sebastian Garden situated in Goa where the treasure is buried. It's a wonderful movie to watch with family, and it'll make you laugh till the end.
2) A Wednesday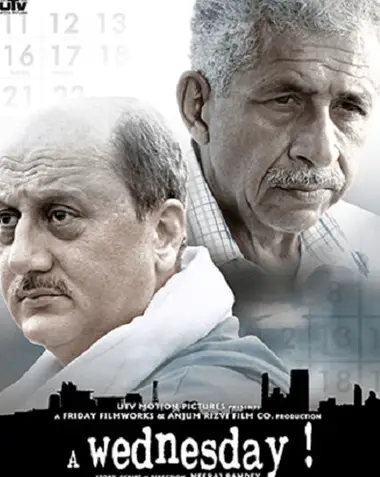 ...
This movie takes the second position with its astounding drama mixed with thrill. The lead actors of this thriller flick are Naseeruddin Shah Naseeruddin Shah is an experimental actor and asso >> Read More... and Anupam Kher Anupam Kher is a very popular actor, director, and >> Read More... . It is the remake of Tamil film Unnaipol Oruvan and Telugu movie Eenadu. A must watch for those who are curious to know what's next as everything unfolds in a very thrilling manner in this movie which is a Wednesday set between 2 pm to 6 pm. It's all about a set of events told by Anupam Kher which never actually happened but it was merely his imagination. On the other hand, Naseeruddin Shah plays the role of a mysterious bomber who thinks of teaching a lesson to everyone and so starts plotting his plans for the same. It was a small budget movie, but it managed to make high profits of over Rs. 340 million worldwide. It also won an award for best directorial debut at the 56th National Film Awards The National Film Awards gets presented every year >> Read More... . If the storyline is your criteria for watching a movie, then this is the best one to watch.
3) Life of Pi
...
Here comes the third one, Life of Pi which is an adaption of the novel named "Life of Pi" by Yann Martel. This movie is totally about a boy named "Pi" who believes in all the religions i.e.; Hindu, Islam, and Christianity and loves God in all the forms. His mother supports him in all his endeavours, unlike his dad. His family dies on their way to Canada due to a storm which hit their ship. The boy survives and is all alone at the age of 16 living his life with a Bengal Tiger Click to look into! >> Read More... named Richard Parker and faced all the difficulties on his own. It shows his courage, zeal and the possibility to survive with a Tiger on a lifeboat. This movie is one of its kind with mind-blowing sound effects, impressive visual effects, best cinematography and unique concept. It was lauded by everyone worldwide and earned over 609 million dollars worldwide. It has won many awards. Watch it if you want to go in a wholly different world of unimagined possibilities.
4) Oh MY God!
...
Oh My God starring Paresh Rawal The Padma Shri award winner who shot to fame with >> Read More... and in the lead roles as an Athiest advocate named Kanji and Krishna Vasudev Yadav as real estate agent respectively. Also starring Mithun Chakraborty When we talk about the few legends in the Indian f >> Read More... as Swamy. This movie revolves around a case filed by Kanji trying to claim his money from the insurance company after his shop is destroyed following an earthquake. Here he gives a reality check to the audience with his powerful words and appropriate comparisons with Akshay Kumar helping him throughout. This movie shows what impact different kinds of religions have on people and why it's not necessary to follow any religion because God is only One and not separate or numerous in number for every single religion. This movie was acclaimed all over the nation. Although it was hated by few people still it managed to convey its message to the people. Despite, less box office collections in the initial days of its release it managed to attract more and more audience to the theatres and had a collection of about 357 million dollars all over the world.
...
5) Taare Zameen Par Click to look into! >> Read More...
...
The movie that left the audience with teary eyes with its heart touching script. It shows Aamir Khan Aamir Khan or Mohammed Aamir Hussain Khan is Bolly >> Read More... and Darsheel Safary In the annals of Hindi cinema, instances of stella >> Read More... portraying the role of a School Teacher and a school kid respectively. It Claimed to be the most successful movie of the year 2007.The song " Meri Maa Meri Maa is the story of a street kid, Jhilmil, wh >> Read More... " being a huge hit due to great singing and composition by Shankar Mahadevan Shankar Mahadevan, a well-renowned, talented and f >> Read More... and heartfelt lyrics. This movie is all about the unique abilities of disabled kids and how they seem to be God's gift to the world. This movie won hearts all around the world, and it also won numerous awards in the Best Movie category. Darsheel, just an eight-year-old guy acted so well in the film. Aamir, of course in his usual way impressed the audience and critics with his perfectionism.
6) Udaan
...
Udaan is a movie about a teenager named Rohan who is unable follow his dream of being a writer because of his dad just like any other teenager in this world. He's forced to be in a boarding school from which he gets expelled along with his friends due to some issues. Having an abusive and harmful father made his life miserable. After a series of events, he leaves the house along with his half brother Arjun. This movie was failed to grab attention initially, but in the later days, it caught everyone's attention as it was relatable to the lives of most of the teens in the world. It gained positive reviews from everyone for its simplicity and straight to the point story line.
7) Ferrari Ki Sawaari Click to look into! >> Read More...
A 2012 release starring Sharman Joshi Sharman Joshi was born in Mumbai, Maharashtra to a >> Read More... in the lead role who is the father of a boy named Kayo. This movie is all about fulfilling the dream of a kid who is a passionate cricket player and who wishes to play with Sachin Tendulkar Born in Dadar in Mumbai, Sachin Ramesh Tendulkar i >> Read More... in London. It's full of twists and turns after Sharman Joshi steals the legendary cricketer's Ferrari just to fulfil his son's dream. This movie was another token of entertainment from the makers of Munna Bhai and 3 Idiots. It fared well at the box office and also impressed the critics although it lacked a bit in the delivery of dialogues. It is a must watch for kids.
8) Journey Bombay to Goa: Laughter Unlimited
As the title itself says, this movie is about the journey from Bombay to Goa in a bus during which all sorts of events takes place. It is a comedy flick aimed at making the audience laugh until their stomach hurts. This movie has the top comedians of Indian Television playing their respective characters. The journey begins when two friends Lal and Das decide to open their very own travel agency with the money one of them had won in a lottery draw. It is a fun filled movie which can be watched anytime with friends and family.
9)Chain Kulii Ki Main Kulii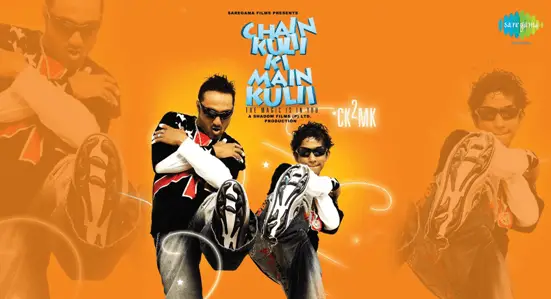 The film which was released in the year 2007 had Rahul Bose Rahul Bose, who is an actor, director, writer and >> Read More... and Zain Khan Zain Khan is an Indian Actor and Model. He started >> Read More... playing the lead roles. The plot of the movie revolves around an orphan boy named Karan who's bullied all the time by his friends. One fine day his batting skill is noticed by a famous cricket coach who later wants him to play for his team. Karan gives all the credits to his cricket bat of former cricket player Kapil Dev Kapil Dev is a former captain of the Indian cricke >> Read More... . Varun stands by Karan on his journey to stardom, and later he adopts the boy. It's a good movie to watch. This movie was meant to target the school kids, but it somehow failed to do so. It couldn't make good collections at the box office either but still is a great movie to kill time. Not every movie is supposed to be a hit.
10) Kya Dilli Kya Lahore
This movie has Vijay Raaz Vijay Raaz (Born: 5th June 1963) is an Indian film >> Read More... , Manu Rishi Manu Rishi Chadha is an actor, dialogue and script >> Read More... , Raj Zutshi and Vishwajeet Pradhan Vishwajeet Pradhan was born on 11 September, 1965 >> Read More... in the lead roles. Its first look was released at the Wagah Border. It is based on the relation between India and Pakistan after Independence. The story of this movie is about two soldiers of different origins who gets well along with each other amidst war. It seemed to be a decent and real film to the critics. It also managed to get positive reviews from the critics and audience.
With these movies, the list of movies without female protagonist comes to an end. Female actors are not necessarily required to boost the box office collections or the reviews of a movie. The above list of movies shows that Bollywood flicks can be successful even if it's not male oriented but story based.