When two people come together in marriage, they vow to be by each other's side throughout every situation. But some couples are so strong and end up in a divorce. Here are the top 10 love marriages that unfortunately ended in divorces in Bollywood.
1. Farhan Akhtar One of the most recognized young director of India >> Read More... and Adhuna Akhtar Adhuna Akhtar or also known as Adhuna Bhabani is >> Read More...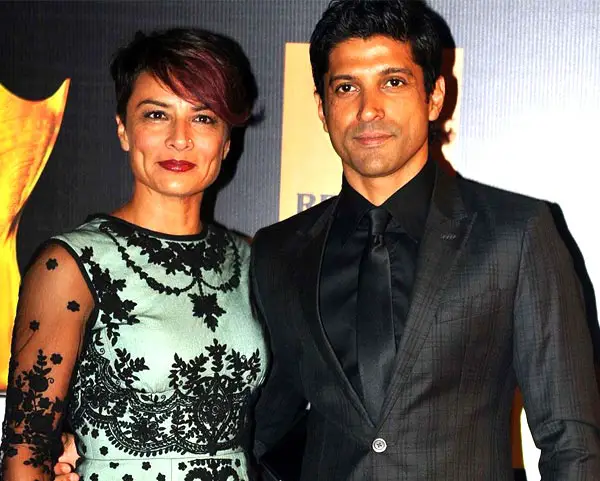 ...
Farhan and Adhuna had been married for 15 years until they called it quits at the beginning of 2016. Farhan is an actor, director, and singer whereas Adhuna is a hairstylist. The news of their separation left everyone in shock. They have urged the media to leave them and their children out of attention and give them their privacy.
2. Anurag Kashyap Born on 10th September 1972, Anurag Kashyap has es >> Read More... and Kalki Kochelin
...
The couple met and fell in love during the shooting of the film "DevD' in the year 2009. They got married to each other in 2011. They later parted ways and lived separately for over a year. They had filed for a divorce. They were granted a divorce in Mumbai on the 19th of May in 2015 by a family court.
3. Hrithik Roshan Hrithik Roshan with his unimaginable dance moves i >> Read More... and
...
They were by each other's side for 14 years of marriage, and four years before their marriage. The couple was titled as the 'perfect couple', and it was one of the most admired couples in Bollywood. When the news of their separation came it was a huge shock to everyone from their loved ones to their fans and well-wishers. The Bandra family court granted them a divorce on the 1st of November 2014.
4. Karisma Kapoor Karisma Kapoor is a well known face from the famil >> Read More... and Sunjay Kapur
...
The marriage of this lovely couple started failing, and they had a horrid end to their relationship. They started firing allegations against each other ever since the proceedings of the divorce had begun. Kareena Kapoor and , Karishma's sister, and brother-in-law insisted them to calm down and told them that there was no use of dragging the fight and that they needed to move on. Karishma and Sanjay recently signed the divorce papers.
...
5. Saif Ali Khan and Amrita Singh Amrita Singh is an Indian film and TV actress. She >> Read More...
...
Their relationship had a lot of differences since the beginning, from their religion to their age. Amrita was 12 years elder than Saif, and they still went on to get married even though Saif's parents did not approve of the marriage. They were married for 13 years and had two children. Their relationship failed to be strong enough, and they got divorced.
6. Aamir Khan Aamir Khan or Mohammed Aamir Hussain Khan is Bolly >> Read More... and Reena Dutta From producing high-profile blockbusters like the >> Read More...
...
Aamir and Reena got married in the year 1986 and were married for 15 years before they split up. The reason behind their split is not yet known, but many suspect that Aamir's closeness to his female co-stars is the reason. Some also suspect the reason to be Aamir's relationship with Kiran Rao She is an Indian film producer, screen writer and >> Read More... . Although Aamir and Reena have been divorced, they are still good friends.
7. Karan Singh Grover Karan Singh Grover is a famous Indian actor who is >> Read More... and Jennifer Winget Jennifer Singh Grover, a popular Indian actress an >> Read More...
Karan and Jennifer fell in love with each other while shooting for their show " Dill Mill Gayye" They tied the knot in the year 2012. In 2014, there were rumors that they have split and Karan confirmed these rumors on Twitter it did not reveal the reason behind their split and that this was a mutual decision. They are now divorced.
8. Kishore Kumar Kishore Kumar is an Indian playback singer, who ha >> Read More... and Yogita Bali
Kishore Kumar's marriage to Yogita was his third marriage. They tied the knot in the year 1976. There are rumors that Yogita had fallen in love with the movie star Mithun Chakrabortycausing her split with Kishore. Kishore got married to Leena Chandavarkar Leena Chandavarkar is an Indian actress and also t >> Read More... in 1980.
9. Kamal Hasan and Sarika
Kamal and Sarika were the couples that left the country with their mouths open by living together without being married back in the 1980s. They had two daughters. Both were born out of matrimony. They got married in 1988 after the birth of their second daughter but divorced in 2004. Kamal Hasan says that he does not belive in the idea of getting married. Love should be the only reason for togetherness.
10. Sanjay Dutt July 29, 1959, was the day when the two legends of >> Read More... and Rhea Pillai An Indian model known for her works on television >> Read More...
Sanjay and Rhea got married in the year 1999. Rhea was there by Sanjay's side to support him when most needed it during the Bombay Blast case. But, it didn't last for long. It is said that the Sanjay's Casanova ways were the reason behind the divorce. Another possible reason for their divorce was Sanjay's busy work agenda and Rhea's intimacy to the tennis player, Leander Paes Padma Shri Leander Paes was born and brought up in >> Read More... .