1. 'Pyaasa' (1957):
Director: Guru Dutt Born on 9th July 1925, Guru Dutt was an Indian act >> Read More...
...
Actors: Guru Dutt and Waheeda Rehman She took birth in a Tamil Urdu speaking Muslim fam >> Read More... . This movie is named in Time Magazine's list of 100 Best Films of all time and tells the story of a struggling and disillusioned poet who is trying to find his place in the world. His world changes when he meets a kind-hearted prostitute who falls in love with his poetry. The film has dramatic yet subtle direction and one of the most well-written music scores in the decade. Pyaasa was also among the Top 10 Romantic Movies of all time in Time Magazine's 2011 Valentine's Day edition.
2. Sahib Bibi Aur Ghulam (1962):
...
Director: Abrar Alvi Abrar Alvi was born on 1st July, 1927. He was a di >> Read More...
Actors: Guru Dutt and Meena Kumari Meena Kumari is a popular TV and film actress. She >> Read More...
...
This film tells the story of a daughter-in-law of a wealthy household who desperately tries to appease her unfaithful husband and a lower-class man from the countryside who becomes her servant as well as her confidante. On a larger plane, it showcases the fall of Havelis and Zamindars in Calcutta during colonial rule. Reasons to watch the movie includes a great script, brilliant cinematography, and Meena Kumari's award-winning portrayal of Choti Bahu which is one of the best performances in Hindi cinema till date.
3. C.I.D. (1956):
...
Director: Raj Khosla Raj Khosla was a director in the Indian film indus >> Read More...
Actors: Dev Anand Dev Anand would be nostalgically remembered by fil >> Read More... , Johnny Walker Johnny Walker is a comedian of Bollywood. His orig >> Read More... , Shakila, and Waheeda Rehman
...
C.I.D. is a Bollywood noir film that revolves around the murder of the editor of a newspaper. It is one of the earliest examples of Bollywood crime thrillers and is famous for its fast-paced direction, memorable songs, and critically acclaimed acting performances. It is also Waheeda Rehman's first movie.
4. Dekh Kabira Roya (1957):
...
Director: Amiya Chakrabarty
...
Actors: Anoop Kumar Being the odd man out within a family of three sib >> Read More... , Jawahar Kaul Jawahar Kaul is an Indian Actor. He was born to a >> Read More... , ' Ameeta Ameeta is an Indian actress. Her birth name was Qa >> Read More... ', and
The 60s romantic comedy is about three women who are interested in art, poetry, and music respectively and wish to meet partners who share the same interests as them. Hijinks ensue when men with different interests fall in love with these ladies. This movie is a rare light-hearted story among the serious films released during this time and is a comedic portrayal of modern love.
5. Khamoshi (1969):
Director: Asit Sen Asit Sen was born on 24 September 1922 in Dhaka (n >> Read More...
Actors: Rajesh Khanna Born as Jatin Khanna on 29th December 1942, the ch >> Read More... and Waheeda Rehman
Khamoshi tells the story of a nurse in a mental asylum who falls in love with a depressed and traumatized patient while treating him. This film earned much deserved critical acclaim for its black and white cinematography, engaging script, and what is considered to be one of their best performances in both Rajesh Khanna and Waheeda Rehman's careers.
6. Chalti Ka Naam Gaadi (1958):
Director: Satyen Bose Satyen Bose is one of the most exceptional and exp >> Read More...
Actors: Kishore Kumar Kishore Kumar is an Indian playback singer, who ha >> Read More... and ' Madhubala Madhubala is regarded as the Venus of Indian cinem >> Read More... '
This Bollywood comedy starring Kishore Kumar alongside his two brothers Ashok Kumar Ashok Kumar hails from Hyderabad, Andhra Pradesh. >> Read More... and Anoop Kumar received a lot of love for its funny scenes as well as the songs sung by Asha Bhosle Asha is considered to be the second greatest femal >> Read More... and Kishore Kumar. The story is about the lives of three brothers who run a garage, the eldest of whom hates women. Things take an interesting turn when the other two brothers meet women and fall in love.
7. Andaz (1949):
Director: Mehboob Khan Mehboob Khan was a pioneer producer-director of Hi >> Read More...
Actors: Dilip Kumar Muhammad Yusuf Khan was born on the 11th of Decemb >> Read More... , Nargis Dutt Nargis Dutt was indeed the first lady of Indian sc >> Read More... , and Raj Kapoor Raj Kapoor was a renowned actor, director, and pro >> Read More...
Andaz has one of the most famous love triangles of early Bollywood cinema in which Dilip Kumar falls in love with Nargis, the spoiled daughter of an affluent man, who is engaged to marry Raj Kapoor. This movie was the highest grossing Hindi film when it released and is memorably owing to the songs sung by Lata Mangeshkar Lata Mangeshkar, the veteran playback singer had >> Read More... .
8. Chori Chori (1956):
Director: Anant Thakur
Actors: Raj Kapoor and Nargis Dutt
This movie is the Hindi remake of It Happened One Night (1934) about the daughter of a wealthy businessman who runs away from home as her father disapproves of the man she likes. On her journey to meet her lover, she runs into a journalist, who decides to use her for an exclusive article, and eventually falls in love with her. It is one of the best romantic comedies of Bollywood till date, and it cemented the chemistry between Raj Kapoor and Nargis.
9. Teesri Kasam (1966):
Director: Basu Bhattacharya Basu Bhattacharya is an Indian-Director. He mainly >> Read More...
Actors: Raj Kapoor and Waheeda Rehman
This tells the story of a bullock cart driver who is hired to drive a nautanki dancer, and how they begin to confide in each other and eventually fall in love. It was declared the Best Feature Film at the National Film Awards The National Film Awards gets presented every year >> Read More... and is popular due to its subtle yet beautiful direction and excellent acting.
10. Anupama (1966):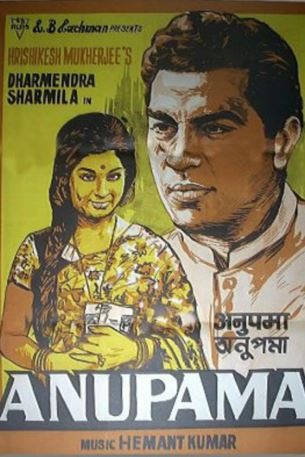 Director: Hrishikesh Mukherjee Hrishikesh Mukherjee is a film director, writer an >> Read More...
Actors: '' and Sharmila Tagore Sharmila Tagore is a Bengali actress, who later sh >> Read More...
This critically acclaimed film is about a girl who reminds her father of her mother's death and hence, grows up to be introverted and timid. She changes when she meets a young poet who teaches her about love and opens up a world of possibilities. This movie has both, a brilliant storyline, as well as skillful acting with a beautiful music score composed by .