Heredity is the driving force of reproduction, but we never knew that it could make magic. There are moments when we see star kids, and get a glimpse of their parents in them. We as fans take too much interest in the lives of our favorite celebrities, and also their families. As human natures, we want to know all the stuff about other people, and the same goes for our celebrities, and their lives. Since time immoral, the celebrity kids are much adored, and the paparazzi go crazy around them. Here are some of the kids who looked like the shadow of their parents:
1. Aryan Khan, and Shah Rukh Khan
This star kid has genes of the romance king of Bollywood, SRK. He looks like exactly SRK at his early ages, and his chiseled jawbones are evidence that he is a son of SRK. Also, in some pictures, his dressing sense matches with that of his father's, and we get confused if it's him or his father.
2. Aaradhya Bachchan, and Aishwarya Rai Bachchan
Aradhya was so famous before she was born, and she was probably the first-star kid to gain popularity right after her birth. Just like her mother, she is famous, and makes the paparazzi go crazy. On comparing the baby pictures of Aishwarya, and Aradhya, the both look so alike that it is hard to find a difference. They both carry the same charm, and cuteness.
3. Soha Ali Khan and Sharmila Tagore
The royal bloodline is proud to have Soha as their princess. One another reason we adore her is that we all can see a glimpse of her mother, Sharmila. They both are beautiful, and their beauty is unquestionable.
4. Ibrahim Ali Khan and Saif Ali Khan
We can truly say that it is magic as young Ibrahim who is merely 14 years old completely resembles his father Saif. On seeing his pictures, we can recall how Saif used to look in his early days. The hairstyle, way of talking, the smile, they all resemble. 
5. Sanjay Dutt and Sunil Dutt
Sanju Baba, though earned his fame for his remarkable acting skills, he still gives a glimpse of his father. He sure has inherited good looks genes from his father, and definitely look like him at some points.
6. Farhan Akhtar and Javed Akhtar
This one is all-in-one-star and has a great future ahead of him in Bollywood. But, we have Farhan because of Javed, and he has definitely given him the skills he possess, also Farhan  possesses his father's looks. He has the same smile lines, the smile glitter n eyes, and innumerable similarities. 
7. Abram and Shah Rukh Khan
This little munchkin is already heartbeat for million fans. He is all ready for Bollywood even if he is just three years old. Comparing the baby pictures of the father-son duo, we see a striking resemblance between them, and we are hoping that Abram would be the King of romance in his time.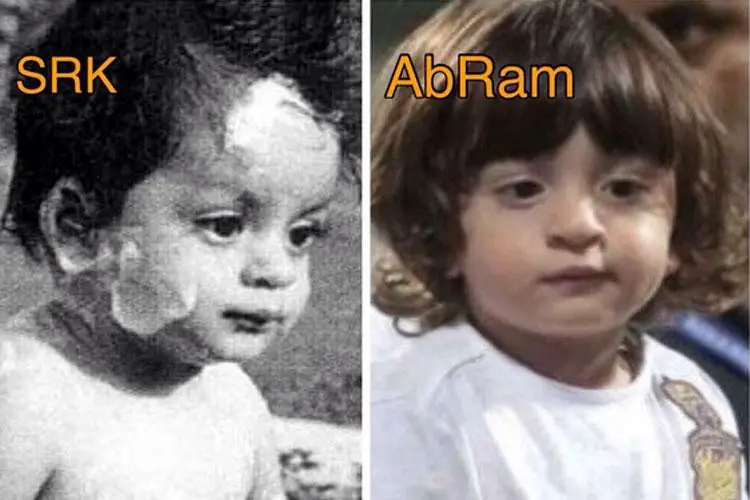 8. Hrithik Roshan and Rakesh Roshan
The Greek God of our B Town has a remarkable resemblance to his father from his earlier acting days. The eyes have same color, and brightness, the jaw bones are chiseled the same, and the lips have the same shape. One might not be able to spot any difference.
9. Sara Ali Khan and Amrita Singh
The daughter of Saif Ali Khan, and Amrita Singh, Sara, carries the features of that of her mother. Her mother was a beautiful actress in her earlier days, and on comparing their pictures, none can spot any difference.
10. Tiger Shroff and Jackie Shroff
The upcoming star Tiger Shroff completely resembles his father. He has his moves, his smile, and his great acting skills. No wonder why he got popular in the industry in no time.