In today's time, it's very difficult for the audience to find comedy movies that will make their heart happy and mind satisfied. But, our Bollywood stars have provided us with several OG films that still rule our hearts when it comes to telling the best comedy movies. Doesn't matter, how many times we have watched the film, they still manage to entertain us and laugh our hearts out.
1. Welcome
The Comedy King, never disappoints us! The 2007 film is a gem given to The Bollywood Cinema and the audience that will remain as the evergreen movie with great actors and perfect comic timings. The movie casts Akshay Kumar, , Nana Patekar Nana Patekar is a popular Indian actor who was bor >> Read More... , Anil Kapoor Anil Kapoor was born on 24th December 1956 in Mumb >> Read More... , Paresh Rawal The Padma Shri award winner who shot to fame with >> Read More... , and Malika Sherawat. The movie is about the story of two love birds Rajeev and Sanjana who plot a story for Sanjana's brothers, Uday and Majnu Shetty to make them leave the criminal business as Rajeev's uncle, Dr. Ghunghroo refuses their marriage for having criminal in-laws. The movie became a commercial hit after becoming the second highest-grossing film of the year 2007. Many people still can't forget this precious movie and still enjoy it with great enthusiasm.
...
Chup Chup Ke movie is a 2006 film starring Shahid Kapoor Shahid Kapoor also identifies as the name Shahid K >> Read More... , Kareena Kapoor Khan Kareena Kapoor is a super hit actress working in I >> Read More... , Paresh Rawal, Rajpal Yadav Rajpal Yadav, the hilarious Indian movie actor, ac >> Read More... , Suniel Shetty Suniel Shetty, a renowned Bollywood actor, was bo >> Read More... , and Neha Dhupia Neha Dhupia is a Bollywood actress who began her c >> Read More... . The story is about a young guy name Jeetu, who is in great debt and decides to commit suicide. However, God had another plan for him. A fisherman saves him and lends him to another moneylender. Jeetu had to act as a disabled guy with hearing and speaking impairments. Soon, the guy has a roller coaster of comic events to hide his truth. The critics appreciated the chemistry of Paresh and Rajpal in making the movie a commercial success. The actor Paresh Rawal told in an interview-"Before signing a movie, I check three things- The director, storyline, and of course the money. Fortunately and surprisingly, Chup Chup met all the requirements."
After the success of the initial movie Welcome in 2007, the reel couple Akshay Kumar and Katrina Kaif were again seen on the screen with the comedy genre movie- De Dana Dan (2009). The other cast includes Sunil Shetty Bio coming soon... >> Read More... , Sameera Reddy Sameera Reddy was born on December 14, 1980, in Ch >> Read More... , Paresh Rawal, Neha Dhupia, etc. The movie's plot is quite similar to the American Movie-Screwed. The movie is based on the hilarious consequences of a kidnapping that was supposed to happen of a dog of a millionaire lady. But unfortunately, the two guys ended up facing confusion and problems ahead. The movie became the fifth highest-grossing film of 2009.
...
4. 3 Idiots
3 Idiots was a movie that changed the audience's expectations of the Bollywood Industry. The 2009 comedy film turned out to be an all-time Block Buster with amazing comic timings, the best casting with a pinch of life lessons to live life. The movie became a hit because of its amazing cast including, Aamir Khan Aamir Khan or Mohammed Aamir Hussain Khan is Bolly >> Read More... , Sharman Joshi Sharman Joshi was born in Mumbai, Maharashtra to a >> Read More... , R. Madhavan, Kareena Kapoor, and Boman Irani Boman Irani is a well known name today in the Bol >> Read More... , who eventually got love and profit from the audiences' hearts and pockets. The antagonist of the movie Boman Irani got interviewed and he explained the similarity of his characters-"When I saw my role in the film, I first refused to do it. As you'll see, my Munnabhai character is similar to this movie's role. In both movies, my daughter falls in love with the hero, which I don't like."
...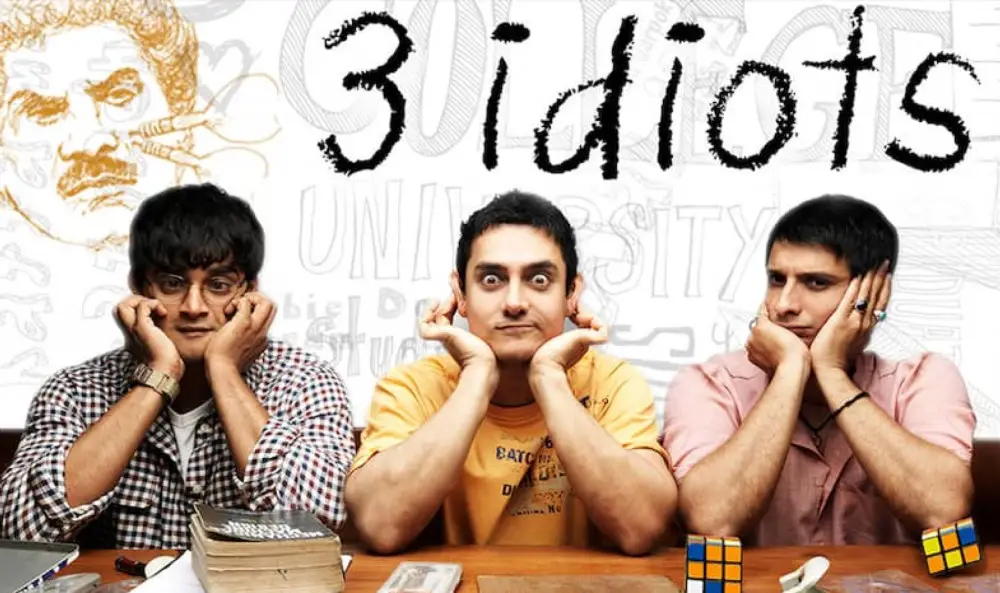 5. Golmaal And Its Sequels
Rohit Shetty Rohit Shetty is a famous Director in Bollywood who >> Read More... has never failed in providing the best action movies. But apart from that, he has provided us with a collection of Golmaal series with OG stars including, Ajay Devgn, Sharman Joshi, Arshad Warsi Arshad Warsi is most popular for his role as Circu >> Read More... , Shreyas Talpade Those who follow Bollywood movies are accustomed t >> Read More... , and Tushaar Kapoor. The first movie of the series was released in 2006, and from that point, the series has earned commercial success at the box office. However, their most recent sequel Golmaal Again Click to look into! >> Read More... starring, Tabu, Parineeti Chopra The bubbly actress, born on 22nd October 1988, lan >> Read More... , and the OG cast has failed to meet the comic expectations of the audience. The viewers felt the movie was a mediocre time pass, with overacted comedy scenes, and an unfunny script.
...
If you are a die heart fan of Bollywood comedy movies, then this movie is impossible to not be on your list. The movie was released on 31st March 2000 with a very popular and lovable cast like Akshay Kumar, Paresh Rawal, and Sunil Shetty. The movie received loads of love and commercial success at the box office of 17.8 crores in comparison to the budget of 7.5 crores. The filmmakers even made a remake of the same with a connecting story of the earlier movie with the name, Phir Hera Pheri Click to look into! >> Read More... . The sequel was also a blockbuster with a collection of 70 crores.
...
7. Bhagam Bhag
The trio of Paresh Rawal, Akshay Kumar, and Govinda won the hearts of the audience with a die heart comedy film, Bhagam Bhag. The film released in 2006, earn a great collection of 67.8 crores. The story is about the confusion between three women when two friends went to find an actress for their theatre show in London but were eventually trapped in a murder case with it. The other cast includes Lara Dutta Lara Dutta is an Indian actress, model, movie prod >> Read More... , Jackie Shroff Intro: Jackie Shroff is a well known Bollywood act >> Read More... , Rajpal Yadav, and Arbaaz Khan Born in a family that has strong ties in the film >> Read More... .
...
8. Fukrey
The movie attained a younger fan base due to its plot and youthful language. The main cast includes Pulkit Samrat Pulkit Samrat is a popular Indian model and actor, >> Read More... , , Ali Fazal Ali Fazal is an Indian actor who was born on 15th >> Read More... , Manjot Singh Manjot Singh was born to a Sikh family, in Delhi o >> Read More... , and Richa Chadha. The movie was quite unique according to the plot and climax ending. The people were eagerly waiting for its sequel which was finally released after 3 years after the original, Fukrey Returns.The actors also won awards like Best Actor in Comic Role(Male) to Varun Sharma and Female to Richa Chadha. The movie provides you with a dish full of comedy with a pinch of Romance and dark humor.
...
9. Hulchul
The movie was released in 2004, with a very simple plot of two love birds, Akshaye Khanna Akshaye Khanna is a popular Indian film actor. He >> Read More... and Kareena Kapoor Khan belonging to feuding families and trying to end the differences between them. The comedy has been maintained throughout with the cast like Paresh Rawal, and Arshad Warsi. The budget was 10 crores during that time. The movie turned out to be a success with a collection of 32.86 crores. Though the film received positive responses, it was criticized for its running time and clichéd plot.
10. Housefull
The movie starring Akshay Kumar, Deepika Padukone Deepika Padukone is an Indian actress and model. S >> Read More... , Ritesh Deshmukh, Lara Dutta, Boman Irani, and Arjun Rampal Amit Rampal is an Indian Actor, Host, Producer and >> Read More... is an evergreen comedy movie of the Bollywood Industry. The plot revolves around an unlucky man, Aarush who falls in love with a girl but unfortunately has to face a pile of lies and confusion. The movie became one of the biggest hits of all time and crossed the 1 billion mark. However, with more and more sequels the originality of the humor and plot was lost. The most recent of the original is Housefull 4.