The 40-year-old soccer player has inked 40 tattoos all over his body. He certainly has got a good physique which adds attraction to tattoos that he got inked on his body. His love for body art may make him get inked for more tattoos. David Beckham wants to show the world of what he is, his love for his beloved ones, and his love for his jersey No.7. He wants all of them always with him, so he feels it's the best way to be close to them. His tattoos include Roman, Chinese, Latin, Sanskrit, Hindi languages inscribed. His famous tattoo is his sleeve tattoo but apparently he has left his legs without getting tattooed.
                 
Miley Cyrus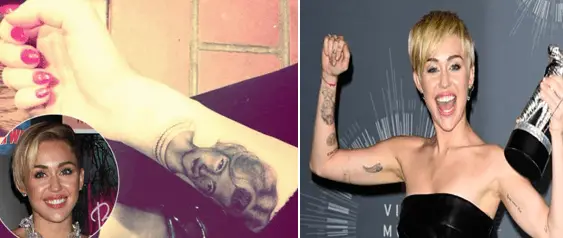 This famous pop star has got 42 tattoos inked all over her body. She got her very first tattoo when she was 17. She has an impressive collection of finger tattoos. Her tattoos include her love for her deceased doggy and puffer fish, her love for grandmother, avocado, smiley face tattoo, little tooth tattoo and the list goes on. In spite of being afraid of needles, she has immense love to get tattooed as per her desire with new kind of designs.
 
A gorgeous woman in the world, a renowned actress of Hollywood Angelia Jolie has got 20 tattoos inked on her body. Tattoos of Angelina depicts mainly of her relationships or her six children. But she has got three new tattoos on her back which are related to Buddhist blessings of love, peace, and successful life. She is very fond of specialist tattoo art for which she leaves no stone unturned to get it inked even though it is to fly down to a different country.
An actor, producer, and a well-known Hollywood star has also shown his utmost tattoo love. He has got dozens of tattoos inked on his body. He also has one that is a tribute to Angelina as both of them got inked Buddhist peace and love by the same specialist from Thailand. The only difference has Jolie inked it on her back, and Pitt got inked on his left side of stomach. He has also shown his love towards Angelina and their six children; he got tattoos related to them as well.
            
Justin Bieber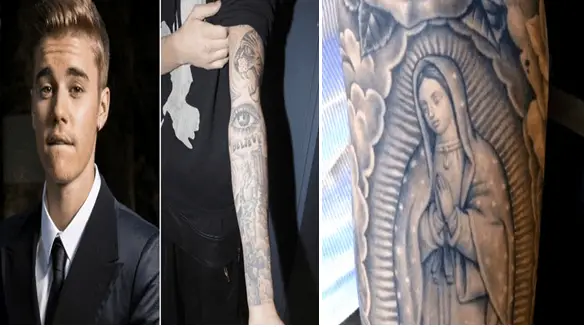 One of the most famous Canadian pop singer, Justin Beiber tops the list of tattoo lovers. His passion for tattoos has made him more famous among the youngsters. The first tattoo he got inked was a Seagull on his lower stomach which was related to a book he read during his childhood days at the age of 16. Now he has a total number of 52 tattoos. He has got an angel's wing tattoo on the back of his neck which is similar to David Beckham's tattoo which he got inked 11 years ago. He has got immersed himself in all aspects of the tattoo culture.