A couple is trying to lead a life in a way, but many enemies try to separate them. How they overcome the obstacles is the story. This series aired on Sun TV from Monday to Saturday at 8 pm.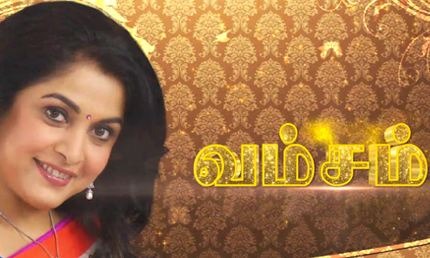 This series reached a milestone on 9oo episodes recently. The story starts as the lead actress with her uncle comes out in search of her relatives. She tries to reunite with her mom. But her parents die due to an accident. Was that an accident or murder? 
This story revolves around a mother and her love towards her four kids. This woman with her husband leads a healthy and wealthy life. Then the problem comes through her friend who envies for her wealth. This serial got aired in January 2015. 
This story revolves around a big family, a couple, their children and their grandchildren. Problems do come when different generations come up with their opinions. So how their clashes solve is the story. 
This serial dubbed from 'Bade Achhe Lagte Hain' telecasted in 'Polimer' channel. Due to some family situations, this couple gets married and later fall in love with each other. It's cute family story, which started from 10th December 2012 In Tamil. 
This was one of the best serials telecasted in Tamil. This serial holds the
Guinness World Record for telecasting an episode Live. Many new faces have given their debut in this serial. 
This serial is a dubbed version of 'Uttaran.' Simple lady Sindhu is a charming girl liked by everyone around as she helps everyone. Another girl Bhairavi comes in the picture as a negative role who is Sindhu's owner.
The story is about many problems in joint family involving mother in law and daughter in law. It revolves around the cousin who got married into this big family. This serial is a remake of 'Saath Nibhanna Saathiyaa.'
9) ''
This award-winning series focuses on women education. Directed by S. Kumaran, this serial is full of drama and emotions. It's about a girl struggling with her studies who is from a middle-class family.  
10) (Chandralekha)
This is a story of two female babies getting switched due to the stealing group. What happens after that? How do they grow? Is what this story is all about? This serial completed 500 episodes in June 2016. This serial is a Saregama production and aired on weekdays and Saturday at 2 pm.