1. Rajinikanth
Rajinikanth, Tamil Film industry's superstar and one of the biggest icons of Indian cinema, had a very humble beginning. Born into a family of 4 children, Rajinikanth did not have even the slightest idea of the fame, stardom and wealth that he was going to make through his work in the industry. He did several odd jobs including that of a coolie and carpenter, most notably, he worked as a bus conductor before he stepped into the film industry and the rest, as we all know, is a history. He has been honoured with both Padma Bhushan and Padma Vibhushan
...
2. Ajith Kumar Ajith Kumar is a prominent Tamil film actor, model >> Read More...
This multi-talented hero happens to be one of the most loved celebrities of all times in kollywood. He is a professional racer and was trying to make a career out of it. In order to sustain financially, he had worked as a mechanic. It is then that he ventured into the film industry. Even today he has not forgotten his roots and remains the humble person that he was.
...
3. Chiyaan Vikram Vikram is from the Tamil family. His father is Chr >> Read More...
If perseverance is to be personified, it would probably be named Vikram. He faced numerous setbacks and struggled for several years before he could carve a niche for himself in the industry. His father who had been attempting to make it big in the movie industry failed unfortunately. Vikram who was a soft spoken youngster had enormous talent and was determined to overcome all odds and succeed. And here he is living his father's dream.
...
4. Dhanush
Despite the fact that his father was a well known director in Kollywood, Dhanush did not receive a red carpet welcome into the industry. His father Kasthuri Raja Born in Theni, a small town in Tamil Nadu in India >> Read More... was having a difficult time trying to make his movies a commercial success. Dhanush's initials years in the industry were filled with ridicules and contempt. People were very critical of his looks and mocked him for aspiring to become a hero. He refused to be cowed down, picked himself up, worked hard and showed his critics what it is to be awe-struck. Who else from kollywood would be as famous as the "Kolaveri Di' guy?
...
5. Sivakarthikeyan
...
Born into a middle class family with no connections in the film industry, this engineering graduate slowly made his way into kollywood. He worked as a stand-up comedian, television show host and then played supporting roles in a couple of movies. It was after this that his potential was recognised and his career graph is now soaring high. Nothing beats the determination and hardwork!
...
6. Suriya Sivakumar Suriya Sivakumar is undoubtedly the biggest star i >> Read More...
Actor Suriya is the son of veteran actor Sivakumar. Inspite of this, Suriya's career had a very humble beginning. Initially he worked as a merchandizing manager in a garments factory. It was after Director's Vasanth's Neruku Ner that his acting talent was showcased publicly. Since then, there has been no turning back and he has been raising the bar higher and higher after each of his movies.
...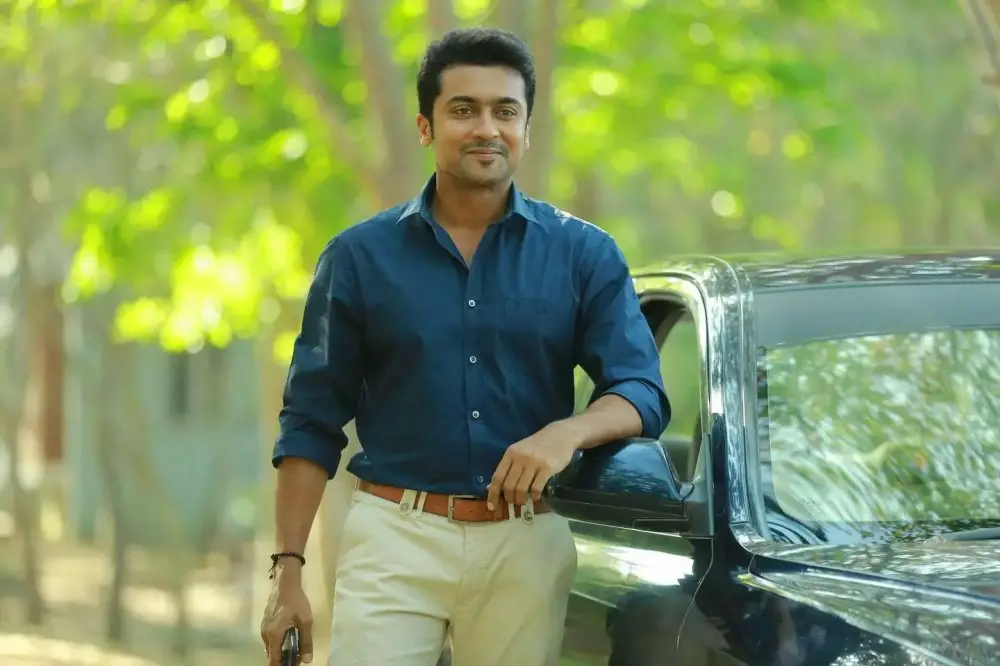 7. Vijay Sethupathi Vijaya Gurunatha Sethupathi was not born with silv >> Read More...
Vijay Sethupathi, the shy young lad from a small town in southern Tamilnadu had absolutely no idea of how big a star he was going to become when he came to Chennai. After doing several odd jobs to make ends meet, he worked as an accountant for a couple of firms, and soon after this he entered the film industry. For 5 years, all he could get were minor roles where he hardly gained any recognition. But then hard work never fails and gradually our hero too made it big to the screen.
8. R. Sarathkumar
Actor Sarath Kumar is truly a self-made man. His illustrious career in the movie industry and his political ventures has all had a very modest beginning. After having secured his bachelor's degree he worked as a reporter for a leading Tamil daily and even set up a travel agency on his own. It was during this time that he got diverted into cinema and began acting, gaining all fame.
9. R Madhavan
Madhavan, the heart-throb of Indian girls, had worked in the television industry prior to his entry into movies. He had anchored TV shows, and featured in a few advertisements before getting his well deserved break. Today he is one among the very few actors in India who have a huge fan base across multiple languages.
10. Siddharth Suryanarayan The business management graduate Siddharth has don >> Read More...
Actor Siddharth had done a lot of work in the media before he started essaying lead roles. He had been dubbing for advertisements and engaged himself in theatre groups. Since he was keen on writing and direction he joined Director Maniratnam as his Assistant. During this period, he was roped in for his first movie and has since donned several roles as an actor, singer and producer.