Extravaganza! There isn't big enough a word to explain the amount of work that goes into designing art sets for songs in Kollywood. Enhancing the beauty of an already great song is given so much importance. Art directors toil, and producers provide just to give a five minutes feast to the eyes. Here are the top 10 costliest song sets in Tamil movies.
#1 Sahana- Sivaji
...
Sivaji is one of the movies, which we can repeatedly watch for the songs alone. So aesthetically designed, this particular song was shot indoors in a set. The set consists of a glass building shaped geometrically with beautiful bright lights adorning and brightening up the place. The glass shaped building sports a waterfall on one side extending to a great height that it looks like waterfalls from the sky.
#2 Anbe Anbe- Jeans
...
Beauty in every aspect. Beautiful songs, beautiful actors, and in addition to this, a beautiful setting for this song. This song gives a historical romance between the actors. From the costumes to the decorations, everything is so intricately designed and aptly suited to the theme. ' S Shankar S Shankar is one among the populous directors who >> Read More... ' is one of the directors who pay attention to the details.
#3 Vaaji Vaaji - Sivaji
...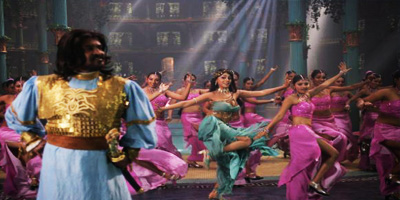 A set that is specially designed for this song was created from scratch. Expanding over many floors, a massive ground area, with a pool, grandiose stairs, and special lighting effects, made the viewers stick their eyes to the screen. They had specially catered light shipped to them from Mumbai for this purpose because Shankar felt like something was missing.
#4 Arima Arima- Endhiran
...
Computer graphics lions are old-school. Real trained lions are modern. Robot lions are futuristic innovations. Specifically, for this purpose, two robotic lions are made to stand next to ' Rajinikanth 'Rajinikanth' is the name that is known in >> Read More... ' for this song. The entire set looks futuristic and very robotic, with a monochrome metallic look. The song involves multiple robot Rajini, so they had to shoot the whole song multiple times with the green screen.
...
#5 Pachai Thee - 'Baahubali'
...
Baahubali is one of the costliest budget films, and it is rightly so when it comes to the pedantic graphics which are so realistic. Pachai Thee song is a sequence where ' Prabhas Prabhas is one of the favorite heroes of the Andhr >> Read More... ' is chased by Tamannaah Bhatia Tamannaah Bhatia is a well known actress in Tamil >> Read More... into what looks like an abandoned temple. The whole set looks dreamy, pristinely decorated in white, with beautiful antique statues. There is a bridge over a river and waterfalls as clear as a mirror. The entire song makes our eyes feel cool.
#6 Raa Raa- Chandramukhi
...
The entire movie was shot in a bungalow that was specifically designed for this movie. The art director, , has warranted the construction of the Vettaiyapuram mansion in the Ramoji film city, which is intact even today. This massive house is designed with many big chandeliers, tall ceilings, and a haunting staircase.
#7 Randaka Randaka- Anniyan
Painting a room for a song is imaginable. But painting an entire village just for one song is unimaginable. All the houses are given contrasting colors. There are huge rocks that have Kollywood actors' faces painted over them. Apart from these, the entire road gives the illusion of a silk saree paving the way when, in reality, it is only an artwork done on the path. This song is the height of creation.
#8 Rettai Kadhirey- Maatraan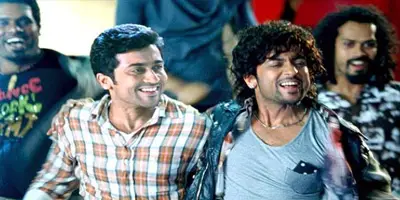 This song was shot in one set of a club. This movie is about conjoint twins who are united at their abdomen at birth. Both roles being played by Surya; most of the parts of this song are shot with a green screen held at Surya's torso, which makes this song extremely difficult to shoot. This song displays the hard work done by Suriya Sivakumar Suriya Sivakumar is undoubtedly the biggest star i >> Read More... , the choreography team, the cinematography team and the director.
#9 Kannai Vittu- Irumugan
This is a melancholic song, and this set perfectly captures the mood of the song. When Vikram discovers that his late wife is alive but with memory loss, this song takes off. High ceiling building with nothing but emptiness as far as the eye can see, eccentrically placed throne, fire around both of them are noteworthy in this song.
#10 - Boys
One man's trash is another man's treasure. This is the theme of this song. When the whole Boys team was kicked out of their parents' house, they had to go through hardships. Munna and Harini were living in a motor room after their marriage, and this song starts. The entire set was made out of things from a trash can. As cheap as it may sound, this set looks like a lot of work. It even has an old car fashioned into it, lights made from bottle caps, costumes made of wrappers, and even furniture made out of plastic bottles.