Deviating from their usual powerful action stunts and Kollywood heroes performing unconditionally a different character of a father, be it Kamal in Papanasam, Suriya in Pasanga 2 or Ajith in Yennai Arindhaal, all of them played an impressive role of dads. Actors Vijay, Arulnithi and Rajini have done great jobs by portraying the characters of fathers. Here's a list of some on-screen coolest dads.
Vijay plays the character of a cop in his film Sethupathi, additionally, he is the father of two children. He transformed his body from a slim built in the movie Naanum Rowdy Dhaan to a muscular built in Sethupathi which was required to portray the role of a cop and a father to give a mature effect to the character.
'Suriya Sivakumar' decided to take a break from his action performances in the movies such as Singham 2, Anjaan and Masss and makes a decision to work on a different script which was Pasanga 2. Suriya, portraying an unusual mature character and taking up a role which was new to him was appreciated by the audience and the people enjoyed watching Suriya's work. He was pictured as a child psychologist and a father of two children. As Dr Tamizh Naadan, the performance was polished by Suriya. During the audio release, he mentioned about the challenges he faced for playing such a role and also as an actor he gained skills and knowledge.
3. Ajith Kumar
'Ajith Kumar ' role play as a soft-hearted and caring brother in the movies Veeram and Vedalam and a loving sagacious fatherly role as Sathyadev in Yennai Arindhaal was applauded by the Tamil speaking audience. It was quite uncertain for the hero to take up a role of a placid and a contented man in Yennai Arindhaal and was portrayed as a police officer and a father to a daughter. Unakenna Venum Sollu's soundtrack depicts the character of Ajith as a father in the movie.
4. Vijay
'Vijay' is rarely seen in the character of a father and an emotional police officer. Actress Meena's daughter Nainika was cast as Vijay's daughter in the film, Theri. The audience enjoyed watching him for playing such a role, also contemplating a possibility of the sequel of the film where the story lies primarily between Vijay and his daughter.
5. Rajinikanth
'Rajinikanth' seen as an elderly don in his latest release Kabali, a story of Tamilians from Malaysia. The superstar is father to Dhanshikaa born to Radhika Apte and Rajinikanth, who gets separated from her parents at her birth. She plays the role of a druggie in the movie. The association between Rajini and Dhanshikaa as a father and a daughter is the focal point of the film.
6. Arulnithi
'Arulnithi', probably the actor one of the rarest actors who played the role of a father at a young age. In his film, Aaraathu Sinam is a cop and his role as a father is presented in the flashback scenes. Being new to the industry and the profession he mentioned the challenges faced by him while depicting such a character at an initial stage of his career.
7. Kamal Haasan
Kamal, as a cop and a father who rescues his abducted son in his thriller movie Thoogavanam was enjoyed by the audience. "En paiyan satta mela oru chinna kara pattalum, naa unna sethachiduven...naan sonna seiven", his dialogue in the film is highlighted. Kamal in Papanasam, where he plays the role of a loving father of two daughters. Kamal as Suyambulingam, crossing the skies to shelter his family. The multi talented gem of Tamil cinema has decided to work with his daughter Shruti Haasan, where both of them will portray father-daughter characters on screen.
8. R Madhavan
A masterpiece delivered by Mani Ratnam 'Kannathil Muthamittal', pivoted on the Sri Lankan civil wars, 'R Madhavan' as an Indian father to an adopted girl from Sri Lanka (Keerthana). Madhavan is characterized as a regular father who takes immense care of his daughter while fulfilling the demands which she makes.
9. Prakash Raj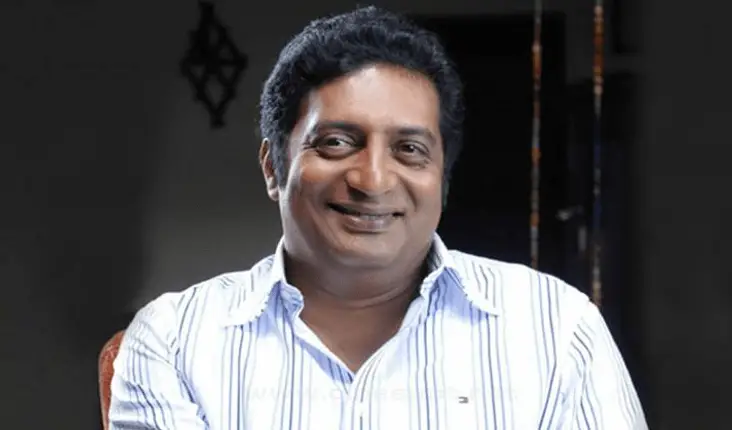 Prakash Raj as a father in Abhiyum Naanum as Raghuraman. Trisha as Abhi plays the role of his darling daughter. Raghuraman is a loving father who spends maximum time with his daughter. All her little things are taken care by Raghuraman and portrays a loveable dad. The movie was shot in the beautiful hills of Ooty and depicted how charming the bonding between a father and a daughter is. It also depicts how a father makes his mind when his girl travels far away.
10. Chiyaan Vikram
'Chiyaan Vikram' , rarely seen playing the role of a father. His character in ' Deiva Thirumagal' was liked by the audience. Vikram is the single parent of his daughter and he is also diagnosed with autism. The bond between his daughter and him is warm-hearted and he works all day for her.