Tamil cinema is known to be male-dominated. Since the days of M G Ramachandran and Sivaji Ganesan The Honorable Mr. Ganesan was the second son in hi >> Read More... , the heroes were given more importance. But as a whiz of fresh of air there were also some films in which heroines shared same footage; in fact, in some flicks they were even given more importance. That's a welcoming sign, right? Well, Nettv4u has come out with an exclusive list of films in which the heroines had same scope or more scope compared to heroes.
1. Chitthi
...
This 1966 flick had Padmini playing the pivotal role. Though this flick had big names as ' Gemini Ganesan Born in 1920, Gemini Ganesan, originally known as >> Read More... ' and M R Radha, Padmini steals your heart through her significant role of a woman sacrificing her love for the sake of her family.

2. Thillana Mohanambal

In this 1968 flick, Padmini dons the title role. Sivaji Ganesan, who was an established actor, seemed to have no issue with the importance of Padmini's role. Padmini gives a stellar performance in the film as the beautiful dancer who is also romantically inclined towards 'Sivaji Ganesan', a nadaswaram player. Padmini's dancing is the highlight of the movie and being a trained dancer; she danced her way to our hearts.
...
3. Thamarai Nenjam
...

This film was released on 1968. Gemini Ganesan, Saroja Devi, and Vanisree essayed lead roles in the movie. Saroja Devi played the protagonist (she is lotus-hearted!) and won our sympathy all the way as the one-sided lover.
4. Iru Kodugal

This film hit the screens on 1969. We surely connect with the characters of the movie, thanks to the outstanding performances of Sowcar Janaki Sankaramanchi Janaki is an Indian actress hailing >> Read More... , Jamuna, and Gemini Ganesan. In the film, Gemini Ganesan is married to two women, owing to turn of events. Jayanthi and Sowcar Janaki steal the show with their matured performances.
...
5. Kula Vilakku

This flick hit the screens on 1969. This flick too was another notable film in the career of Saroja Devi. Here too, she sacrifices for the sake of her family.
...
6. Gopurangal Saivathillai

In this 1982 drama, Suhasini plays the village belle, who yearns for the love of her estranged husband, with perfection. Mohan was the lead actor in the film, but Suhasini and Radha were given more importance. 
...
7. Sindhu Bhairavi Sindhu Bhairavi currently airs on Raj TV; it is di >> Read More...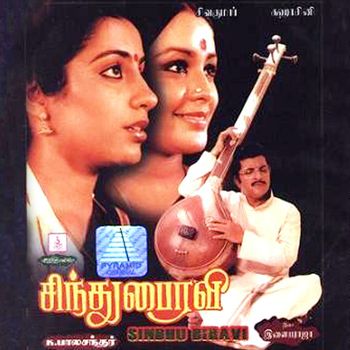 In this 1985 film of K Balachander, Suhasini Maniratnam Suhasini Maniratnam was born on 15th August 1961 i >> Read More... is Sindhu. She is in love with Sivakumar, who is a famous Carnatic singer. Suhasini played the role of a keen admirer flawlessly.
...
8. Michael Madana Kamarajan

Accepted that this 1990 flick is Kamal Haasan Kamal Haasan is the most versatile actor that Indi >> Read More... all the way. He could have very well stole the show with his superb performance. But Urvashi too had a notable character in the movie and she did full justice to the role. In fact, her role as a naive lady is still remembered.
9 Indira
In this 1995 flick directed by Suhasini Mani Ratnam, Anu Hasan There are actors who like to ride piggyback on th >> Read More... plays the protagonist Indira. Arvind Swami was an established star then, but it's an Anu Haasan film all the way.
10 Padayappa

Yes, from a bird's eye view, this 1999 flick is Superstar 'Rajinikanth' film all the way. Then why to include it in the list? Well, how can forget Neelambari ( Ramya Krishnan Ramya Krishnan is a South Indian movie and TV actr >> Read More... ) , who brought uniqueness to a villain role? In fact, she too was the backbone of the film.
11 Azhagi

Azhagi is a 2002 flick, and Nandita Das Nandita Das is an actress and director extremely p >> Read More... is the azhagi here. It is the touching love story of ' R Parthiepan Radhakrishnan Parthiepan is a renowned actor, cine >> Read More... ' (who later gets married to Devayani) and Nandita Das. Nandita Das though is a non- Tamilian, does the rustic role to perfection.
12 Vinnaithaandi Varuvaaya

This movie hit the screens on 2010. And it's an entire Trisha Krishnan film though Silambarasan had his share of wooing the lead lady. Having said that, 'Silambarasan' too did his part well.