The Malayalam film industry has produced various good films and created a good pool of talent through its actors and actresses. A few siblings that hail from the Malayalam film industry have made it big. Let's take a look at some of these outstanding groups of sibilings.
Lalitha - Padmini Ramachandran – Ragini
Popularly known as the Travancore sisters, the trio Lalitha, Padmini, and Ragini possess tremendous talent. They have made their presence felt in all the south Indian languages. Lalitha is noted for her Malayalam movies including Kaanchana, Vellinakshathiram, etc. while Padmini received critical acclaim for her Malayalam ventures Kumara Sambhavam and Devaalayam. Padmini was a very famous artist in Tamil too and her flick Thillana Mohanambal, opposite legendary actor Sivaji Ganesan, is still etched in the minds of the audience members. As for Ragini, she became well known for her performance in Mollywood films like Puthiya Akasam Puthiya Bhoomi, Kalayum Kaminiyum, etc. Popular Malayalam actress Shobana is the niece of these accomplished sisters.

Shammi Thilakan and Shobi Thilakan
These two brothers are the sons of ace actor Thilakan. Though they didn't acquire fame as actors, they proved their mettle as dubbing artists.
'Kalaranjini', 'Kalpana', and 'Urvashi'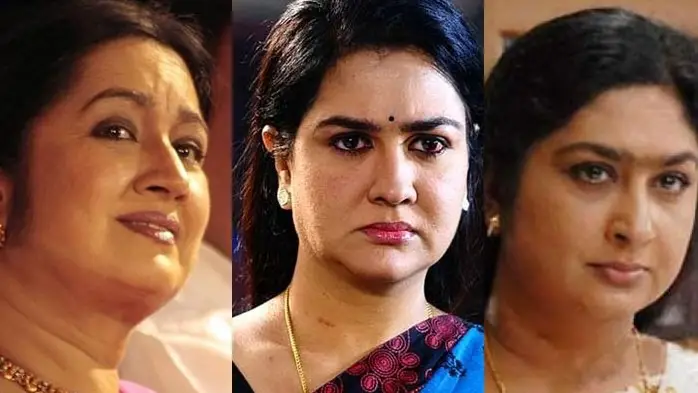 These sisters are also established stars of the Malayalam film industry. While Aasha and Ithramathram are a couple of notable films of Kalarajini, Kalpana is known for her films Thanichala Njan, Indian Rupee, Bangalore Days, Salt N Pepper, etc. Urvashi, the last sister of this trio, has acquired fame in the Tamil industry and she has given exemplary performances in Oru CBI Dairy Kurippu, Achuvinte Amma and Mithunam.

Shalini Ajith Kumar and Baby Shamli
These lovely sisters started their film careers as child artists. Shalini is known for her roles in Ente Mammattikuttiyammaku (which was her debut film as a child star), Aniyathupravu, Prem Pujari, Niram, etc. She also acted in 5 Tamil films and later married Tamil actor Ajith Kumar. Shamli, like her sister, proved her talent at a very young age. Her Tamil film Anjali, directed by Maniratnam, has her portraying a brilliant role of a mentally disturbed child. And now she is also testing waters as an adult star and has a couple of films in her kitty.
Prithviraj Sukumaran and Indrajith Sukumaran
These two handsome brothers hail from a family with a film background. Film artists Sukumaran and Mallika are their parents. While Indrajith is well known for his movies including Meesa Madhavan, Ezhamathe Varavu, etc., Prithviraj acquired a good name for films like Nandanam, Indian Rupee, Ennu Ninte Moideen, Charlie, etc. In fact, Prithviraj is the most happening and trending star of Mollywood at present. Amar Akbar Anthony and Classmates are a couple of films in which this duo have worked together.