The courageous and heroic-like leg-shaking gestures are amusing to see for everyone. However, the choreographers deserve all the praise. Choreographers try their utmost to make a movie popular with the general population. Potential-filled actors and actresses are coming out of Kannada movies. Additionally, a lot of Kannada choreographers work quickly to produce a successful film. The top ten Kannada choreographers for 2022 are listed below.
1. Jaani 
Jaani is currently the most talented and in-demand choreographer in South India. Online listenership for his most recent tracks, such as 
Appu Dance, Butta Bomma, Mundhe Banni, Open The Bottle, Feel The Power, Rowdy Baby Rowdy Baby is a Tamil reality show broadcast on th >> Read More... , and Yettakond Hogu, was high. The persons that most inspire Jaani are Puneeth Rajkumar Puneeth was born on 17th March 1975 in Madras, Tam >> Read More... , Mega Hero Ram Charan Tej, Allu Arjun The actor was born to producer Allu Arvind and Nir >> Read More... , Nithiin, Ram Pothineni Hailing from Hyderabad, Telangana, Ram Pothineni i >> Read More... , and others. He composes the music for both Telugu and Tamil movies.
...
2. A. Harsha
A. Harsha is an Indian choreographer and director of Kannada films. Many songs were choreographed by Harsha. In 2004, Harsha made his KFI debut as a choreographer for the film Ranga SSLC. When Harsha created the music choreography for Mungaaru Male Click to look into! >> Read More... , he received a lot of praise. Since then, he has created the choreography for several well-known films, such as Meravanige and Moggina Manasu, Rishi, Taj Mahal, and Only Vishnuvardhana.
...
3.
Indian choreographer and director Imran Sardhariya is most recognised for his work in Bollywood and the South Indian film industry. He is the late Haji Ayub's son. With the 2015 film Endendigu, which starred Ajay Rao Ajay Rao is an Indian Film actor primarily working >> Read More... and Radhika Pandit Radhika Pandit another example of a home grown act >> Read More... in the key roles, Imran Sardhariya made his directorial debut. He has been awarded two times for the SIIMA award in the best choreographer category.
...
4. Bhushan
Bhushan is an Indian actor, director, and choreographer who has worked in the Telugu and Kannada cinema industries. Bhushan has choreographed for more than 60 movies as of today. He has participated in many dance reality programmes on south Indian television, including Kuniyonu Baara Kuniyonu Baara is a Kannada dance reality competit >> Read More... season 3, Kick Dance reality show, etc. Chuttu Chuttu from Rambo 2 served as Bhushan's Sandalwood debut as a dancing instructor.
5. B. Dhananjay
Indian actor and choreographer B. Dhananjay works in the Kannada cinema industry. In the Imran Sardhariya-directed film Uppu Huli Khara, he played one of the lead roles. He has already choreographed more than 40 songs since switching to choreography. For the film Ananthu vs. Nusrath, he trained Vinay Rajkumar Vinay Rajkumar is an actor; he works in Kannada Fi >> Read More... , the actor Dr Rajkumar's grandson. For the film Victory 2, he choreographed the song "kuttu kuttu kuttappa," which had actors Sharan and Apoorva moving.
...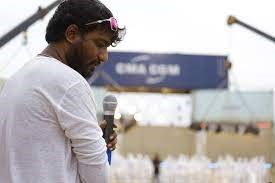 Indian choreographer, dancer, businesswoman, and TV personality Mayuri Upadhya is headquartered in Bengaluru, India. For the longest-running show in Indian history, Mayuri was chosen by BroadwayWorld as the Best Choreographer in January 2018. In addition to countless other honours, Mayuri is the recipient of the International Choreography Award, Seoul, the Uday Shankar Awards for Choreography, and a Manav Ratna for her contribution to Indian arts and culture.
...
A former choreographer who now works mostly in the Kannada film business is Bargav Yogambar. He was raised in Bangalore, India, where he was born. Bargav has participated in several college-hosted dancing events. He became a member of the All India Federation of Choreographers in 2016. Beginning as a backup dancer, Bargav worked his way up to become a solo choreographer. He was successful in landing a job as an assistant director for the Australian movie Taxi Club. The process of creating a movie inspired him to create a Hollywood-caliber Kannada film.
...
8.
A well-known choreographer is Mallur Srinivas. The moniker "Thirupathi Srinivas" belongs to him. He is recognised for his choreography in movies like Ambari and Cheluvina Chitthara (2007). (2019). The "Navarasa Natana Academy," which Mallur founded and owns, teaches 24 different trades, including acting and directing. Mallur is a choreographer.
...
Ranjan Nayak is an Indian film choreographer who works predominately in the Kannada film industry. He has choreographed many songs in Sandalwood.
10.
Indian actor and choreographer most known for his work in the Kannada cinema industry is Ajay Raj. Ajay has contributed to well-known films like Tubelight and Abbaba. Tubelight, Ajay's previous movie, was released in theatres in 2022.