Horror is a genre which everyone doesn't like. Though there are many people against this genre, it hasn't affected the horror movies in any industry since there are far more people liking and encouraging this genre. We see not many movies in Sandalwood with this genre compared to other Film Industries, but surely there are some successful horror stories which have scared and entertained most of the audiences. The thrill of horror movies is getting scared. If the audience is not scared, then that means the movie has failed in this genre. Here is a list of 10 most rated horror films in Sandalwood after 2010.
1. U-Turn
, the director of " Lucia Click to look into! >> Read More... ", has again come into the picture with his new ready-to-release movie "U-Turn". This movie is basically a thriller and is the most awaited movie for now because of his fame movie "Lucia". The director says that this story is not as complicated as Lucia was and is simpler to understand. He even says that he wants to convey a social message through this movie. This movie has already got a 9.6/10 rating from IMDb and audience have a very high expectation on this movie. It's releasing on the 20th of May 2016.
...
2. ' Ouija Click to look into! >> Read More... '
Ouija was directed by Rajkumar Reddy and was released on 6th November 2015. It has got a rating of 8.8/10 from IMDb. Starring Bharat, Shraddha Das The model turned actor, Shraddha Das is one among >> Read More... , Gayathri Iyer Gayathri Iyer is a well-known Indian film actress >> Read More... , Madhuri Itagi Madhuri Itagi is a renowned Kannada model and actr >> Read More... this movie has been successful in reaching out to the audience. It has earned the second position in the top 10 horror movies in Sandalwood.
...
3. ' Shivalinga Click to look into! >> Read More... '
...
Directed by P.Vasu, it has got a rating of 8.6/10 from IMDb. Starring Shivrajkumar in the lead role, the plot is about a murder and Shivrajkumar plays the role of a CID officer who breaks the suspense of the case. It was released on 12th February 2016 and has attracted a majority of the audience.
4. Last bus
Directed by S.D.Arvind, Last bus was released on 15th January 2016. Starring Avinash Narasimharaju, it has been a mind blowing movie and has got a rating of 8.3/10 from IMDb. Its songs have also been a hit among music lovers.
5. ' Thamisra It's easy to make a bad horror film, but it ta >> Read More... '
Thamisra was directed by Prakash Hassan and was released on 2nd October 2015. It has got a ranking of 7.6/10 from IMDb. Though the actors' acting hasn't impressed much of the audience, the plot of the movie has taken it to this position. All the actors in this are newcomers.
6. Namo Bhootatma
Namo Bhootatma was the first movie in which comedy actor Komal acted in a horror genre film. This movie was directed by Murali and was released on 28th October 2014.It has got a rating of 7.3/10 from IMDb.
7. ' Chandralekha Click to look into! >> Read More... '
Chandralekha was directed by Om Prakash Rao Om Prakash Rao is a known face in Sandalwood, than >> Read More... and was released on 7th March 2014. Starring Chiranjeevi Sarja and Shanvi, it has got an IMDb rating of 7.2/10. Though its reviews weren't that great, it has managed to attract a considerable number of audiences.
8. ' Kalpana Click to look into! >> Read More... '
Kalpana, directed by Rama Narayanan Rama Narayanan was an Indian Producer and Director >> Read More... , has got a rating of 6.7/10 by IMDb. Starring Upendra, Lakshmi Rai and Saikumar, it has attracted a lot of audiences towards the theaters.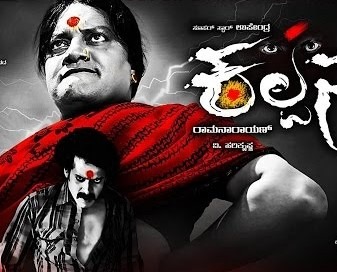 9. 6-5=2
This movie was directed by K.S.Ashoka and was a blockbuster hit in the box-office. The plot of the movie is based on the real life incident and is a remake of the video clips that were found in 2010. Nobody knows the trueness of this movie but has managed to scare the audience which means it has been successful as a horror film. It has got a rating of 6.4/10 by IMDb.
10. 'Chaarulatha'
Directed by , it was released on 21st September 2012. Priyamani has played a dual role in this movie and has got high recognition for her mind blowing acting. It has got an IMDb ranking of 6.1/10. This movie has managed to attract a majority of the audience who like horror genre movies.