1. Bayalu Daari
This is a 1976 movie that starred Anant Nag Anant Nagarakatte was born in the year 1948 on 4th >> Read More... as Gopi, an army officer .This movie was directed by Dorai - Bhagavan, and was a massive hit at that time. Melodious songs, catchy lyrics, all of this along with the actor's charm, entices us all to watch this movie.
2. Naa Ninna Bidalare
This is a horror flick released in 1989, creating a new vision for movies at that time. Anant Nag played the role of Krishna, an honest and modest man, who is tormented by a ghost for vengeance. Horror, heavenly music and the actor's magic has managed to grab our attention till date.
...
3. Chandanada Gombe
...
This is also a 1979 movie based on a novel. Well, this was a musical blockbuster, and the chemistry between Anant Nag and Lakshmi Narayan Lakshmi or Lakshmi Narayan is an Indian film actre >> Read More... hit the buttons perfectly.
4. Minchina Ota
...
This is a 1980 movie directed by Shankar Nag Shankar Nag, most influential and talented Kannada >> Read More... , who also shared the screen with his brother Anant Nag in this film. The Nag brothers and ' C H Lokanath C. H. Lokanath is a veteran stage and film actor w >> Read More... ' are in pivotal roles. Watch this movie, and you'll definitely have a thought lingering in your mind. The Shawshank Redemption Click to look into! >> Read More... perhaps?
5. Narada Vijaya
...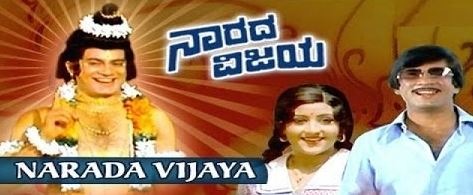 This is a 1980 movie where Anant Nag plays a diverse role of Narada, heaven's messenger in the unforseen world and a common man on earth. Narada gets into a situation where he has to come down to the earth. It is a row of hilarious events after the man from heaven watches humans behave with one another.
...
6. Ganeshana Maduve
...
This is a 1990 Kannada rom-com film directed by Phani Ramachandra Phani is a well-known Kannada film and television >> Read More... . It stars Anant Nag and Vinaya Prasad Vinaya Prasad (or Vinaya Prakash) is a popular sen >> Read More... in the lead roles. It was a huge hit at its time and is regarded as one of the most hilarious Kannada comedy films.
7. Beladingala Baale
This was a 1995 film with a fresh concept back then. Anant Nag played the role of a chess master working in a bank, a witty Revanth. He talks to a woman over the phone and realizes that she is the one for him. Amazing movie! And the songs are the honey to the ice cream of the film.
8. Yarigu Helbedi
In this 1994 hit, Anant Nag plays the role of a broker for houses and cleverly gets back his land plot from its usurpers. And the music is an augmentation and magnet for the audience to sit back and watch it again and again.
9. Hendthig Helbedi
This is a 1989 comedy thriller film written and directed by the famous Dinesh Baboo Among the success stories of cinematographer turne >> Read More... . It shows Anant Nag and Mahalakshmi in the pivotal roles. The other supporting cast shows actors ' Sundar Krishna Urs Sundar Krishna Urs was a Kannada actor, producer, >> Read More... ', ' Devaraj Devaraj is a Kannada actor who works in theatre an >> Read More... ', ' Tara Tara was an Indian soap opera that was aired on Ze >> Read More... ' and Bangalore Nagesh Bio coming soon... >> Read More... . The film's background and songs were composed by 'Vijayanand'.
10. 'Plus'
This is a 2015 Kannada thriller directed by Gadda Viji Bio coming soon... >> Read More... and produced by Yogaraj Bhat Yogaraj Bhat was born on 8th October, 1973 in Mand >> Read More... . It stars Anant Nag in the lead role with a completely different perspective. The supporting cast features many bright faces of Sandalwood like, Sudha Rani Sudha Rani is an Indian actress in Kannada movie i >> Read More... , Shalini Vadnikatti Shalini Vadnikatti is an Indian model and an actre >> Read More... , the perfect villain P. Ravi Shankar Bio coming soon... >> Read More... and Chetan Chandra It is not an easy task to be the most sort after g >> Read More... . Life turns upside down when the aging businessman has to face unexpected situations and scary people, and thus he decides to give a good fight. Watch the movie to know how this man gets over his problems.