The largest production company in Indian cinema, Yash Raj Films, has a history of unmatched box office success. The studio, which is renowned for mounting films on enormous canvases, has been active in Bollywood for more than 50 years.Nettv4u will list a few of the memorable films that YRF has produced throughout the course of its long history since it was founded by and is currently led by Aditya Chopra Aditya Chopra is an Indian film director, scriptwr >> Read More... . From the action thriller Deewar to the romantic musical Chandni, Yash Chopra is responsible for some of the most recognizable movies ever made. Yash Chopra, a superb storyteller, always had a way of drawing audiences into the most straightforward of plots. His films remain fresh even after repeated viewings.
An overview of some of the director's finest works follows:
1. Darr
Yash Chopra, under his production company, Yash Raj Films, directed and produced the romantic psychological thriller movie, Darr. Sunny Deol Sunny Deol is a film actor, director and producer. >> Read More... , Juhi Chawla Juhi Chawla is a renowned Indian actress and produ >> Read More... , and Shah Rukh Khan Shah Rukh Khan or also known as SRK is a prominent >> Read More... play pivotal roles in the film. A newlywed woman who is being stalked by an unidentified man who professes to be in love with her is the center of the story. She tries to get away from the stalking of the crazed lover with the assistance of her spouse.Among the awards that Darr has won is the National Film Award for Best Popular Film Providing Substantial Entertainment. The film received 10 nominations for the 39th Filmfare Awards, among them Best Film, Best Director (Yash Chopra), Best Actress (Juhi Chawla), Best Actor (Sunny Deol), and Best Villain (Shah Rukh Khan).
...
2. Jab Tak Hai Jaan
Under the production company Yash Raj Films, Yash Chopra and his son Aditya Chopra created the romantic drama film Jab Tak Hai Jaan, popularly known as JTHJ. After a car accident, a woman promises God that she will dump her lover in exchange for his survival. He is devastated, yet by working as a bomb-disposal specialist, he resists death. Shah Rukh Khan, , and Anushka Sharma Born in an army family to Col. Ajay Kumar and Ashi >> Read More... appear in the film.
...
3. Silsila
Yash Chopra co-wrote, directed, and produced the romantic drama movie Silsila. Amit and Chandni were in love, but after his brother, Shekhar, passed away, Amit was forced to wed Shobha, his brother's expectant girlfriend. Later, Amit restarts his relationship with Chandni, who is now married. Amitabh Bachchan, Rekha, Sanjeev Kumar, and Jaya Bachchan are among the film's stars.
...
4. Rab Ne Bana Di Jodi
Under the banner of the production company, Yash Raj Films, Aditya Chopra and his father, Yash Chopra, co-produced the love story "Rab Ne Bana Di Jodi." An insecure middle-aged man poses as a youthful man to win over his newlywed bride. In the movie, which also starred Shah Rukh Khan in a dual role, Anushka Sharma made her acting debut.
5. Fanaa
For the romantic thriller Fanaa, Kunal Kohli One of the prominent faces in the industry of Boll >> Read More... collaborated with Aditya and Yash Chopra's production firm, Yash Raj Films. Zooni, a visually challenged girl, falls in love with Rehan, an undercover terrorist, who subsequently makes her pregnant before dumping her. Years later, after having her sight restored, Zooni attends to a hurting Rehan without knowing who he is. In the film, Aamir Khan Aamir Khan or Mohammed Aamir Hussain Khan is Bolly >> Read More... makes his debut appearance as an anti-hero alongside Kajol.
...
6. Lamhe
The movie Lamhe is a musical romantic drama that was written by Honey Irani Honey Irani is an actress and screen writer. She w >> Read More... and Rahi Masoom Raza Rahi Masoom Raza is the finest poet, writer, and l >> Read More... and directed by Yash Chopra. A mature woman that Viren falls in love with marries another man. She develops feelings for Viren as her daughter gets older.
...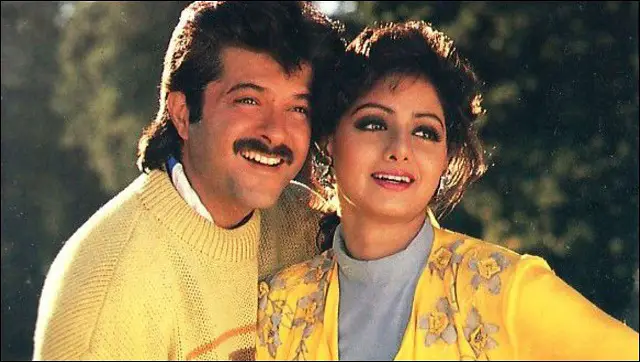 Kabir Khan Kabir khan is a very much renowned director of Bol >> Read More... is the director of the action-thriller movie Ek Tha Tiger, which he wrote with Neelesh Mishra. Aditya Chopra produced the film and wrote the script. While attempting to extract sensitive information from a scientist, an Indian RAW agent falls in love with a mystifying Pakistani ISI operative.
...
8. Mashaal
Yash Chopra's action film Mashaal stars Dilip Kumar Muhammad Yusuf Khan was born on the 11th of Decemb >> Read More... , Waheeda Rehman She took birth in a Tamil Urdu speaking Muslim fam >> Read More... , Anil Kapoor Anil Kapoor was born on 24th December 1956 in Mumb >> Read More... , and Rati Agnihotri Rati Agnihotri is an Indian movie actress who has >> Read More... . A dependable journalist takes down a powerful drug dealer, but he also loses his job. He pursues vengeance, but a lost traveler he once helped tries to talk him out of a life of crime.
...
9. Kaala Patthar
Yash Chopra produced and directed the action-drama movie Kaala Patthar. Salim-Javed wrote the screenplay. A marine captain gets court-martialed for cowardice and then begins a job as a coal miner. He works to improve the rights of his fellow employees with the assistance of two coworkers.
10. Sultan
Sultan, a sports drama that was produced by Aditya Chopra and directed by Ali Abbas Zafar Ali Abbas Zafar is a popular Indian actor, Directo >> Read More... under the banner of Yash Raj Films, stars Salman Khan Salman Khan is a very famous Indian actor and a pr >> Read More... and Anushka Sharma. A middle-aged professional wrestler faces his concerns and decides to pick up the sport once more.