Karan Johar Karan Johar is one among the top ten celebrities i >> Read More... has created numerous legendary personalities during his nearly two-decade-long career in Bollywood.Along with telling some compelling storylines, Karan has also given us characters that will live on in our memories long after we have watched the film. Despite being criticized for being excessive, his films have rarely let their viewers down.Whether he produce, write, or direct the movie, he has managed to connect with his characters.Each enduring character carved out a unique space in our hearts in a unique way. However, the one element that has distinguished all of his movies is the presence of their lead actors. More frequently than he is probably given credit for, he has been able to give us strong, autonomous film characters.
Here are some of the strongest characters from Karan Johar's movies that we've encountered.
Ae Dil Hai Mushkil, the film Johar directed, featured a strong female lead who may be seen as the epitome of contemporary women. In the movie, Anushka Sharma's character, Alizeh's male best friend, constantly attempts to win her over. Every guy who watched the film learned from Alizeh that a no still means a no, regardless of her relationship status.
...
In Kuch Kuch Hota Hai, Archana portrayed the short-skirted, youthful-at-heart college professor. This is without a doubt one of the most famous characters in Hindi cinema, and she was a teacher we had no idea we needed until Karan Johar brought us to her.
...
Shah Rukh Khan's portrayal of Rizwan in My Name Is Khan unquestionably sets the bar for what is possible when you put all of your effort into anything. After being mistaken for a terrorist since he is Muslim, Rizwan decided to personally tell the president that despite his name being Khan, he is not one.
...
The movie, Kabhi Khushi Kabhie Gham, which was all about loving your parents, offered millennials an unexpected pop culture figure in Poo, AKA Pooja, whom Kareena Kapoor Khan represented quite beautifully. At first appearance, she could seem like a spoiled brat, but she is much more than that. A whole generation of women learned how to claim their confidence from Poo. Self-love was her priority, and she refused to accept slut shaming, even when it came from her sister.
5. Ranbeer Kapoor as Ayaan
In Karan Johar's Ae Dil Hai Mushkil, Ayaan has no idea what consent means. He simply does not grasp the meaning of no, and no matter how charming Ranbir Kapoor Ranbir Kapoor is a noted Indian film actor. He was >> Read More... looked in the role, the toxicity was simply too much to bear. It gets so bad that Ayaan even becomes violent when his girlfriend rejects him.
...
The lines from Kuch Kuch Hota Hai always make us think of a cute Sardar boy. Despite having only one sentence in the movie, this character still managed to have an impact on both the story and our hearts.
...
7. Rani Mukherji as Maya
In the film Kabhi Alvida Na Kehna, Johar attempted to address the idea of unromantic marriages and extramarital affairs. The orphaned character, played by Rani Mukerji Rani Mukerji is one of the most celebrated Indian >> Read More... , marries her childhood friend primarily out of obligation. She got into a difficult situation and started dating a married man, but ultimately had the fortitude to reject social conventions and pursue her happiness.
...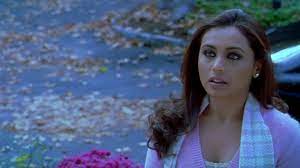 8. as Yash Raichand
The conservative Indian father prioritizes family principles and values over all else. This is one man you would not want to argue with, and Amitabh Bachchan played him fairly admirably in Kabhi Khushi Kabhie Gham.
...
9. Kajol as Mandira
The blockbuster film "My Name is Khan," in which Kajol portrayed the character Mandira, was released in 2010. She managed a prosperous business out of San Francisco and was a single mother. Her decision to wed a Muslim autistic man at a period when religious tensions were high in the US, however, made her stand out even more.
You may say that Poo was updated in 2012 by Shanaya from Student of the Year. She has a small soft spot in her heart that just wants some love, despite her ego, which makes her believe she is superior to everyone else.