Delhi- the capital city and the inherent epicenter of all political farrago. Nothing political in this country can transpire without reaching the lanes of this city. Delhi has two sides, on the one hand, you will feel everything has changed in this urban space, but on the other part, you will be assured that not even an ounce of change has taken place in some areas. One can witness the markers of modernization while at the same time, staring at what a colossal mess this city is. Delhi has many shades and to explore the city through celluloid, we have curated a list of Hindi movies to watch that capture the soul of Delhi.
1. Delhi-6
Starting the list from the best, as the title explains itself, Delhi 6 is a classic film capturing the picturesque locations of the city. From the pigeons flying at historical Jama Masjid to the cramped lanes of Chandni Chowk, the movie is an aesthetic bliss for Delhiites. It stars Abhishek Bachchan Abhishek Bachchan, or Abhishek Srivastava, is a ve >> Read More... , Sonam Kapoor Sonam Kapoor, Daughter of Anil Kapoor and model Su >> Read More... , Om puri, and Waheeda Rahman. AR Rahman's music is the heart of this movie and brings alive the places. The film deals with specific issues that are even more relevant today.
...
2. Fukrey
A game of gambling, dreams, and luck all coincide in the avenue of East Delhi. It is a story of 4 boys making a hazy dream into reality. With average comedy, the film succeeds in adapting to the quintessential mannerisms of Delhi youth, specifically boys. 'Jugaad' loosely means make-shifters is one of the interesting themes that every Indian is familiar with. A film that is a manifestation of the frivolous, free-spirited youth of Delhi.
3. Rockstar
A film that has started getting appreciation recently on social media. It is better late than never. Janardhan, a Delhi guy, is looking for inspiration for his music. What happens when a heartbreak fulfills that goal but also brings self-destruction. The film's shooting is done on the north campus, Miranda house college, during the summer break. One of the most beautiful songs of the movie Kun-Faya-Kun is filmed in the holy Hazrat Nizamuddin Dargah of Delhi.
...
Kartik Aryan starrer, this romantic comedy is set in the elite Delhi and some parts of Gurgaon. Shiny glossy buildings, pubs, and party nights are the locations that bring out the social life of the Delhi crowd. Directed by Luv Ranjan Luv Ranjan is a director and writer. He has acquir >> Read More... , the movie did well at the box office, and the main star Kartik has a monologue in his name, which indeed is still enjoyed by the audience.
...
5. Band Bajaa Baarat
Featuring Delhi university colleges has become a typical thing for filmmakers in order to tell the story of a character living in Delhi. Ranveer Singh's debut film alongside Anushka Sharma Born in an army family to Col. Ajay Kumar and Ashi >> Read More... , Band Baaja Baarat, captures even the mundane things that occur in urban Delhi. The music album is a combination of soulful and masala songs that add to its charm.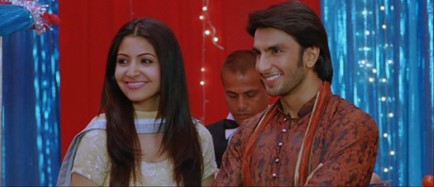 ...
Ayushmaan had a stellar debut with Vicky donor that had a well-written storyline and was executed finely. Needless to say, his top-notch acting skills confirmed his success in the upcoming years. The movie features the locations of Connaught place and Gurudwara Bangla Sahib- a holy place for Sikhs in Delhi.
...
7. Kurban
and Kareena Kapoor Khan's starrer 'Kurban' was filmed in front of various breathtaking historical sites in Delhi. Even when the movie was just being filmed, a vast crowd gathered at the location, hoping to get a glimpse of their beloved stars. The cinematography of the song "Shukrah Allah," sung by Sonu Nigam Sonu Nigam is a renowned Bollywood singer and comp >> Read More... , exquisitely captures the Jama Masjid complex, Humayun Tomb, and the other places in the city.
...
8. No one Killed Jessica
A spine-chilling drama thriller based on an actual murder case having its backdrop in Delhi may unsettle you a little. Delhi has never looked so poignant before. The city's public transport has always been an unsafe space which got confirmed after the horrendous Nirbhaya case in 2012. Vidya Balan Vidya Balan is an award winning Bollywood actress >> Read More... and Rani Mukherjee starrer, this film should be on your bucket list to explore the notorious side of Delhi. It is a commentary on the country's flawed Judicial system.
...
9. Fanna
There is a saying that if in love, Delhi seems even more romantic. A poetic rendition, Fanna stands true to this theory. This Yashraj film production starring Aamir Khan Aamir Khan or Mohammed Aamir Hussain Khan is Bolly >> Read More... and Kajol was a super-hit at the box office and more so in people's hearts. One of the most iconic songs, "Chand Sifarish," was shot at one of the ancient marvels of Delhi- Qutab Minar. Other locations include Lodhi Garden, Rashtrapati Bhavan, and Red fort.
10. PK
The first-ever Indian film to enter 300 crore club was PK smashing all box-office records. Just like the city of Delhi, the movie was also surrounded by a lot of controversies and debates. An essential portion of the film is shot in Delhi. It packs every significant location- Delhi metros, Connaught place, Delhi Haat, and historical site Agrasen ki Baoli.
Which one are you planning to watch from the above list. Do tell us in the comment section.