Alka Yagnik Alka Yagnik is a very popular playback singer of t >> Read More... is, without a doubt, one of the greatest and most versatile female playback singers of all time. Throughout a career spanning more than four decades, the musician has amassed an astounding collection of hit songs in a wide range of languages and styles while staying relevant and sounding new. No one else, not even the late great Lata Mangeshkar Lata Mangeshkar, the veteran playback singer, had >> Read More... or Asha Bhosle Asha is considered to be the second greatest femal >> Read More... , has achieved this success. Alka Yagnik is, without a doubt, the diva of playback singing. She has performed over 2,000 songs, which have been used in more than 1,114 Hindi movies. In addition to three National Film Awards The National Film Awards gets presented every year >> Read More... in the same category, she has also won seven Filmfare Awards for Best Female Playback Singer. This song highlights her immeasurable contribution to Indian music and film.The top 10 Alka Yagnik songs are listed below, which you can listen to at any time:
1. Taal Se Taal Mila
Alka Yagnik and A.R. Rahman finally worked on a Hindi soundtrack after what seemed like an age. Aishwarya Rai, a budding celebrity who needed a voice to match her beauty, was wonderfully complemented by the album's title track and Alka Yagnik's fun yet youthful vocals on "Taal." They created something truly wonderful. It's admirable that the music director chose Alka Yagnik for the classically inspired "Kariye Na" and the sensual "Ramta Jogi," showcasing the musician's versatility. Alka Yagnik's fame is further supported by the fact that she was the only female vocalist Rahman utilized on more than one song on the album.
...
Alka Yagnik is best regarded as the voice of reason in what is arguably her most well-known song from the last 20 years. Despite the fact that Tamasha had a number of other well-known songs, "Agar Tum Saath Ho" stood out more than the others, largely because of the singer. Alka Yagnik has complete ownership of the A.R. Rahman song, giving her nearly 35 years of recording experience necessary to bring the sadness and realism of the lyrics to life. Even though she isn't as active right now, we still need more bright composers like A.R. Rahman to figure out how to use their most talented instrument in the future.
3. Tip Tip Barsa Paani
The sensual game resumed with this timeless song about rain. It's interesting to note that "Tip Tip Barsa Paani" wasn't the immense success of " Mohra Click to look into! >> Read More... " at the time, even if the song is now back in everyone's head thanks to its latest version in the movie "Sooryavanshi." Growing in popularity were the growers when the movie came out and "Tu Cheez Badi Hai Mast" became overused on primetime programmes.
...
4. Choli Ke Peeche
The 1993 release of "Choli Ke Peeche" from Subash Ghai's Khalnayak was without a doubt Laxmikant's best song in a long time. It was a very controversial song at the time (for the period). Once again, joining forces with Madhuri Dixit Madhuri Dixit is not just known as the also a smil >> Read More... to create mayhem, Alka Yagnik and Ila Arun Ila Arun is of the star sign Pisces being born on >> Read More... deliver this incredibly sensual, some could even say excessively provocative, song. The song would become so well-known that an article in Billboard Magazine would mention it. All the acclaim Alka Yagnik has received for her music is well-deserved. No one had a problem with her performance, despite the song receiving a lot of negative press. She changed the limits of what could be said vocally.
...
5. Aisi Deewangi
In the 1990s, Alka Yagnik and Nadeem Shravan were at the pinnacle of their careers. The trio of Alka Yagnik, Kumar Sanu Having chaired over 17,000 songs in the last 27 ye >> Read More... , and Udit Narayan One of the famous playback singers of Indian Film >> Read More... actually set the bar for the era's romantic songs with their duet. Even though their debut single, " Saajan Click to look into! >> Read More... ," from 1990, was more noteworthy, "Aisi Deewangi," from the film Deewana, became highly popular very quickly. The medium-tempo song that follows only helps to further show that Alka Yagnik had mastered how to accurately express the proper sentiment in each song with its haunting and gorgeous opening notes when Alka Yagnik sings acapella.
...
Alka Yagnik, coincidentally, also took on the role of Juhi Chawla's voice for the wildly successful movie "Qayamat Se Qayamat Tak" in the same year as her major dance routine debut. Although "Papa Kehte Hain" was the movie's most successful song, the three duets with Udit Narayan and Alka Yagnik were also incredibly well-liked. "Aye Mere Humsafar" showcased Alka Yagnik's kinder, more tender side, establishing her as the new generation's Asha Bhosle and Lata Mangeshkar.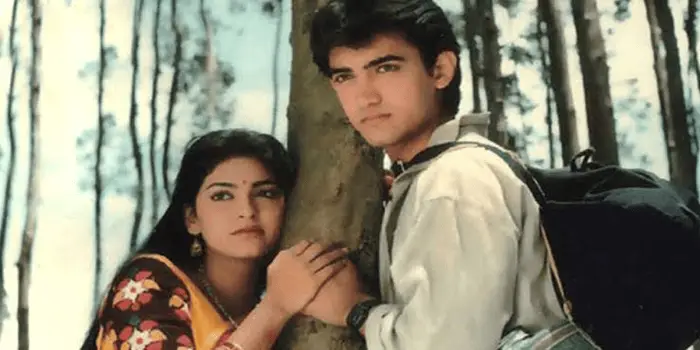 ...
7. Gali Gali Mein
Alka Yagnik immediately established herself as the go-to artist for peppy dance music in films. The only thing that seemed to unite all of the songs was their main melody. The song "Gali Gali Mein" does this particularly well. Contrary to the Tridev soundtrack, which had nearly hit song after hit song, the song has maintained its popularity over time. Alka Yagnik's best moments came throughout this. All of the songs on the list have lately undergone remixes or remakes, which is another evidence of how well-liked they were.
...
8. Mere Angane Mein
Most people are unaware that this song, not the one that follows, is where Alka Yagnik's legacy truly begins. Despite the fact that Amitabh Bachchan's version and performance have received more recognition (and it's clear why, given how beautifully he performed the song in the movie), Yagnik is responsible for the song's fundamental composition. The song, which the singer cut at the tender age of 15, serves as the ideal introduction to the slew of sassy, upbeat songs that she would later elevate to legendary status in the 1990s.
...
9. Ek Do Teen
Tezaab by Laxmikant Pyarelal Laxmikant Shantaram Kudalkar and Pyarela l Rampras >> Read More... was successful, and "Ek Do Teen" by Alka Yagnik was her first truly significant hit song. She had written songs for numerous movies throughout the 1980s, but this particular song and the young actor who starred in it, Madhuri Dixit, changed the game. As every child in the nation was counting along to the song, Alka Yagnik was crowned the cheerful queen of the new generation, a title that had previously only been reserved for Asha Bhosle.
10. Chamma Chamma
Due to her complete dominance of the radio with her songs, which gave the appearance that no other recording artists were there, Alka Yagnik had a spectacular year in 1998. Due to her superior range and the fact that Kavita Krishnamurthy Kavita Krishnamurthy is the female playback singer >> Read More... and herself were essentially the only remaining A-list vocalists, Alka Yagnik had the upper hand. Her longing for that "hit song" increased once again with the popularity of the item song. After "Koi Jaye To Le Aaye" from 1996's Ghatak, she gave film director Raj Kumar Santoshi another hit with "Chamma Chamma." It should go without saying that the song was destined to be a hit with Urmila Matondkar scorching up the screen. And sure, we have already heard the original track in its entirety. The song was destined to be a hit, with Urmila Matondkar lighting up the screen. Yes, the song has been covered in more recent years, but it still doesn't measure up to the original.