B-town is surely a spanking place to be. But having said that, even though the actors work hard and earn whatever they want, the necessities of life still are the same for them as they are for us. In the end, all that matters the most is 'Roti Kapda Aur Makaan'. While their 'Roti' and 'Kapda' are something we all are aware of, but the 'Makaan' remain shelved in the process. So, here's presenting to you top ten celebrity homes.
1. Salman Khan Salman Khan is a very famous Indian actor and a pr >> Read More...
As we all know Salman Khan is quite a 'family person' and is extremely protective of his family members. Salman has been living in the 'Galaxy apartments' since past four decades.
...
2. Shah Rukh Khan Shah Rukh Khan or also known as SRK is a prominent >> Read More...
After being named ' King Click to look into! >> Read More... ,' your lifestyle should also reflect the same. And his adorable adobe 'Mannat' gives full evidence about how vibrant the actor's life is!
...
3. Aamir Khan Aamir Khan or Mohammed Aamir Hussain Khan is Bolly >> Read More...
...
While Salman and Shah Rukh set new standards to the Bollywood celebrity homes, how can Aamir be left behind? He lives in Bella Vista Apartment in Bandra with his family. Perfectionist as he is, even his home decor is this perfect mix of European and modern Asian elements.
4. Hema Malini Hema Malini is perhaps the only dream girl of the >> Read More...
...
Bollywood's ' Dream Girl Dream Girl is a drama based Indian show that runs >> Read More... ' sure has a dreamy house. She lives in a beautiful bungalow in Juhu and has had her home designed by the famous ZZ Architects.
...
5. Shilpa Shetty A model turned actress, producer, entrepreneur and >> Read More...
Raj Kundra Raj Kundra, a business magnet from London, United >> Read More... and wife, Shilpa Shetty has always maintained an astounding lifestyle. Be it their IPL team or their apartment in Burj Khalifa, they have always made headlines. Coming to their home, they own a bungalow in Saint George Hill named 'Raj Palace.' It is worth 100 crores!
...
6.
...
Besides being known for his excellent acting skills, Amitabh Bachchan is also known for his beautiful bungalow ' Jalsa Click to look into! >> Read More... ' where all his fans gather on every Sunday just to see the actor wave. The cost of this property is estimated to be around 160 crores.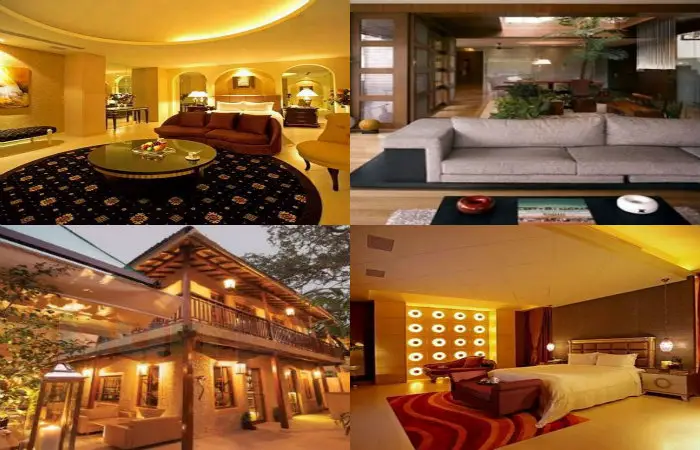 7.
Akshay Kumar and his quirky wife Twinkle Khanna Twinkle Khanna made herdebut in Indian film indust >> Read More... sure have great taste in the field of art. Their home is a perfect combination of contemporary art and has some lovely memories of their family. The couple owns a duplex apartment in Juhu.
8. Sanjay Dutt July 29, 1959, was the day when the two legends of >> Read More...
Sanju Baba is well-known for his lavish lifestyle. The 'Munnabhai MBBS' actor owns a bungalow in Pali Hills, Mumbai. The bungalow has an Italian-style decor, and it is estimated to be worth seven crores.
9. Arjun Kapoor Arjun Kapoor is a Bollywood star. He was born on 2 >> Read More...
Young actors today are curious to make a mark in the industry and move out of their parent's house in their independent space. Of course, if the house is a fun place like Arjun's who wouldn't want to stay alone? The young star owns a lavish flat which has everything that youngsters need and giving it a little personal touch; the actor has decorated his home with his late mother's paintings.
10.
Last but not the least, the 'Nawab' as the name goes undoubtedly has a royal adobe. Besides owning the Ibrahim Kothi in Gujarat, the actor also owns a house in Fortune Heights in Bandra where he lives with his wife, Kareena Kapoor Khan Kareena Kapoor is a super hit actress working in I >> Read More... .