1. Office Office Office- Office is a Hindi-language sitcom written >> Read More...
This story emphasis on character Mussadi Lal and his fight with the crooked people in the public places. It received praise for its fights against corruption and bribery which everybody faces today. This show has won numerous awards for the role of Mussadi Lal. The Star Cast: Mussadi Lal - Pankaj Kapur Pankaj Kapur is a prominent Indian actor and direc >> Read More... , Bhatia – Manoj Pahwa Manoj Pahwa is an Indian television and cinema act >> Read More... , Shukla – Sanjay Misra, Patel – Deven Bhojani Deven Bhojani is an Indian TV serial actor who was >> Read More... .
...
2. " Taarak Mehta Ka Ooltah Chashmah Taarak Mehta Ka Ooltah Chashmah is a television se >> Read More... "
It only shows which has reached to the big success and has broken all records. It is in the full competition of Saas Bahu serials. With more than 2000 episodes still going on, it is one of the hit comedy serials in the Indian Television History. The story revolves around Gokuldham Society with its main focus on the Gada family. The pure and funny comedy is the whole part of serial. The star cast- Shailesh Lodha A smile is what appears in your mouth, whenever y >> Read More... – Tarak Mehta, Dilip Joshi Dilip Joshi, who is a film cum television actor wa >> Read More... – Jethalal Gada, Amit Bhatt Amit Bhat is 39 Year old who has been seen in thea >> Read More... – Champaklal Gada, Disha Vakani Disha Vakani, an Indian television and commercial >> Read More... – Daya Gada, Bhavya Gandhi Bhavya Gandhi is an actor or we can say child acto >> Read More... – Tipendra Gada, Tanmay Vekaria Tanmay Vekaria is a popular actor, who is mostly s >> Read More... – Baga. Taarak Mehta Bio coming soon... >> Read More... is a writer in the story.
...
3. " Lapataganj Sharad Joshi Ki Sharad Joshi has come up with a new concept and a >> Read More... "
...
It came from Sharad Joshi's novel. The story revolves around a small town named Lapataganj, the town has no facility of water, electricity, but the people of the village are still happy. The show marks the thinking of a common man who remains joyful, although inspite of many hurdles in their life.
4. 'F.I.R' 
...
The characters Gopi and Billu played their roles very well. They won the hearts of all the people. The important thing which makes the show unique is the incorrect grammar used like 'Well Bro', "What's The Matter is The" and "Maine Padosi Ko Bheja Letter is The". This show always remain in the hearts of the audience.
5. " Sajan Re Jhoot Mat Bolo Sajan Re Jhoot Mat Bolo is a Hindi sitcom that air >> Read More... "
...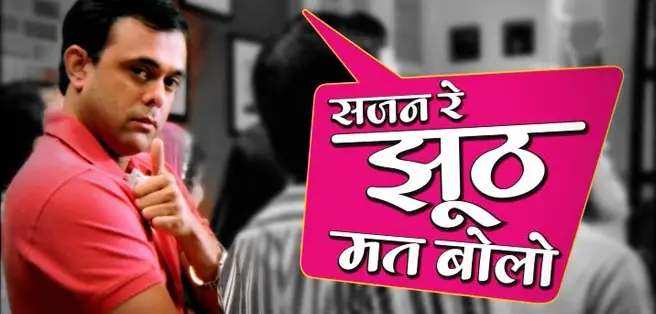 Everything is fair in love. Apoorv falls in love with Aarti who is the daughter of Dhirubhai (Boss). He lies to Aarti and Boss about his condition. Everyone lies in this matter and continues till situation goes out of hand. Apoorv's best friend Raju makes a plan of fake family and due to which Apoorv and Aarti gets marry.
...
6. Yes Boss Click to look into! >> Read More...
...
The story focuses on Mohan, Vinod and Meera. Vinod is the prime editor; Meera is a chief reporter, and Mohan is the junior supervisor. Vinod falls in love with Meera, Meera marries Mohan. Now Mohan has the responsibility to protect his wife from the other flirting people and save her job.
7. 'R. K. Laxman Ki Duniya' 
It covers the daily routine and problems of common man in India. This show devoted to famous cartoonist R.K. Laxman. This show narrates the story of common man. He faces everything; the politics, the bad workers. This character of the common man is related to every Indian person.
8.
It revolves around the Lady Jugni who comes from US to change the perception of her boyfriend's family in India. Jazz falls in love with him, but he knows that his father will never agree a smart and educated girl as their Bahu. Therefore, Jazz changes herself into Jugni.
9. Chidiya Ghar Chidiya Ghar is an Indian Hindi Entertainment Come >> Read More...
This show along with comedy, also gives lessons of the moral values. Babu Ji always teaches some lesson every day. It also teaches us how we should represent to others. It tells how the person should live in a house, respect the other members.
10. Left Right Left 
It was not a comedy show, it was a little bit different from the SAB TV's usual shows. It tells the story of six disoriented students in an Indian Army Academy. They face many obstacles in their path but overcome the challenges. It is about the dedication of the soldiers towards the country.