The history of Indian cinema is extensive and diverse, and many of its films have left an impact on viewers all over the world. Over the years, narrative, cinematography, and other technical aspects of Indian film have progressed and been pushed to their limits. This article will look at the best 10 movies that brought Indian cinema to new heights, invented new genres, and raised the bar. These movies not only entertained viewers, but they also cleared the way for future Indian cinema by encouraging filmmakers all over the world. These ten movies—which vary from classics to more recent releases—have had a significant impact on Indian cinema and are still cherished and respected today.
1. Nayakan (1987)
The 1987 Tamil-language film Nayakan is regarded as a classic of Indian filmmaking. The Mani Ratnam-directed movie, in which Kamal Haasan Kamal Haasan is the most versatile actor that Indi >> Read More... plays the title role, tells the story of a young boy who grows up to become an important don in Mumbai's underworld. The movie won acclaim from critics for its strong acting, accurate portrayal of the Mumbai underworld, and inventive plot structure that combines past and present timelines. Box office success and numerous awards, including four National Film Awards The National Film Awards gets presented every year >> Read More... , were bestowed upon the film Nayakan. It is commonly mentioned as one of the greatest Indian movies ever made.
...
2. Pather Panchali (1955)
Bengali-language film Pather Panchali, which was first released in 1955, is generally regarded as a masterpiece of Indian cinema. The film, which Satyajit Ray Biographies reveal bare details about the maverick >> Read More... directed, is about a young child growing up in 1920s rural Bengal. The film received favorable reviews for its powerful portrayal of the human situation and its realistic depiction of poverty. It served as Ray's acting debut before he went on to become one of Indian cinema's most important directors. The 1956 Cannes Film Festival's Best Human Document prize was one of many international honors that Pather Panchali received, and it is generally regarded as a milestone in Indian cinema.
3. KGF: Chapter 1 (2018)
The Indian cinema industry underwent a revolution in 2018 with the release of KGF: Chapter 1 in the Kannada language. The movie, starring Yash as the title character and directed by Prashanth Neel Prashanth Neel is an Indian filmmaker who works in >> Read More... , is about a young man's rise to prominence in the 1970s world of organized crime. KGF: Chapter 1 was praised by reviewers for its gripping story, stunning visuals, and powerful performances by its lead actors. A huge commercial success, it broke box office records in the Kannada film business and gained a sizable fan base across India. KGF: Chapter 1 was praised for its technical skill and has been hailed as a pivotal moment for Indian cinema.
...
4. Roja (1992)
Roja is a 1992 Tamil movie that has been recognized as a landmark in Indian filmmaking. The major characters of the Mani Ratnam-directed movie, Arvind Swami and Madhoo, are a young woman whose husband has been taken hostage by terrorists in Kashmir. Roja was well-received for its gripping story, excellent performances, and sensitive treatment of the Kashmir conflict. It was also a commercial success and won many awards, including three National Film Awards. Because of its fearless examination of political subjects and creative use of music, Roja is still regarded as a cherished classic of Indian cinema.
...
5. Kumbalangi Nights (2019)
A 2019 Malayalam film titled Kumbalangi Nights caused a stir in the Indian film business. The film, which was directed by Madhu C. Narayanan and stars a talented ensemble cast that includes Fahadh Faasil Born in 1983, Fahadh Faasil is known for his works >> Read More... , Shane Nigam Shane Nigam is a Malayali actor. He is the son of >> Read More... , and Soubin Shahir Soubin Shahir is a well-known actor and an assista >> Read More... , chronicles the relationships between the four brothers and the ladies in their lives. Kumbalangi Nights received acclaim for its realistic and nuanced depiction of family dynamics, as well as for its stunning visuals and potent acting. Additionally, it was a financial triumph and received numerous honors, including three Kerala State Film Awards. A well-known contemporary Indian cinematic classic is Kumbalangi Nights.
...
6. Sholay (1975)
Ramesh Sippy's 1975 masterpiece Sholay is an Indian film that has since become a classic. A retired police officer hires two criminals to help him track down the ruthless bandit Gabbar Singh Click to look into! >> Read More... in the village where the movie is based. The film is renowned for its stirring dialogues, outstanding performances, and enduring soundtrack. Legendary performers like , Dharmendra, Sanjeev Kumar Sanjeev Kumar was born on July 9th, 1938 in Mumbai >> Read More... , Hema Malini Hema Malini is perhaps the only dream girl of the >> Read More... , and Amjad Khan Amjad Zakaria Khan was born on 12th November, 1940 >> Read More... are among the cast members. Sholay is regarded as a landmark in Indian film and has received numerous honors and awards. Even 46 years after its initial release, its recognizable characters and lines have ingrained themselves in Indian popular culture, making it a cult favorite.
...
7. Mughal-e-Azam (1960)
The 1960 premiere of the historical Indian film Mughal-e-Azam, under the direction of K. Asif. The Mughal period is the setting for the film, and Anarkali, a court dancer, becomes Prince Salim's love interest. Their relationship, however, is frowned upon by his father, Emperor Akbar, creating a dramatic conflict between love and obligation. The lavishness, ornate costumes, and magnificent soundtrack of the film are well-known. Madhubala, Prithviraj Kapoor One of the most notable names in the Indian film i >> Read More... , and Dilip Kumar Muhammad Yusuf Khan was born on the 11th of Decemb >> Read More... all give outstanding efforts. Mughal-e-Azam is regarded as a masterpiece of Indian film and has received numerous honors. Even after more than 60 years since its debut, it is still regarded as a societal icon and serves as an inspiration for filmmakers.
...
8. 3 Idiots (2009)
India created the comedy-drama movie 3 Idiots directed by Rajkumar Hirani Rajkumar Hirani is one of the ace director, screen >> Read More... . The three friends are portrayed by Aamir Khan Aamir Khan or Mohammed Aamir Hussain Khan is Bolly >> Read More... , R. Madhavan, and Sharman Joshi Sharman Joshi was born in Mumbai, Maharashtra to a >> Read More... as they travel together while each is a student of engineering at a prestigious Indian institution. The film highlights the shortcomings of the Indian educational system while urging viewers to follow their interests. The comedy 3 Idiots is well known for its witty dialogue, poignant message, and upbeat music. The movie was a huge financial triumph and won many awards, including the National Film Award for Best Popular Film. It still inspires students and is a favorite among young Indians.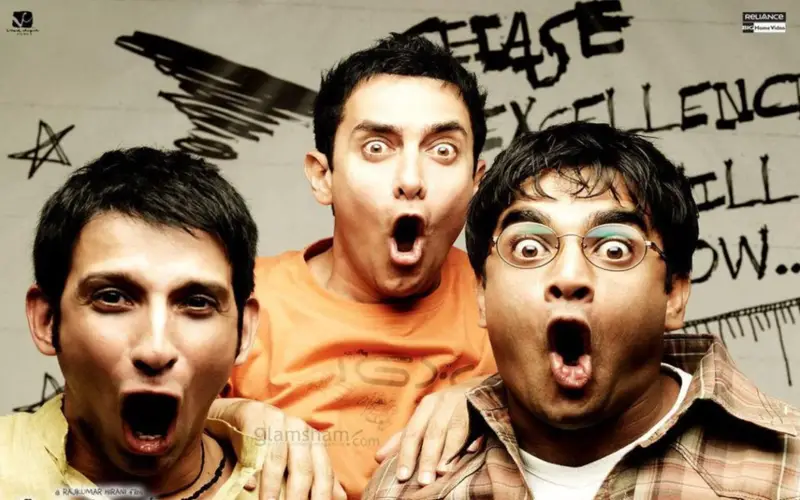 ...
9. Bahubali (2015)
S. S. Rajamouli's epic Indian film Bahubali premiered in 2015. The plot of the film centers on Prabhas' character Shivudu, who learns that he is actually the son of Mahishmati's aristocratic family. The film is renowned for its breathtaking visuals, outstanding music, and superb acting by the ensemble. Its leading actors include Prabhas, Rana Daggubati, Anushka Shetty, and Tamannaah Bhatia. In addition to receiving numerous honors, including the National Film Award for Best Special Effects, Bahubali was a huge commercial triumph. The movie's grandeur and amazing narrative continue to influence filmmakers.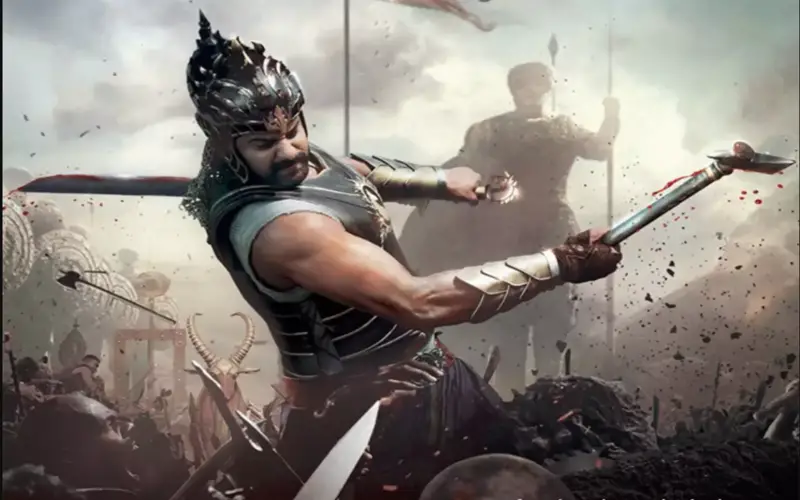 10. Dangal (2016)
In 2016, Nitesh Tiwari's biographical sports drama Dangal was broadcast in India. The wrestler Mahavir Singh Phogat, who is portrayed by Aamir Khan, and his daughters Geeta and Babita, whom he taught to compete at the highest level, are real-life characters in the film. The struggle and sacrifices made by the Phogat family to realize their goals are highlighted in the film. Dangal is renowned for its outstanding music, strong acting by the ensemble, and compelling plot. The film enjoyed tremendous commercial success and set numerous marks at the box office. The National Film Award for Best Popular Film and Best Supporting Actress for Fatima Sana Shaikh Fatima Sana Shaikh is an actress of Andhra origin. >> Read More... were among the accolades it received. Dangal is still an international hit and keeps motivating viewers with its lesson for perseverance and work hard.