India has a rich and diverse film industry that is known for producing Bollywood blockbusters. However, over the years, independent Indian films have also gained popularity and recognition both nationally and internationally. These films often tackle unconventional topics, experiment with different narrative styles, and provide a fresh perspective on Indian society and culture. In this article, we will be discussing the top 10 must-watch independent Indian films. These films have won critical acclaim, and awards, and have been loved by audiences worldwide. From thought-provoking dramas to heartwarming comedies, this list covers a wide range of genres and themes, giving a glimpse into the rich and varied world of independent Indian cinema.
1. Court (2014)
Directed by Chaitanya Tamhane Born on 1 March 1987 in Mumbai (Maharashtra). Grad >> Read More... , Court is a critically acclaimed Indian film that highlights the problems with India's legal system through the story of an elderly folk singer who is accused of inciting a sewage worker's suicide through his songs. The film uses the court case as a window into the wider social and political issues plaguing the country, such as casteism, classism, and bureaucratic corruption. With a focus on the individual players involved in the case, including the defense lawyer, prosecutor, and judge, Court offers a nuanced and thought-provoking perspective on the workings of the legal system in India. The film's realistic portrayal of the characters and the court proceedings has earned it praise from audiences and critics alike.
...
2. Ship of Theseus (2012)
Ship of Theseus is a philosophical Indian film directed by Anand Gandhi From TV Soap writing to becoming an internationall >> Read More... that explores the concepts of identity and morality through three interwoven stories. The film's title refers to the ancient thought experiment that questions whether a ship that has had all of its parts replaced is still the same ship. The film uses this metaphor to explore the themes of personal identity, societal responsibility, and the moral dilemmas that arise in everyday life. Praised for its intellectual depth, stunning cinematography, and exceptional performances, Ship of Theseus has been lauded as a landmark film in Indian cinema and an international success.
Directed by Ritesh Batra Ritesh Batra was born to a middle class family on >> Read More... , The Lunchbox is a romantic drama that tells the story of a mistaken delivery in Mumbai's famously efficient lunchbox delivery system that connects a young housewife to a lonely widower. The film explores themes of loneliness, love, and the daily struggles of life in Mumbai. The delicate relationship between the two main characters develops through their shared love of food and the notes they exchange in the lunchbox. With a strong focus on character development and nuanced storytelling, The Lunchbox received widespread critical acclaim and went on to become a commercial success both in India and internationally. The film's sensitive portrayal of human connections and the urban landscape of Mumbai has made it a beloved classic in Indian cinema.
...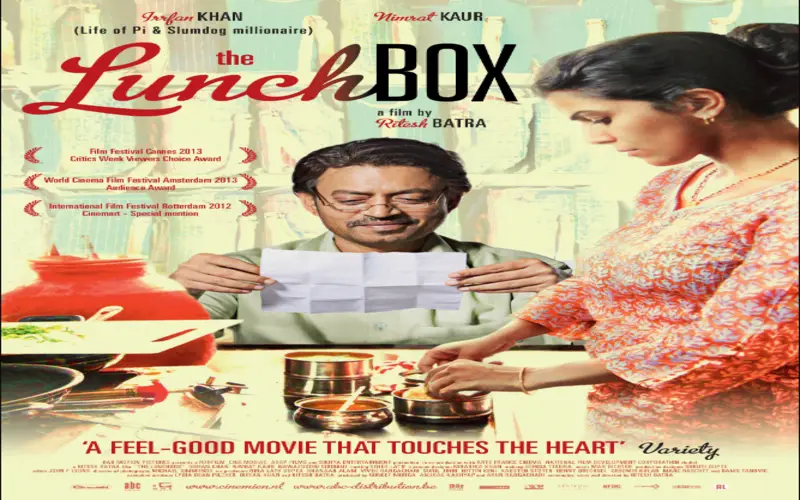 4. Masaan (2015)
Masaan is a Hindi-language drama film directed by Neeraj Ghaywan Neeraj Ghaywan is a director who was born and rais >> Read More... that follows the intersecting lives of four people in the holy city of Varanasi. The film deals with themes of social inequality, caste discrimination, and the complex relationships between family members. The narrative is divided into two distinct storylines that eventually converge, highlighting the injustices and moral ambiguities of modern-day India. Praised for its realistic portrayal of life in Varanasi, Masaan won the FIPRESCI Prize and the Un Certain Regard award at the 2015 Cannes Film Festival. The film's strong performances and hauntingly beautiful cinematography have made it a memorable entry in contemporary Indian cinema.
...
Angamaly Diaries is a Malayalam-language crime drama film directed by Lijo Jose Pellissery Known for his work on Malayalam films, Lijo Jose P >> Read More... . Set in the small town of Angamaly in Kerala, the film follows a group of young men as they become involved in the local pork business and the violent turf wars that ensue. With a focus on the sights, sounds, and tastes of the town, Angamaly Diaries is a sensory feast that immerses the viewer in the gritty and chaotic world of small-town crime. The film was praised for its vibrant visuals, authentic performances, and unique storytelling style. It has since gained a cult following among fans of Indian independent cinema.
...
Aaranya Kaandam is a Tamil neo-noir crime film directed by Thiagarajan Kumararaja Thiagarajan Kumararaja is an Indian film and ad di >> Read More... . The film takes place over the course of one day and tells the story of a drug lord and his gang who are involved in a series of interlocking criminal activities. Set in the underbelly of Chennai, the film features a range of characters, from corrupt cops to rival gangsters, all of whom are driven by greed and ambition. Praised for its gritty realism and unconventional storytelling, Aaranya Kaandam was a critical and commercial success, winning several awards at the 58th National Film Awards The National Film Awards gets presented every year >> Read More... in India.
...
7. Dangal (2016)
Dangal is a biographical sports drama film based on the true story of Indian wrestler Mahavir Singh Phogat and his daughters who became world-class wrestlers. The film explores the themes of gender equality, determination, and perseverance. Aamir Khan Aamir Khan or Mohammed Aamir Hussain Khan is Bolly >> Read More... delivers a remarkable performance as Mahavir Singh Phogat, a father who defies societal norms and trains his daughters to become wrestlers. The film is an inspiring and emotional journey that showcases the challenges faced by women in sports and the power of a father's love and belief in his daughters. Dangal is a must-see film that celebrates the triumph of the human spirit and the indomitable will to succeed.
...
8. Shahid (2012)
Shahid is a Hindi-language biographical drama film directed by Hansal Mehta Hansal Mehta is an Indian writer, director, produc >> Read More... , based on the life of Shahid Azmi, a human rights lawyer who was assassinated in 2010. The film follows Shahid's journey from a victim of communal violence to becoming a lawyer who defended those falsely accused of terrorism. The film explores the themes of justice, discrimination, and the struggles faced by Muslim minorities in India. The powerful performances by Rajkummar Rao in the lead role and the supporting cast, along with the film's sensitive handling of the subject matter, earned critical acclaim and several awards, including the National Film Award for Best Actor.
...
9. Khosla Ka Ghosla (2006)
Khosla Ka Ghosla is a Hindi-language comedy-drama film directed by Dibakar Banerjee Dibakar Bannerjee is a director and screenwriter a >> Read More... . The film revolves around a middle-class man, Kamal Kishore Khosla, whose dream of owning a piece of land in Delhi is thwarted by a corrupt land-grabber. The film explores themes of family values, corruption, and the struggles of the middle class in urban India. With its witty dialogues, realistic characters, and a heartwarming storyline, Khosla Ka Ghosla became a surprise hit at the box office and garnered critical acclaim. The film's success established Dibakar Banerjee as a prominent director in Indian cinema and set a new standard for Hindi-language comedies.
10. Gangs of Wasseypur (2012)
Gangs of Wasseypur is a Hindi-language crime film directed by Anurag Kashyap Born on 10th September 1972, Anurag Kashyap has es >> Read More... . The film is set in the coal-rich town of Wasseypur in Jharkhand and follows the lives of three generations of a family involved in the coal mafia. The film explores themes of power, revenge, and the cyclical nature of violence. With a sprawling cast of characters and a non-linear narrative, Gangs of Wasseypur was praised for its bold and unconventional storytelling style. The film's realistic portrayal of small-town politics and crime, along with strong performances by its ensemble cast, have made it a cult classic in Indian cinema.