1. Basant
Launching her career with an acting role in this absolute super-hit film in 1942, she performed as a child artist; as the daughter of the actress Mumtaz Shanti Mumtaz Shanti was an actress of the black and whit >> Read More... . Following the movie's tremendous success, young Madhubala, whose original name was 'Mumtaz Jehan Dehlavi ,' was cast in several films as a child actor.
...
2. Neel Kamal
This 1947 movie functioned as a milestone in the career and lives of both Madhubala, through which she had adopted as her stage name, and the legendary Raj Kapoor Raj Kapoor was a renowned actor, director, and pro >> Read More... . Other than being a hit, the movie started the careers of both the actors.
...
3. Mahal
The first super-hit of Madhubala, this movie spread her name across the length and breadth of the country like wild fire. She became immensely popular very soon with this thriller movie released in 1949. It was the first Indian film which showcased reincarnation and cast Ashok Kumar Ashok Kumar hails from Hyderabad, Andhra Pradesh. >> Read More... opposite the beautiful actress. The song 'Aayega Aane Wala' sung for this movie by Lata Mangeshkar Lata Mangeshkar, the veteran playback singer, had >> Read More... has also proved its timelessness.
...
4. Dulari
Capitalizing on her recent success, Madhubala's other film in the same year of 1949, Dulari was another great hit. The movie was further popularized due to the song 'Suhani Raat Dhal Chuki, Na Jaane Tum Kab Aaogi.'
...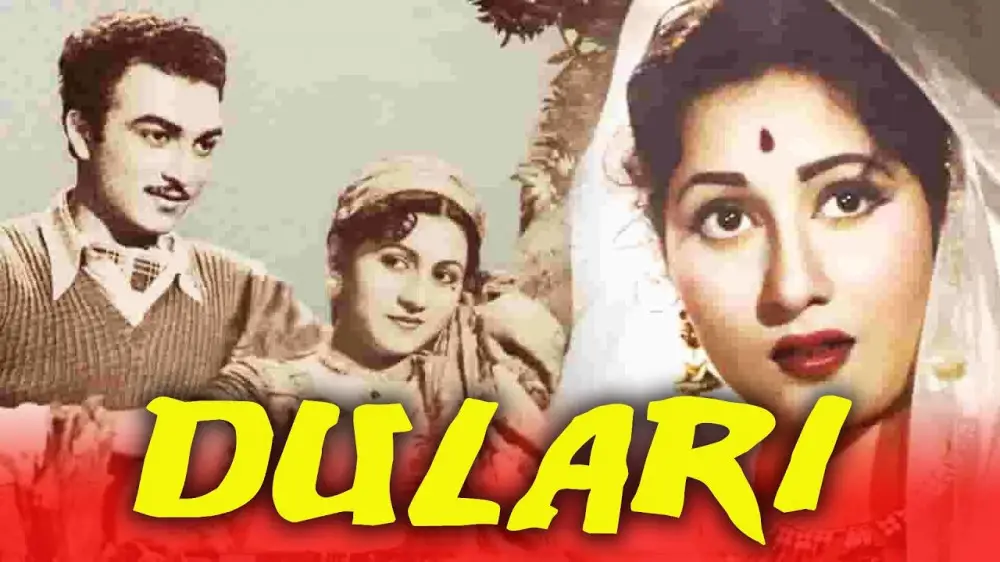 5. Beqasoor
...
Continuing her streak of success with consecutive blockbusters ever since the release of Mahal, the 1950 movie Beqasoor depicted her as a simpleton unwittingly involved in a fierce family rivalry with her upright husband and scheming brother-in-law thrown into the mix.
...
6. Howrah Bridge
After a hiatus of eight years, the superstar delivered yet another mega-hit with Howrah Bridge in 1958. She was one of the leads alongside Ashok Kumar and Om Prakash Om Prakash was an Indian character actor who never >> Read More... . The movie remains extremely popular in part due to the songs 'Aaiye Meherbaan' picturized on Madhubala and 'Mera Naam Chin Chin Chu' picturized on Helen.
...
7. Chalti Ka Naam Gaadi
This movie exhibited the sizzling chemistry between Madhubala and Kishore Kumar Kishore Kumar is an Indian playback singer, who ha >> Read More... . It was one of the blockbusters of 1958. Essentially a comedy film starring the trio of Kumar Brothers (Ashok, Kishore, and Anoop Kumar Being the odd man out within a family of three sib >> Read More... ) along with Madhubala, the movie consists of many hits such as 'Ek Ladki Bheegi Bhagi Si,' 'Babu Samjho Ishare,' and 'Haal Kaisa Hai Janaab Ka.'
8. Barsaat Ki Raat
Highlighting a very unconventional storyline by the director P.L. Santoshi, the film was a super-hit of 1960 in Hindi cinema. Apart from the fact that it featured yet another memorable performance from Madhubala, the film was popularized by its qawali songs.
9. Mughal-e-Azam
This ultimate mega-hit of 1960 was one of the top charted movies of the decade and is watched by Indians of all generations and by Hindi movie buffs because of its lasting entertainment impacts. It featured some of the biggest superstars of the era apart from Madhubala like Dilip Kumar Muhammad Yusuf Khan was born on the 11th of Decemb >> Read More... , Prithviraj Kapoor One of the most notable names in the Indian film i >> Read More... , and Durga Khote Durga Khote is a legendary actress of Indian cinem >> Read More... . It is undeniably the greatest milestone of this venerable actress's career.
10. Half Ticket
This delightful comedy classic released in 1962, starring Kishore Kumar, was Madhubala's second last movie as her health had started deteriorating and she passed away a little later after shooting her final movie.