Life is an unwelcomed destiny for all. Success is the peak where we have resisted and faced hindrances and hardships. Bollywood industry is well known for cat fights, rumors and publicity. Bollywood implicate sensitive relation of siblings. In glamour industry there is wide assortment of siblings who tried their luck in Bollywood either in pair or one by one. Some lost the battle and some are ruling like queens. Here is the enumerate of Bollywood sisters who are either hit or flop to prove themselves on the ground of opportunities to build their career. Many have been a shield for their siblings while many independently took a stand for their positions.
1. Priyanka Chopra Born on 18 July 1982, Priyanka Chopra is an establ >> Read More... and Parineeti Chopra The bubbly actress, born on 22nd October 1988, lan >> Read More... :
...
Priyanka Chopra, the desi girl of Bollywood and exotic queen of Hollywood lit the lights all around the world followed by Parineeti Chopra, her cousin sister. Priyanka already dig her flag in Bollywood and Hollywood and was a former Miss World. Parineeti used to stay with Priyanka in Mumbai when Priyanka was shooting for Pyaar Impossible. Parineeti former profession was PR consultant in Yash Raj production house. Later she signed a deal with the company as an actress. The ladder of success for both the actresses is same. Rock and roll divas of Bollywood are established, highly demanded and appreciated by their huge fan following.
2. Kareena Kapoor Khan Kareena Kapoor is a super hit actress working in I >> Read More... and Karisma Kapoor Karisma Kapoor is a well known face from the famil >> Read More... :
...
Kareena (Bebo) and Karisma (Lolo) are daughters of Randhir Kapoor Randhir Kapoor was born on the 15th of February 19 >> Read More... and Babita Kapoor Babita is a yesteryear actress who worked for a sh >> Read More... . Highly synchronized, sharing unbreakable chemistry Kapoor sisters have been widely known in industry for their outstanding performances from last 15 years. Kareena is younger than Karishma. In spite being popular and successful in industry, difference arises when we talk about their married life. Kareena owes a luck charm in the present scenario as she is married to Nawab Saif Ali Khan and is mother of Taimur Ali Khan Taimur Ali Khan Pataudi is the son of actors Saif >> Read More... . Karisma on the other hand is a single mother and divorced with Sanjay Kapoor Sanjay Kapoor is a Bollywood actor. He had acted a >> Read More... . Karishma step back from films in 2004 and made a comeback in Dangerous Ishq. After which she decided to again step back. Kareena is still the heart of Bollywood industry and even after her marriage and pregnancy she got her break in Veere Di wedding and started shooting by May 2017. 3) Twinkle
3. Twinkle Khanna Twinkle Khanna made herdebut in Indian film indust >> Read More... and Rinke Khanna Rinke is an Indian-born Bollywood actress, who was >> Read More... :
...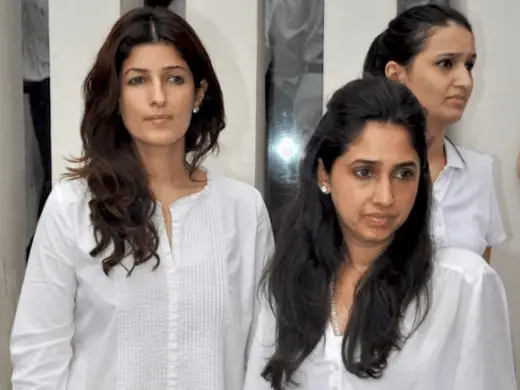 Twinkle Khanna and Rinke Khanna are daughters of Dimple Kapadia Regarded as the wife of the first superstar of Hin >> Read More... and late Rajesh Khanna Born as Jatin Khanna on 29th December 1942, the ch >> Read More... . Rinke Khanna is younger than Twinkle Khanna. Both Khanna sisters failed to attain in Bollywood and choose off path nuts and bolts. Twinkle Khanna married to Khiladi Akshay Kumar while Rinke Khanna married to business man Sameer Saran residing in United Kingdom with her children. Though both actresses flounder, Twinkle Khanna withstand more than Rinke Khanna. Rinke Khanna is lesser known to be in limelight than Twinkle Khanna.
4. Sameera Reddy Sameera Reddy was born on December 14, 1980, in Ch >> Read More... , Sushma Reddy Sushma Reddy is a multitalented personality. She i >> Read More... and Meghna Reddy:
...
Sushama and Meghna are elder sisters of Sameera respectively. They entrenched themselves in modeling, television and film industry. None of the three sisters pitched in. Sameera was only the one who was resilient than Sushama and
...
5. Malaika Arora Khan and Amrita Arora Amrita Arora was born on 31st January 1981 in Chem >> Read More... :
...
Malaika Arora Khan is the rocket bomb of Bollywood known for her astonishing performances in item numbers. While Amrita Arora was unable to frame herself in the film industry, Malaika Arora Khan has been known as an established item girl, judge and for her cameo roles in movies. In luck of fame Malaika rule over Amrita. Malaika was married to Arbaaz Khan Born in a family that has strong ties in the film >> Read More... , now separated and Amrita is married to business man Shakeel
6. Shilpa Shetty A model turned actress, producer, entrepreneur and >> Read More... and Shamita Shetty Personal Life: Shamita Shetty took birth on 2nd Fe >> Read More... :
...
Shilpa and Shamita hold a wide range of difference not only in age but also in success and fame rate. Shamita participated in Jhalak Dikhhla Jaa season 8 and Bigg Boss Bigg Boss Tamil is the Tamil language version of t >> Read More... season 3 but she lost her game in both the shows. Shamita even burst into tears on the sets of Jhalak Dikhhla Jaa when she opened up to a wide audience stating that I have been always known as the younger sibling of Shilpa Shetty and to some extent it disheartens her. Shilpa married to divorced business man Raj Kundra Raj Kundra, a business magnet from London, United >> Read More... and is broadly known as the women of fitness and have been the judge of shows like Nach Baliye Whooping success to its credit of 145 episodes and >> Read More... and Super Dancer. Shilpa Shetty Kundra is commercially successful while Shamita Shetty falls through in glamour industry and is always known to be the shadow of Shilpa Shetty Kundra.
7. Kajol Devgan Born on 5th August 1974, Kajol was the heartthrob >> Read More... and Tanishaa Mukerji Tanishaa Mukerji is the popular actress who hailed >> Read More... :
Kajol at managerial position performs on television shows and films, an active participant in social work and is the heart of many fans. Tanisha on the other hand working in Telugu, Marathi and Hindi cinemas was unable to stick on her position. Kajol and Tanisha are daughters of veteran actress Tanuja Mukherjee Tanuja is a popular Indian actress, who is also mo >> Read More... and late Shomu Mukherjee Shomu Mukherjee is an Indian Film Director, Writer >> Read More... . Kajol was the judge of a reality show Rock-N-Roll. Tanisha participated in Big Boss season 7 and was a finalist in Khatron ke Khiladi. Despite of being an active participant in T.V. shows, Tanisha failed to stand beside her sister Kajol in industry. 8) Katrina
8. and Isabel Kaif Isabel Kaif is a talented and inspired young actre >> Read More... :
Isabel is the younger sister of Katrina. Katrina is dominant over Isabel. She was seen opposite Anil Kapoor's son Harshvardhan in a short film titled as ' Coming Home Click to look into! >> Read More... '. She has started her acting career with a Canadian movie Dr.Cabbie. Katrina is still in race of Bollywood. Her next project is Jagga Jasoos starring Ranbir Kapoor Ranbir Kapoor is a noted Indian film actor. He was >> Read More... and Tiger Zinda Hai Click to look into! >> Read More... sequel of Ek tha Tiger starring Salman Khan Salman Khan is a very famous Indian actor and a pr >> Read More... .
9. Namrata Shirodkar Namrata Shirodkar clinched the Miss India title in >> Read More... and Shilpa Shirodkar Born on 20th November, 1969, Shilpa Shirodkar was >> Read More... :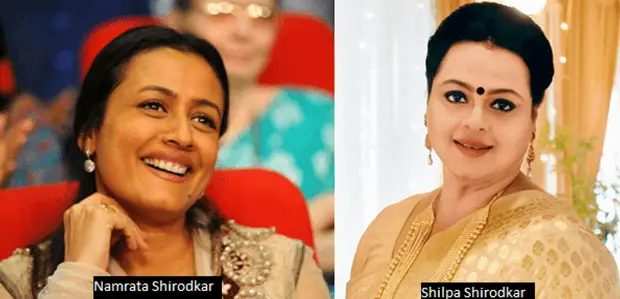 Namrata Shirodkar is younger sister of Shilpa Shirodkar. Both sisters are former actresses, Miss India Miss India was a TV serial that was aired on Doord >> Read More... and granddaughter of Marathi actress Meenakshi Shirodhar. Shilpa and Namrata couldn't toss their coins in film industry. Shilpa found a way out for her in television serials and performed in Ek Mutthi Aasman and Silsila Pyar ka.
10) Dimple Kapadia and Simple Kapadia Simple Kapadia was one of leading costume designer >> Read More... :
Dimple Kapadia is elder than Simple Kapadia. Simple's life not only in real but also in reel life couldn't toss coin. Simple died in 2009 due to cancer. Dimple Kapadia begin her career at the age of 16 and upto now she is being demanded for supporting roles to enhance the beauty of the movie.