1. Prithviraj Kapoor One of the most notable names in the Indian film i >> Read More... and Rama
1929 was the year when the first Kapoor entered the B-town to shine like a star and make his mark in the Industry forever. Prithviraj got married to his ladylove Rama and had four beautiful kids, three sons who followed his footsteps to Bollywood and daughter Urmi who settled down as a homemaker.
2. Raj Kapoor Raj Kapoor was a renowned actor, director, and pro >> Read More... and Krishna Malhotra
Raj Kapoor was not only the eldest son of Prithviraj Kapoor but also a talented actor in Bollywood. He set his mark in B-town just like his father. Raj was linked with many divas, but he claimed that he only loved his wife Krishna and had three handsome sons.
3. Shammi Kapoor Shammi Kapoor: - 'Elvis Presley' of India. >> Read More... and Geeta Bali The movie buffs of 1950s can't forget Geeta Bali. >> Read More...
Shammi was always a ladies man, and he found his ladylove in the B-town like daddy Kapoor in the movie Rangeen Raaten. Geeta Bali was asked to quit the B-town after marriage, and she happily did it for her love, but she couldn't spend a lot of time with her family as her illness led to her death.
4. Shashi Kapoor Shashi Kapoor, a name that needs no introduction, >> Read More... and Jennifer Kendal
The youngest son of Prithviraj Kapoor was romantic in nature and loved to act in theatre and movies. This passion opened doors for his bright future as well as a step ahead towards his lady love. Kendal and Shashi met in Prithviraj Theatre, and after spending some time together, they decided to tie knots and have a happily ever after life though their relationship faced opposition from Kendal's family but with Shahi's family'ssupport the couple got married and had three children, but cancer stole Kendal from Shashi leaving him into pieces.
5. Randhir Kapoor Randhir Kapoor was born on the 15th of February 19 >> Read More... and Babita
Randhir Kapoor was the eldest son of Raj Kapoor and the first Kapoor born in the 2nd generation.Randhir was a handsome hunk and rocked the Industry with his acting skills, and was the first place where Babita and Randhir met. Both of them were the shining stars of their time, but after marriage, Babita had to quit B-town. Randhir's downfall followed by his temper and alcoholism also created barriers in their relationship which lead to their separation. But the couple patched up after years of being separate.
6. Rishi Kapoor Rishi Kapoor is an actor born in the prominent Kap >> Read More... and Neetu Singh TV actress Neetu Singh is a popular face on Indian >> Read More...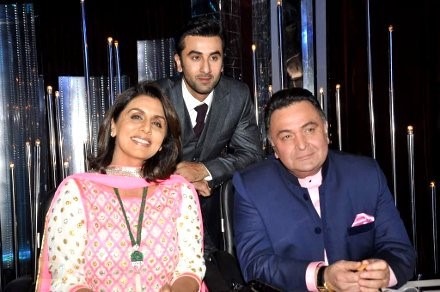 The most happily settled Kapoor in the reel life and real life as well. This Kapoor fell in love with Neetu Singh and did various movies with her, though their relation to the initial phase was not accepted by Neetu's family after convincing her family for a period,their relationship was given a green signal and they had two lovely kids together.
7. Aarti Sabarwal Kapoor and Rajiv Kapoor Rajiv Kapoor is a well-known personality in the In >> Read More...
Rajiv Kapoor followed his father's footsteps and entered B-town, but unfortunately his magic wasn't enough to charm the audience later he tried his luck behind the scene to produce the movie, during this he met Aarti and married but unfortunately their marriage lasted only for two years.
8. Aditya Raj Kapoor Aditya Raj Kapoor belongs to Kapoor family, a pro >> Read More... and Preeti
Raised by his loving stepmother Neila, Aditya never felt lonely and enabled him to have a different look towards his life. Miki aka Aditya was very spiritual and followed his guru very obediently, who also arranged his marriage with Preeti in his Ashram in the Himalayas.
9. Kunal Kapoor Born on 18th of Oct in the year of 1977 to a Punja >> Read More... and Sheena Sippy
Kunal Kapoor was the son of famous Shashi Kapoor, but not all can find their place in the Industry. He later married the daughter of famous movie producer Ramesh Sippy Ramesh Sippy is an eminent film director and he is >> Read More... . But they got separated soon after but stayed friends forever.
10. Karan Kapoor Karan Kapoor is an actor and model who was in the >> Read More... and Lorna
Karan was the youngest son of Shashi Kapoor, he was hot and dashing to look at, but his European looks didn't gain him fame in Bollywood, the face was good enough when it came to modelling. Later he moved to London and married Lorna and chooses photography as his passion.