Television in India emerged as a medium of infotainment. It informs us, educates us, and entertains us. There are many serials which are made with the purpose of spreading knowledge. Here, we go with the list of top 10 educational television series of the India.
1. Shaktiman–
Who can forget the first superhero of India? The most famous series of India was broadcasted from 13 September, 1997 to 27 March, 2005. Mukesh Khanna was the director of this motivating fiction. He played both roles of Shaktiman as well as of Pandit Gangadhar Shastri. It represents the victory of good over evil and also come up with Chhoti Chhoti Magar Moti Baatein – a collection of manners and behaviors for the children.
2. Tarang–
CIET (Central Institute of Educational Technology), a constituent of the NCERT, developed an educational series for children of the age-group 9-11 and teachers of primary level. This program is composed of numerous small educational and entertaining stories which aired in many regional languages.
One of the grand quiz contest aired on star plus and the actor Amitabh Bachchan has hosted the show. Big Synergy Production has produced this game show. It has an immense contribution in enhancing the general knowledge of viewers and gives a certain amount of winning money.
4. Gumrah End of Innocence - Season 1–
Karan Kundra, Abhay Deol, Karanvir Bohra, and Karan Patel; these are the four host for the five seasons of the serial. They come with the stories related to teenage crimes and spread a message to avert crimes. It is a different beat show of Ekta Kapoor on Channel V India.
This serial is a collection of stories from Indian mythology that aim towards teaching the life lessons to the kids. The theme is inspires by a program named Baital Pachisi. Ramanand Sagar was the producer of this television series, and it was made public on 1985.
6. Surabhi–
Surabhi is one of the most famous cultural series of Indian television. Hum Aapke Hain Kaun fame Renuka Shahane and Siddharth Kak are the presenters of the show who also organized a weekly quiz. It creates an interest among the audience, and that's why Surabhi ran for approximately eight years. Women, Indian families, and the Indian culture are the fundamental themes of this show.
7. Tenali Raman –
Tenali Raman is a series which came with fun, entertainment, drama, teachings, and what not? It is not only for the kids, but our grandparents also loved the wise and intelligent Tenali. It presents lessons of living and many such teachings to our generation. Tenali Raman gave us value education.
8. Panchtantra Ki Kathayen–
 To enhance the creativity and social skills of children, Panchtantra Ki Kathayen was a show on Doordarshan. It is a collection of various stories of Vishnu Sharma's Panchatantra. It helped children to develop social and cultural thoughts and make them a civilized person.
9. Khud Bud: Khel Vigyan Ke–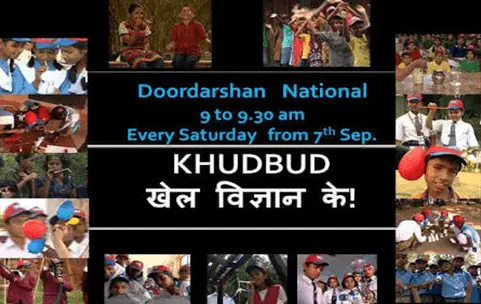 As the name suggests, Khud- 'self' and Bud- 'Brain' is a unique serial which makes science and its methods known among young children. It encourages curiosity, creativity, and discovery. It sparks the thinking process of children and persuades them to learn.
10. Turning Point –
This is the T.V series of the year 1991. It was a weekly program which reflects a journey from the world of science. The 'Turning Point' is a joint production of Doordarshan and Vyeth television. Girish Karnad was the presenter of this series. However, several celebrities such as Naseeruddin Shah, Mallika Sarabhai, and Mahesh Bhatt and scientist like Prof. Yash Pal hosted the show.