Traveling is living. Traveling is quite similar to a therapeutic activity that cures us by exposing us to the wonder and experiences of the uncharted world. Escape from the harsh facts of life can be found in movies. Your portal to imaginations is opened by those three hours spent in a dark theatre. And when those movies feature stunning, breathtaking settings, all you want to do is pack your bags and go on vacation.
1. Yeh Jawaani Hai Deewani
Ranbir Kapoor Ranbir Kapoor is a noted Indian film actor. He was >> Read More... turns in a superb performance. You will be led to believe that he is Bunny by him. The movie is all his, thanks to his effortless character insertion! The man has already claimed a couple major honours this year with a show that he puts on magnificently. The new superstar has arrived, therefore it's time to retire the old ones!
...
Regardless of whether you believe in love or not, this film will hit you right in the heart. All of the key actors give outstanding performances, while Shankar-Ehsaan-wonderful Loy's score further enhances the emotions of the characters. The romantic films produced in Bollywood are all different from this one. It's relatable and realistic, and it definitely gave Bollywood's romantic genre a new lease on life.
3. Jab Harry Met Sejal
The story is really shallow, and has already exhausted it in each of his previous movies, including Tamasha, Cocktail, and Jab We Met Click to look into! >> Read More... . It's a typical girl gets engaged somewhere else scenario, but about halfway through she realises that her true soul mate is someone else. Sejal is engaged to Rupen in this instance, but she ends up falling in love with Harry.
...
4. Zindagi Na Milegi Dobara
It is revealed that Abhay, Farhan, and Hrithik were college friends who eventually took various routes in life. There is clearly tension and complexity between Farhan and Hrithik, even though Abhay serves as the catalyst between them. We observe that there was a fallout years ago, and circumstances most likely never improved.
...
5. Highway
Veera is an attempt by writer-director Ali to add a deeper undercurrent to the kidnapping story. The girl's life is changed as a result of the kidnapping. The subtext doesn't work since it slows down the pace of the film's development and causes confusion among the audience. If you must, keep an eye on Highway for Alia and Randeep. Alia has a remarkable presence on screen for a woman who has only been in two movies.
...
6. Piku
The character Piku, in contrast hand, is simpler to relate to. She struggles to balance her profession and her family obligations, but she manages. You ponder why she doesn't snap at her father more frequently. It seems improbable that she would be impatient. only to discover that she has discovered distractions in the outer world. She is upset with the entire world.
...
7. Tamasha
In contrast to Veera's (Alia Bhatt) well-documented journey in Highway, Imtiaz Ali's Tamasha lacks any sense of freshness. What's more frustrating is that the director doesn't give his characters any depth so that the viewer can identify with them; instead of bringing the spectator any closer to the characters, over half of the movie is devoted to the stunning scenery of Corsica.
...
The 2007 Hollywood movie, The Bucket List, about two terminally ill men who escape from a cancer unit and embark on a road journey with a wish list of things to do before they die, served as a major inspiration for Mamta Anand's story. The dull and uninspired screenplay by Advaita Kala Advaita Kala is an Indian author, screenwriter, an >> Read More... and Siddharth Anand Siddharth Anand was born on 16th March 1983 in Jal >> Read More... is a disappointment.
...
9. Karwaan
Karwaan is a subdued movie written and directed by Akarsh Khurana Akarsh Khurana is a movie actor, predominantly wor >> Read More... . Nothing major appears to happen in this story, but a lot does, aside from the tragedy that introduces it. The story is about reflection and awakenings, and much as in real life, these things don't typically take place to the sound of drums and bugles. Shaukat played by Irrfan is a chatty character who is incredibly traditional in many ways and, for the most part, incredibly entertaining.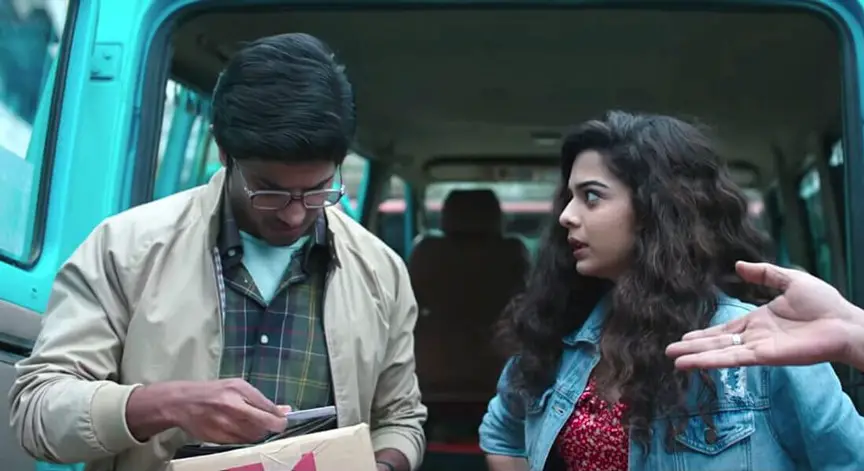 10. Queen
Kangna seems to have always lived in the nuances. The families, neighbours, and acquaintances of the formerly engaged couple continue to stay in touch. The acts of the protagonists are influenced by the reality of their middle-class background. The movie picks up a tempo that it keeps throughout the entire movie, wrapping around its main character.