Music has life that is why your heart has beats. Does your heart still beat for some old enchanting melodies? Do you still feel like 'shaking a leg' at Bollywood numbers?
Well, here we bring you Top 10 Bollywood songs of all times that are famous not just in India but abroad as well.
1. Baharon Phool Barsao
...
What would be more romantic to see your lover invoking the zest of life in flowers to welcome your coming? This admired song from the movie Suraj (1966) by Director Mehmood Sadiq and music director ' Naushad Bio coming soon... >> Read More... ' has hit the BBC Asia Network Best Music charts. This song is one of the most popular songs to be found on the playlists of music lovers worldwide.
2. Tujhe Dekha To
...
The Indian Romance movie, " Dilwale Dulhania Le Jayenge Click to look into! >> Read More... ", directed by Aditya Chopra Aditya Chopra is an Indian film director, scriptwr >> Read More... that found home in every heart gave one of the most cherished songs of all times to the music industry internationally. It won't be surprising to hear someone humming the lines of 'Tujhe Dekha To' for his/her beloved across the globe. Love strings still play a luring tune captivating our hearts at beats of this song.
...
3. Ajeeb Dastan Hai Ye
One cannot help but tap our feet to the melodiously romantic beats of this song from the movie Dil Apna Aur Preet Parai (1960) directed by Kishore Sahu Kishore Sahu was an Indian actor, and film directo >> Read More... . This song is a hit among couples who cannot help but end up grooving to the beautiful music of this song. Dedicating this song to the beloved is the best way to bring two hearts closer. Not only in India, but even abroad, this song has compelled every loving soul to engage in youthful and romantic grooves.
...
4. Kabhi Kabhi Mere Dil Mein
...
Ever wondered what love is like, Listen to this song. This heart touching romantic song from the movie Kabhie Kabhie Kabhie-Kabhie was a TV serial premiered on Zee TV >> Read More... (1976) directed by was initially a poem in lyricist Sahir Ludhianvi's collection 'Talkhiyan'. The song has been a delight for years in the hearts of soulful lovers. The poetic verses have been weaved beautifully into the poignant music of this song. This song is celebrated worldwide.
5. Ye Dosti
...
Is your friend an inseparable part of your life? Then you would have surely sung this song together many times. But remind you, friendship seeks no boundaries of nations and language. It is as much cherished globally as much as it is in India. This song that celebrates the spirit of friendship is from the famous Bollywood movie 'Sholay' (1975) directed by Ramesh Sippy Ramesh Sippy is an eminent film director and he is >> Read More... .
...
6. Chaiyya Chaiyya
Ever dared to dance on the roof of a train? No, right? But this song from the movie "Dil Se" (1998) directed by Mani Ratnam Mani Ratnam is an Indian filmmaker deeply rooted t >> Read More... was a sensation among the youngsters for its peppy music and groovy dance steps. The Hindi version of the song is 'Chaiyya Chaiyya' while the Tamil version of it is "Thaiyya Thaiyya". The song is very popular among the global music lovers, and we do find many videos of people attempting to match up the grooves of this song.
7. Kal Ho Naa Ho Click to look into! >> Read More...
The most heart touching Bollywood movie "Kal Ho Naa Ho" (2003) directed by Nikhil Advani Nikhil Advani is an ace Indian film producer, scre >> Read More... weaved many lives within it through its tagline 'A story of a lifetime…In a heartbeat.' This film attracted global appreciation. The title track gained positive reception and awards for its beautiful and meaningful lyrics that touches your heart. Many people across the globe have expressed their reception of this song as 'one of the favorites.'
8. Kuch Kuch Hota Hai Click to look into! >> Read More...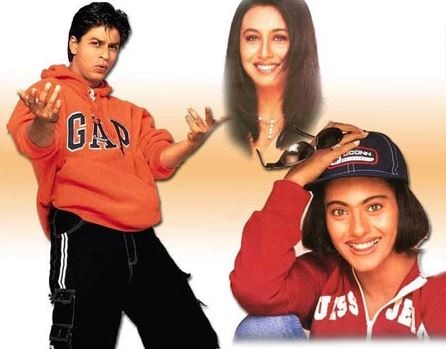 One cannot forget the beautiful friendship of Anjali and Rahul in the movie "Kuch Kuch Hota Hai" (1998) directed by Karan Johar Karan Johar is one among the top ten celebrities i >> Read More... . The title track never fails to remind us of the beauty and importance our friendships hold in our lives. This song has been the 'Bestseller of the year' of it's release. The film received credit and appreciation both within and across the globe. This movie was a greater box-office hit than ' Titanic Click to look into! >> Read More... ' in Indonesia due its brilliant music and storyline.
9. Mauja Hi Mauja
Who doesn't face relationship crisis until we hit the right person? This song celebrates the commemoration of true love found by the protagonists. This song is from the movie Jab We Met Click to look into! >> Read More... (2007) directed by . This song is a hit among Indian Diaspora who continues to 'shake a leg' on peppy Bollywood songs. The movie remains the best Bollywood romantic movies after DDLJ. This song has also won Zee Cine Best Track Of The Year 2007'.
10. Pehla Nasha
What is first love? How do you define it? Seems hard right? This song simplifies it for you. This song is a title track from the movie "Jo Jeeta Wohi Sikander" (1992) directed by Mansoor Khan Mansoor Khan is an Indian film director and produc >> Read More... . This song is about intoxication of love that captivates you. This admired notion of love hovering around oneself is still relevant to modern day audience both in India and abroad.