Bollywood comedians are some of the most talented people in the Hindi film industry, and they stop at nothing to make us laugh. These Hindi film comedians have not only made us laugh, but also enriched Indian cinema with their excellent acting. Following in the footsteps of the legendary actor Johnny Walker Johnny Walker is a comedian of Bollywood. His orig >> Read More... , who worked tirelessly in the comedy genre to ensure that comedians received their just compensation in the film industry.
1. Dhol
Naturally, Rajpal Yadav Rajpal Yadav, the hilarious Indian movie actor, ac >> Read More... steals the show with his astounding buffoonery (certainly, his best performance) and, like an opera master, has the other three performers in this bindaas quartet circus perfectly in sync. In their attempts to win over the glam girl next door, the foursome inevitably find themselves running for their lives, sometimes from irate biker gangs, horrified family-wallahs, a chatty landlord, and even a cruel Mumbai thug with a name that mirrors the all-time baddie Mogambo.
...
Even 15 years after it was released, Priyadarshan's 2005 movie Garam Masala has a devoted fan base. The movie, which stars John Abraham as Sam and as Mac, contains the filmmaker's signature humour that continues to retain a special place in audiences' hearts. The Garam Masala personalities aren't really unique, to be honest.
The skilled storyteller has worked in a variety of genres in the past, yet despite this, just seeing his name on billboards makes people think of a comedy with lots of laughs. The same path that his past films took is also taken by Priyan's next project, CHUP CHUP KE. Yes, the first hour or so of the movie is a laugh-riot.
...
4. Bhagam Bhaga
Not even Akshay Kumar and Paresh Rawal The Padma Shri award winner who shot to fame with >> Read More... end up recreating their Hera-Pheri antics without the fun factor. In this established triumvirate, Govinda plays the simpleton while Paresh Rawal reprises his role as the affable godfather and Akshay reprises his role as the sly trickster.
...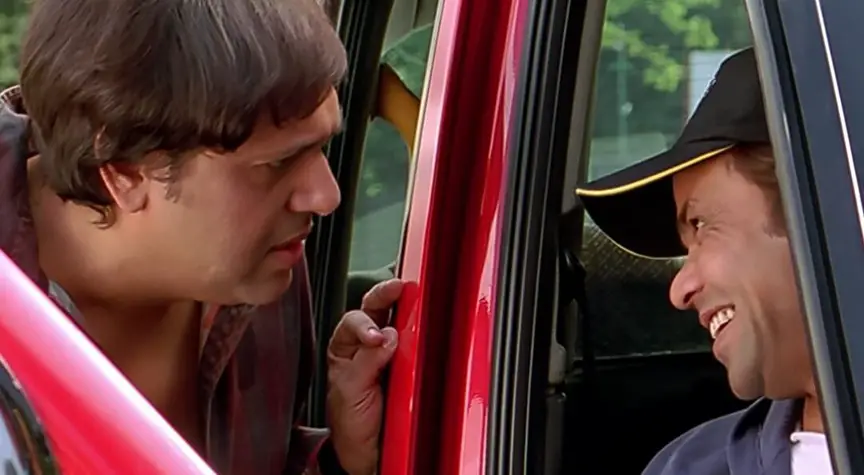 5. Run
Vijay Raaz Vijay Raaz (Born: 5th June 1963) is an Indian film >> Read More... appears in the film in an odd comedic subplot that runs alongside the main action but never quite fits in, which is a relief. The film does not follow the plot indicated by its title. Even the most basic components of Run's song are not enough to merit a remark. Surprisingly, Mahesh Manjrekar's character doesn't have any impact.
...
"Bhool Bhulaiyaa 2" is a mixture of grief and the bereaved, a desi (more gleeful) response to the proverb that life is, in fact, "the biggest tragedy" of all. It navigates black magic and prods along an even grimmer subject: the nature of human beings. For the most part, it sticks, and the parts that don't must be lost in the maze of life.
...
We now have a movie where the characters genuinely use the language that actual young people do. And no one's principles are compromised. The film's screenplay, which is filled to the brim with profanity and swear words, is one of its highlights. These phrases themselves raise the entertainment value of the movie.
...
In the movie TANU WEDS MANU, the NRI is passive, quiet, and soft-spoken; he has no accent or attitude; he believes in arranged weddings; he enjoys Mohammed Rafi's timeless tunes; and he is, in other words, figuratively old-fashioned. The girl contradicts herself. She's aggressive and domineering, smokes, drinks, swears, has had a lot of "affairs," has her new boyfriend's name tattooed on her chest, and is an unafraid babe.
...
Phir Hera Pheri loses momentum just before the intermission, but it picks back up near the end with a climax that is reminiscent of the Marx Brothers' At the Circus, a protracted slapstick performance with clowns, aerial stunts, and one fake-looking gorilla. I read the subtitles, which were usually insufficient, and from where I was seated they didn't seem to be all that funny.
10. Phas Gaye Re Obama
This comedy of errors comes to life through its colourful characters and sharp writing, whether it's in the Big Apple or the backwaters of a small-town Indian village. Phas Gaye... makes you laugh with its crazy scenarios, as opposed to evoking canned amusement by having people trip over banana peels, act scatological, or hit and pinch each other erratically, as is the case with typical run-of-the-mill comedies that Bollywood feeds on.