You have probably seen them all! In cinema halls, on your TV sets, they were in all places including your morning newspapers and billboard signs on the streets. These are the top 10 Bollywood movies that have managed to be one of the greatest hits which grossed the highest at the box office.
1. PK (2014)
'PK' is one of the most excellent works of Director Rajkumar Hirani and stands on top of our list having a worldwide gross of 792 crores (US $120 million). The film is produced by Mr.Hirani and Vidhu Vinod Chopra. The movie casts Aamir Khan in the lead role who claims himself to be an alien visiting earth to achieve his mission. His character is seen to be innocent and childish but also witty enough to open people's eyes on certain religious misconceptions. PK ranked the 70th highest grossing films of the year 2014 worldwide and became the first ever Indian film to gross 7 billion worldwide.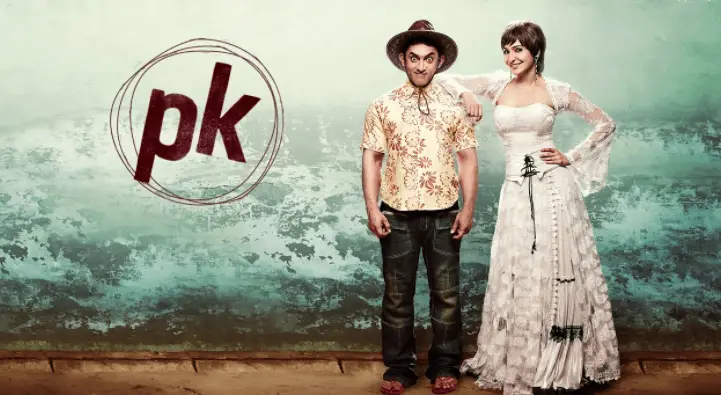 2. Dangal (2016)
Another brilliant movie starring Aamir Khan directed by Nitesh Tiwari 67 that made 730 crores (US $110million). 'Dangal' is based on a true story of an Indian wrestler Mahavir Singh Phogat who taught his daughters wrestling so as to represent India at the Common Wealth Games. One of whom (Geeta Phogat) became the first Indian female wrestler to win the gold (55kg) and her sister (Geeta Kumari) won the silver (51kg). It was the highest grossing film nationwide and the second highest to gross 7.3 billion worldwide.
3. Bajrangi Bhaijaan (2015)
Starring one of the Khans of Bollywood, directed by Kabir Khan it earned 626 crores (US $97 million) at the box office. It casts Salman Khan as the lead alongside Kareena Kapoor Khan with Harshali Malhotra who won hearts of millions by her charisma. The story is about a man with a big heart who finds a mute girl who got separated from her family on their way back home whom he promises to return to her family across the borders in Pakistan. The movie grossed 333 crores in its first week leading ahead of PK which grossed 332 crores.
4. Dhoom 3 (2013)
Dhoom 3 is the third sequel of the franchise directed by Vijay Krishna Acharya which grossed 585 crores (US $91 million). It is another brilliant thriller film that revolves around the story a clown thief (Aamir Khan) who robs various branches of a renowned bank in the city of Chicago to seek revenge against its owner who caused his father to kill himself. It was the highest-grossing Bollywood film so far in the world market which grossed 4 billion (US $62 million) in the first 10 days.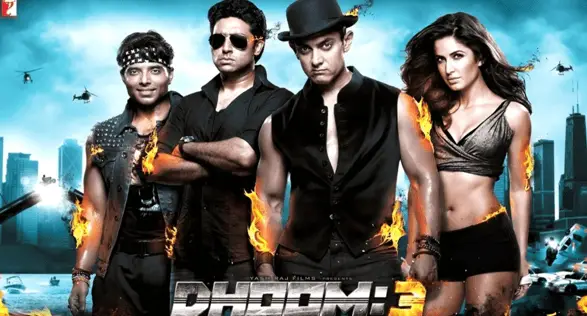 5. Sultan (2015)
The film which is directed by Ali Abbas Zafar and produced by Aditya Chopra takes the 5th place in our list grossing a total of 584 crores (US $90 million). The film casts Salman Khan as a wrestling champion who fights against all odds in his life to represent India at the Olympic Games. It grossed almost 36.54 crores on its first day and held a new record for advance booking across India.
6. Prem Ratan Dhan Paayo (2015)
Prem (Salman Khan) who plays a double role in this romantic drama is seen starring alongside Sonam Kapoor who falls in love with him. The movie is directed by Sooraj Bajratya who has worked with Salman before. The movie grossed a total of 432 crores (US $67 million) at the box office. It became the second film after ' Happy New Year' which grossed 40 crores on its release day.
7. Chennai Express (2013)
Directed by Rohit Shetty, Chennai Express is an action comedy that grossed 433 crores (US $65 million). The film is about Rahul ( Shah Rukh Khan) who ends up on an unexpected journey down south where he falls in love with the daughter of a high profile criminal . This film along with its great humour teaches about various aspects of life and the true sense of love.
8. 3 Idiots (2009)
This film took over the box office in the year 2009 grossing a total of 395 crores (US $61 million). Directed by Rajkumar Hirani the story is about two friends (played by R Madhavan and Sharman Joshi) who go on a quest to look for their friend (Aamir Khan). The film broke many box office records and outshined in worldwide theatres too.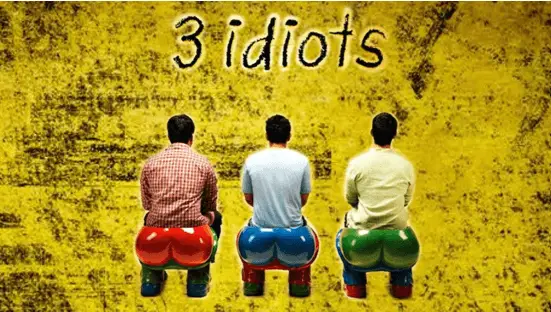 9. Dilwale ( 2015)
This film became the 9th highest at the box office so far with a grossing of 395 crores (US $61 million). Dilwale is an action romance film directed by Rohit Shetty starring Shah Rukh Khan, Kajol oevgan, Varun Dhawan and Kirti Sanon. The story tells us about how love finds its way back in the journey of life. It was released along with Bajirao Mastani and earned 21 crores on its release day in India.
10. Bajirao Mastani (2015)
It is a historical romantic tale directed by Sanjay Leela Bh7ansali which is at number 10 in our list which had box office earnings of 358 crores (US $55 million). It revolves around an epic story of Bajirao Peshwa ( Ranveer Singh) who gets married to Kashibai ( Priyanka Chopra) and later falls in love with Mastani ( Deepika Padukone) who plays the role of a Muslim princess.