Bollywood movies filled with spicy drama and action up to the brim, still, when such qualities crafted in the Historic Tales, it becomes an iconic wonder which unapologetically glues you to the screen. The Bollywood Movies based on Ancient events of Indian history grasps all kinds of the audience through their colorful portrayal & exciting action. Here are, ten best historic Bollywood Movies that you can't miss:
1. BAJIRAO MASTANI
...
Bajirao Mastani Click to look into! >> Read More... is an epic historical romance released on 18 December 2015, portrayed in the typical Sanjay Leela Bhansali Born on 24th February 1963, Sanjay Leela Bhansali >> Read More... 's(Director) style which always infused with grandeur and detailing. The movie is based on the famous Marathi fictional novel 'Rau' by Nagnath S. Inamdar, which revolves around 3 primary characters Maratha Peshwa played by Ranveer Singh Ranveer Singh Bhavnani is an Indian movie actor wh >> Read More... , his wife Kashibai starring, Priyanka Chopra Born on 18 July 1982, Priyanka Chopra is an establ >> Read More... , and Deepika Padukone Deepika Padukone is an Indian actress and model. S >> Read More... as Mastani. The romance between Maratha Peshwa Bajirao and his second wife Mastani ignited a lot of heat among the fans and the extremist groups, who attacked the director and threatened the other cast in the film. Despite all, it got released and collected an enormous appreciation for its music, storyline & chemistry.
2. MOHENJO DARO
...
Mohenjo Daro Click to look into! >> Read More... is a period action film released on 12 August 2016 based on the city of Indus Valley Civilisation named Mohenjo-Daro situated originally in Sindh, Pakistan. Directed by Ashutosh Gowarikar, with the writing of Preeti Mamgain Preeti is an actor cum writer. She has been part o >> Read More... , it delineates 2016 BC, where a farmer Sarman starring Hritik Roshan reaches Mohenjo Daro in search of trade as well as adventure & falls in love with an enticing high-status woman Chaani played by Pooja Hegde Pooja hegde was the second runner up at miss unive >> Read More... . Sarman fights for his love along with other dishonest elites to save the civilization from corruption. It took over three years for the director to collate the script ensuring, various minor details for authenticity and enhancement of the viewer's engagement.
3. PADMAAVAT
...
Padmaavat is an epic drama movie released on 25 January 2018 under renowned director, Sanjay Leela Bhansali. This Bollywood movie, loosely based on the poem of 'Padmavat' written by Malik Muhammad Jayasi in which a despot ruler Alauddin Khilji starring Ranveer Singh gets obsessed with the beauty of Queen Padmaavati played by none other than Deepika Padukone & calls his wrath over the kingdom of King Mahrawal Ratan Singh, casting Shahid Kapoor Shahid Kapoor also identifies as the name Shahid K >> Read More... to win the lady. Like other movies of Bhansali's production, this movie also splurged a huge controversy leading to redundant edits in the movie's name and various music videos portraying the queen dancing.
4. PANIPAT
Panipat is an epic thriller war film released in India on 6th December 2019. This historical war movie depicts the events of the Third Battle of Panipat, which occurred between the Maratha Empire and the invasion of the Afghan Army in India. It casts Arjun Kapoor Arjun Kapoor is a Bollywood star. He was born on 2 >> Read More... , Sanjay Dutt July 29, 1959, was the day when the two legends of >> Read More... , and Kriti Sanon Kriti Sanon is a model-turned-actress who made her >> Read More... as the lead characters. The director is Ashutosh Gowarikar with producer Sunita Gowariker & Rohit Shelatkar Rohit Shelatkar is a film producer who produced th >> Read More... received a worldwide gross collection of ₹49.29 crores while acquiring significant appreciation from the history-geek viewers of India.
5. LAGAAN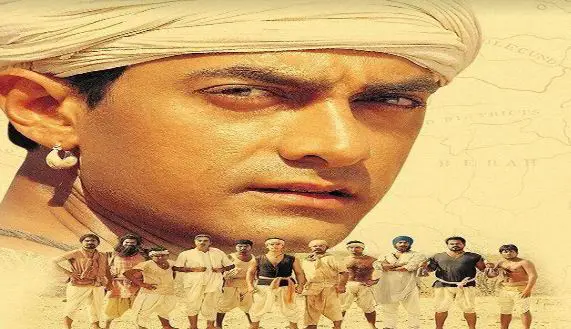 It would be a shame for any movie buff who might've missed such an entertaining, sports historic movie that released on 15th June 2001. Lagaan translated as Agricultural Tax directed and written by ancient-movie expert Ashutosh Gowarikar revolving around the storyline of a young farmer named Bhuvan played by Aamir Khan Aamir Khan or Mohammed Aamir Hussain Khan is Bolly >> Read More... , who is also the producer of the movie. Bhuvan accepted the challenge of an arrogant British officer, Andrew Russel Peter, for a wager over a cricket match to avoid paying the high taxes they owe and be barred from paying any taxes for the next three years to the British government if they win the match that they've never played before. With meticulous Victorian times representation of British Rule, this movie also depicts some substantial stigmas of Indian culture, especially the 'untouchability' where Bhuvan includes a member in his team belonging to the Untouchable caste despite all the criticism uniting all the people over the nationalistic ideologies of Indian diversity at the end.
6. JODHA AKBAR
Jodha Akbar Jodha Akbar is a very popular epic historical tele >> Read More... is a romance based historical movie released on 15 February 2008 co-written, produced and directed by . It depicts the romance and criticism of the Mughal Emperor Jalal-ud-din Muhammad Akbar, played by Hrithik Roshan Hrithik Roshan with his unimaginable dance moves i >> Read More... and the Rajput Princess Jodhaa Bai, who becomes his wife, starring Aishwarya Rai Bachchan Aishwarya Rai Bachchan is a popular Indian actress >> Read More... in the lead roles. It won the Audience Award for Best Foreign Language Film, along with receiving an enormous love for its surreal songs composed by Oscar-winning acclaimed composer A. R. Rahman.
7. MANIKARNIKA
THE QUEEN OF JHANSI Manikarnika is a war-time historical Bollywood movie released on 25 January 2019 based on the life of an amazing empress Rani Lakshmi Bai of Jhansi, starring Kangna Ranaut. It was directed by Radha Krishna Jagarlamudi and herself. At the same time, the screenplay was written by K. V. Vijayendra Prasad. It was released in 3700 screens in 50 countries worldwide in Hindi, Tamil & Telugu and till now holds the highest first-day collection for any female-oriented film.
8. TANHAJI: THE UNSUNG WARRIOR

Tanhaji is a historical film released on 10 January 2020, directed by Om Raut Om Raut is an Indian director, producer and writer >> Read More... and produced by Bhushan Kumar Bhushan Kumar was born on 27 November in 1977 in D >> Read More... , Krishan Kumar & Ajay Devgan Ajay Devgn is an Indian film actor. He is perhaps >> Read More... under T-Series production. The movie portrays the attempt of Tanaji Malusare– Chhatrapati Shivaji Maharaj's military leader and friend starring Ajay Devgan to recapture the Kondana fortress once it passes on to Mughal emperor Aurangzeb who transfers its control to his trusted guard Udaybhan Singh Rathore played by , set in the 17th century of Maratha Empire.
9. RANGOON
Rangoon, a popular historical movie, released on 24 February 2017, directed by Vishal Bhardwaj The most outstanding of a successful film producer >> Read More... , depicting a very epic character, Julia based on the real-life of Mary Ann Evans, aka Fearless Nadia Generally action in cinema is considered to be the >> Read More... - Bollywood's first original stunt-woman casting fiery Kangna Ranaut. Julia, with her dance troupe that entertains civilians and armed forces through her stunts, is sent off to the war-torn Indo-Burma border by the British General to raise the doomed morale of their army. A conflicting romance & fight between Julia's producer and mentor, Rustom "Rusi" Billimoria, played by Saif Ali Khan, and Jemadar Malik casting Shahid Kapoor, an escaped prisoner, and assigned security detail to Julia makes this movie more tempting to watch.
10. KESARI
Kesari is another iconic war-time historical movie released on 21 March 2019 written and directed by Anurag Singh Anurag Singh is an Indian director and film script >> Read More... starring with Parineeti Chopra The bubbly actress, born on 22nd October 1988, lan >> Read More... , Mir Sarwar Mir Sarwar is an Indian movie actor who was born o >> Read More... , Vansh Bhardwaj Vansh Bhardwaj is an Indian actor who has worked i >> Read More... , Jaspreet Singh, Vivek Saini Vivek Saini is an Indian-Actor. He primarily works >> Read More... , Vikram Kochhar Vikram Kochhar Born on September 27, 1983, in Gurg >> Read More... , and Rakesh Sharma Rakesh Sharma, a well-known actor and a director, >> Read More... in supporting roles. This epic Bollywood movie represents real-time events leading to the Battle of Saragarhi, which was led by just 21 Sikh soldiers as the British Indian Army against 10,000 Afridi and Orakzai Pashtun tribesmen in 1897. The British Parliament even honored the martyrs with a two-minute silence, it awarded them with the Indian Order of Merit, which was the highest gallantry award in British-occupied India in those times.