India is a country plagued by several issues due to its huge population and lack of resources. Since cinema is a reflection of life, it is obvious that some of these issues are portrayed in certain Indian films. The films may be completely fictional or inspired from real events. Here is a list of ten Bollywood movies which are based on poverty, the life of lower classes, and the social issues associated with these things.
1. Manjhi - The Mountain Man
...
Manjhi is a film that depicts the life of a real person named Dashrath Manjhi who is known for single-handedly building a road through a mountain in Gehlaur village after his wife dies trying to climb the mountain. Unable to take her to a hospital in time, Manjhi watches her die. The film depicted extreme poverty in Indian villages and how they have to work hard to earn every penny. It also shows how these people lack even the basic necessities of life. Directed by Mohit Moond, the film starred Nawazuddin Siddiqui Nawazuddin Siddiqui was born in Budhana in Muzaffa >> Read More... and Radhika Apte Radhika Apte, an Indian actress was born on Sept 7 >> Read More... .
2. Swades
...
Ashutosh Gowariker's film, Swades, starred Shah Rukh Khan Shah Rukh Khan or also known as SRK is a prominent >> Read More... , Gayatri Joshi Gayatri Joshi is known for her portrayal of an Ind >> Read More... , Makrand Deshpande, etc. The film was based on the concept of brain drain in India. The protagonist, Mohan, is an employee at NASA in the USA. He returns to India to seek his childhood caretaker, Kaveri Amma, and take her to America to live with him. In the village of Charanpur, Mohan witnesses the poor conditions of the citizens and grows to form a bond with his countrymen. He also participates in campaigns for education, electricity, and other social issues. Swades depicts many social problems prevalent in Indian villages.
3. Citylights
...
Citylights in a 2014 film about a man named Deepak Singh Deepak Singh is a Bollywood actor, who has worked >> Read More... who travels to Mumbai with his wife and daughter to escape a life of poverty and hopelessness. In Mumbai, he has to face several adverse situations as he is unable to find a foothold in the city. The film showcases the struggles of people who are too poor to afford a life of security in a city. The people of the lower class have to risk their lives and families all the time to earn a little amount of money. The film stars Rajkummar Rao Raj Kumar Yadav, also known as Rajkummar Rao, star >> Read More... and Patralekha.
4. Peepli Live
...
The film, Peepli Live, was a satire based on the serious issue of farmer suicides that have increased so much in India. The response of the media and the politicians towards these incidents also forms a big part of the film. It is needless to say that farmer suicides have become a major problem in India due to the poor conditions of farming and their exploitation by banks and dealers. Very often, these poor farmers lose their land as they are unable to repay their debt. The film stars Raghubir Yadav Raghubir Yadav is an Indian movie, television and >> Read More... , Omkar Das Manikpuri Omkar Das Manikpuri is a film as well as a stage a >> Read More... , Nawazuddin Siddiqui, Naseeruddin Shah Naseeruddin Shah is an experimental actor and asso >> Read More... , etc.
...
5. Traffic Signal Click to look into! >> Read More...
...
Traffic Signal is a 2007 film starring Kunal Khemu Kunal Khemu is an Indian actor who was involved wi >> Read More... , Ranvir Shorey Intro: Ranvir Shorey is a popular Indian movies ac >> Read More... , Konkona Sen Sharma Konkona Sen Sharma is a Bollywood actress hailing >> Read More... , Neetu Chandra Neetu Chandra is a famous actress in South India. >> Read More... , etc. It has been directed by Madhur Bhandarkar Madhur Bhandarkar is an Indian film director, writ >> Read More... . The film is centered round a traffic signal in the city of Mumbai. The lives of several people are intertwined as they all try to earn money at the signal. The film depicts the life of street-dwellers in big cities like beggars, street-children, con artists, eunuchs, and hawkers, who earn their livelihood at the traffic signals. Bhandarkar portrays the reality of such a life through his film. The film was quite appreciated and won a National Award.
6. Masaan
...
Masaan is a very powerful movie about poverty and social classes. It follows two parallel stories. One is based on Devi whom the society shuns after she is discovered in a hotel room with her boyfriend. Following that, she has to work hard to earn money and pay off a blackmailing cop. The second story follows Deepak and Shaalu. Deepak belongs to the backward caste of Doms who burn dead bodies at crematorium. His love with an upper caste girl and their social differences are highlighted in the film. Masaan stars Sanjay Mishra Sanjay Mishra is an Indian comedian, most famous f >> Read More... , Richa Chadda Richa Chadda is a new and sultry Indian actress. S >> Read More... , Shweta Tripathi Shweta Tripathi was born on the 6th of July in the >> Read More... , and Vicky Kaushal Vicky Kaushal is a famous Indian movie actor. He w >> Read More... .
7. Lagaan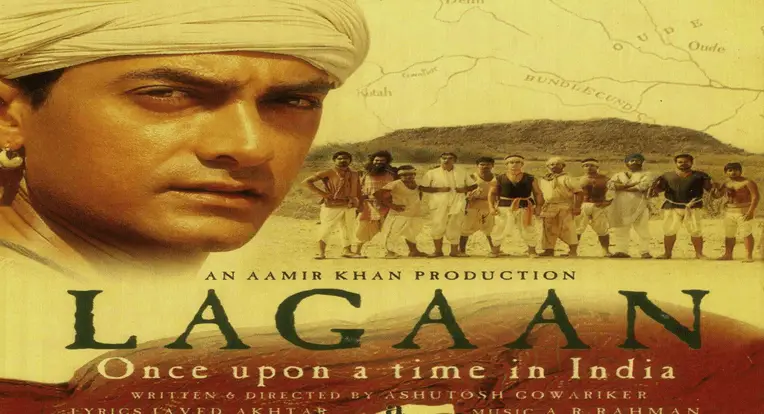 Ashutosh Gowariker's Lagaan is a pre-independence story of British oppression over poor villagers of India. The desperate condition of the Indians is strongly contrasted against the affluent lifestyle of the British people who are thriving on Indian riches and labor. Set in the village of Champaner, Lagaan highlights the plight of poor farmers who are forced to pay hefty taxes to the British government even though they have no crops due to a prolonged drought. Lagaan starred Aamir Khan Aamir Khan or Mohammed Aamir Hussain Khan is Bolly >> Read More... , Gracy Singh Gracy Singh is a brilliant dancer and actress who >> Read More... , Suhasini Mulay Suhasini Mulay is popular for Marathi films and m >> Read More... , , Raghuvir Yadav, etc.
8. Nil Battey Sannata Click to look into! >> Read More...
A heart-warming story of strength, Nil Battey Sannata is based on the life of a mother-daughter duo with different approaches towards life. The mother, Chanda, is a hardworking maid who tries her best to give her daughter a good life and education in spite of their poverty and limited means. The daughter, Apu, takes a casual attitude towards life and holds the belief that the daughter of a maid can be nothing better than a maid herself. The story depicts how Chanda motivates Apu to take her education seriously and rise from their pitiful state. The movie starred Swara Bhaskar Swara Bhaskar is a talented Indian actress who is >> Read More... , Ratna Pathak Shah, Sanjay Suri Sanjay Suri is known as an actor in Bollywood. The >> Read More... , etc.
9. Stanley Ka Dabba Click to look into! >> Read More...
Directed by Amole Gupte Amol Gupte was born in 1962 in Mumbai, Maharashtra >> Read More... , this film is based on an orphan boy who is beaten and physically abused by his uncle. He has to work at a restaurant to make ends meet and tries his best to hide his sorrowful life from his friends by making up elaborate stories at school. Stanley Ka Dabba was well-appreciated critically as it showed the reality of orphans who have to take responsibility for themselves at such a tender age. It also showed the positive attitude that a child bears which can make him enjoy the happy moments in life. The movie's cast included Partho Gupte Partho Gupte is a well known child actor. He was w >> Read More... , Divya Dutta Divya Dutta was born in Mumbai, Maharashtra, India >> Read More... , Rahul Singh Rahul Singh is a popular Indian model and actor, b >> Read More... , Amole Gupte, etc.
10. Iqbal
This film is the story of Iqbal, a deaf and mute guy, who dreams of being a cricketer and playing for India. Iqbal's father is a farmer and does not support his dreams as they cannot afford to forget their poverty and have high ambitions. However, Iqbal works very hard and overcomes all obstacles and social stigma to prove his talent and find a place for himself in the Indian cricket team. The film starred Shreyas Talpade Those who follow Bollywood movies are accustomed t >> Read More... , Shweta Basu Prasad Shweta Basu Prasad is a famous name on television, >> Read More... , Naseeruddin Shah, Girish Karnad Born on 19th May 1938, Girish Raghunath Karnad is >> Read More... , etc. The movie teaches us that we do not require money to have dreams.