This is the age of life-like graphics & VFX with most vivid colors on the screen which makes a film appealing to the eye; while a few decades back, films were devoid of colors. But this doesn't indicate they were any less of a competition to today's films. They had strong plots, music that we still heart, brilliant acting &lot more that made the black white films so memorable.
1. Awara (1951)
The film entered Cannes Film Festival (1953) and was among the list of '10 Indian Films to Treasure' by ' Time Click to look into! >> Read More... ' magazine. It was directed produced by Raj Kapoor Raj Kapoor was a renowned actor, director, and pro >> Read More... who also acted as the male lead role. Nargis Dutt Nargis Dutt was indeed the first lady of Indian sc >> Read More... starred as the female lead and Prithviraj Kapoor One of the most notable names in the Indian film i >> Read More... , the real-life father of Raj acted as his reel-life father too in this film. The lead character Raj references Charlie Chaplin Charles Chaplin popularly known as Charlie Chaplin >> Read More... ; he is poor commits small crimes. However, he falls in love with privileged Rita tries to leave his criminal life behind, but childhood darkness follows.
...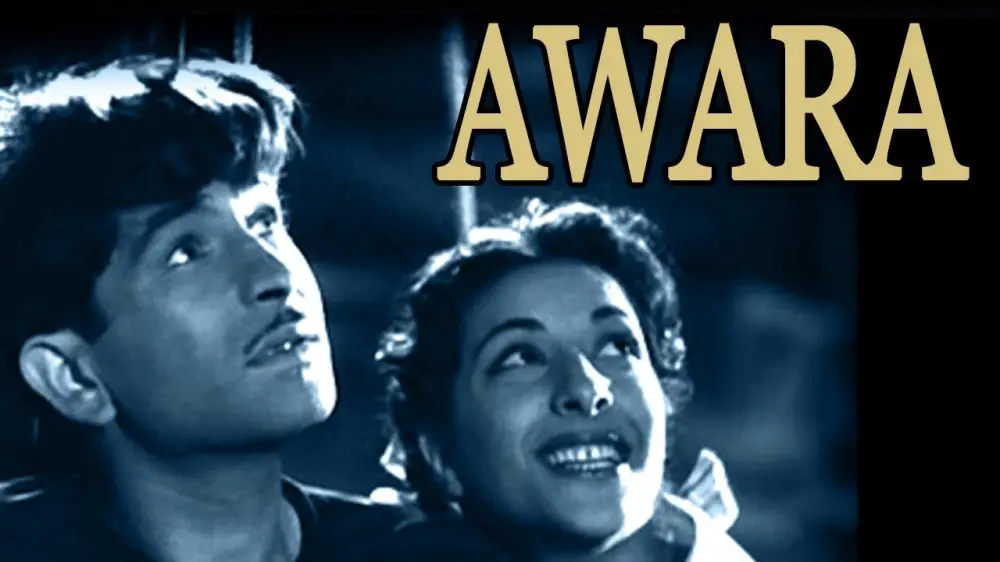 2. Do Bigha Zamin (1953)
directed Do Bigha Zamin which starred Balraj Sahni Sahni was born to Yudhishthir Sahni in 1913. He st >> Read More... & Nirupa Roy Nirupa Roy had acted in over 100 films as a heroin >> Read More... in the lead roles. As per the name, the film is about a piece of land that belongs to a farmer. A landlord acquires the land & the farmer tries to pay all debts to own the land back.
...
3. Shree 420 (1955)
...
Raj Kapoor directed, produced & acted in this film. The female lead was Nargis. The best element of the film is its music; all the tracks are still popular – Mera Joota ha Japani, Pyaar hua ikrar hua, Ichhak dana bichhak dana, & all the rest too. The film accounts the story of a young countryman who comes to a big city in the hope of becoming rich. He falls in love and enters the wrong kind of business but upon realizing he makes things right.
4. Pyaasa (1957)
...
Vijay, played by Guru Dutt Born on 9th July 1925, Guru Dutt was an Indian act >> Read More... is an unsuccessful poet as his work doesn't get recognition. But Gulabo ( Waheeda Rehman She took birth in a Tamil Urdu speaking Muslim fam >> Read More... ), a prostitute understands his poetry & falls in love with him. She tries to get his work published and the drama follows. Appraised as one of the most romantic films, Pyaasa features a rather amusing song 'Sar Jo Tera Chakraye.'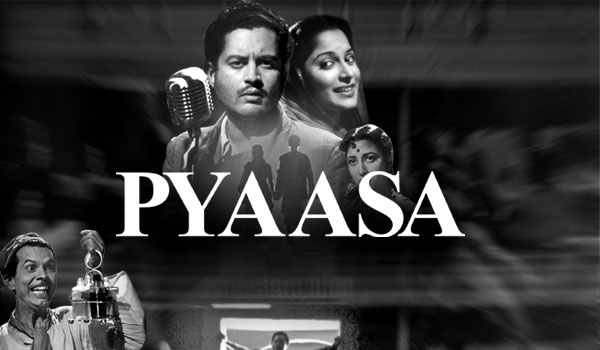 ...
5. Naya Daur Naya Daur is a television show that aired on Zee T >> Read More... (1957)
'Ye Desh Hai Veer Jawanon Ka,' 'Maang Ke Sath Tumhara,' 'Udein Jab Jab Zulfein Teri,' are some of the songs of the great album of this movie. The film was directed and produced by B. R. Chopra. Shankar ( Dilip Kumar Muhammad Yusuf Khan was born on the 11th of Decemb >> Read More... ) is one of the Tongawallah's that are threatened to starve as a rich landlord decides to bring bus services to the town. As the rest of Tongawallah's give in to injustice, Shankar stands alone with only Rajni's (Vyjayanthimala) support & ultimately brings justice to his community.
...
6. Chaudavin Ka Chand (1960)
...
Produced by Guru Dutt and directed by Mohammed Sadiq, Chaudhavin Ka Chand is the story of a love triangle. Two friends, Aslam (Guru Dutt) & Nawab (Rehman) fall for the same woman, Jameela (Waheeda Rehman). The friends are ready to sacrifice love for each other, but ultimately it's Jameela who decides whom she loves.
7. Mughal-E-Azam (1960)
One of the most expensive films of that time, Mughal-E-Azam features beautiful sets. Starring Prithviraj Kapoor, Dilip Kumar & Madhubala, the film revolves around the love story of Salim and Anarkali. The only colored sequence of the film was the song 'Jab Pyaar Kiya to Darna Kya' where Madhubala dances with such elegance that it is still remembered.
8. Sahib Bibi Aur Ghulam (1962)
It is the stirring tale of a married woman who tries hard to keep her husband close to her, but fails. The wife ( Meena Kumari Meena Kumari is a popular TV and film actress. She >> Read More... ) of an unfaithful zamindar (Rehman) becomes an alcoholic in the attempt to keep him by her side. Bhootnath (Guru Dutt), the worker at the factory owned by the zamindar, helps Chhoti Bahu in her attempts. The film was produced by Guru Dutt and won four Filmfare awards. Meena Kumari won various awards for her splendid acting as a grief-stricken wife.
9. Bandini (1963)
Based on a Bengali novel Tamasi, the film depicts the story of a woman who is in prison for murder. She is in a dilemma about choosing between her lover from the past and the man whom she meets during her prison time. Kalyani's role is played brilliantly by Nutan for which she won the Filmfare Award for Best Actress. The film was directed & produced by Bimal Roy. The film won National and Filmfare Awards for best movie.
10. Dosti (1964)
This heart-warming musical film is about friendship and how friends stand by each other no matter how bad the situation is. Ramu ( Sushil Kumar Fitting in with a lower white collar class family; >> Read More... ) is an abandoned crippled boy & Mohan ( Sudhir Kumar Bio coming soon... >> Read More... ) is blind and comes from a village. Ramu plays Harmonica while Mohan sings; together they earn enough to survive. But troublesome situations arise and test their friendship. The music of this film is evergreen including songs like 'Chahoonga Main Tujhe Saanj Savere,' 'Rahi Manwa Dukh Ki Chinta,' etc.