1. Sonam Kapoor Sonam Kapoor, Daughter of Anil Kapoor and model Su >> Read More...
In Ranjhanaa, Sonam Kapoor had played the role of a school going girl. In a scene, she was spotted wearing a half white shirt and check tunic with ribbons in her braided hairs. She was looking cute in the school dress.
...
2. Riya Sen Riya Sen is a well know Indian Model and a bette >> Read More...
The gorgeous Riya Sen is looking sexy in this fitted white shirt and checked school skirt along with a tie around the neck. With spects on eyes, and a book and a ruler in her hands, Riya looks more like a teacher than a student. This image is from a multi-star cast movie, where Riya was cast opposite Randeep Hooda The strong macho image of Randeep Hooda graces the >> Read More... .
...
3. Priyanka Chopra Born on 18 July 1982, Priyanka Chopra is an establ >> Read More...
Our Desi girl also wore a school uniform in the film Mary Kom Click to look into! >> Read More... . The film showed the life of National boxer Mary Kom. Her school life was also shown and she had to wear a school dress in a few scenes. A white shirt, blue plated skirt, and a tie was her uniform.
...
4. Hazel Crowney Hazel Crowney is a British model and film actress >> Read More...
Mera Pehla Pehla Pyar was based on school life. Actress Hazel made her debut in Bollywood with this movie. She was playing the character of a school girl, who falls in love with her classmate. The love between them was fun to watch.
...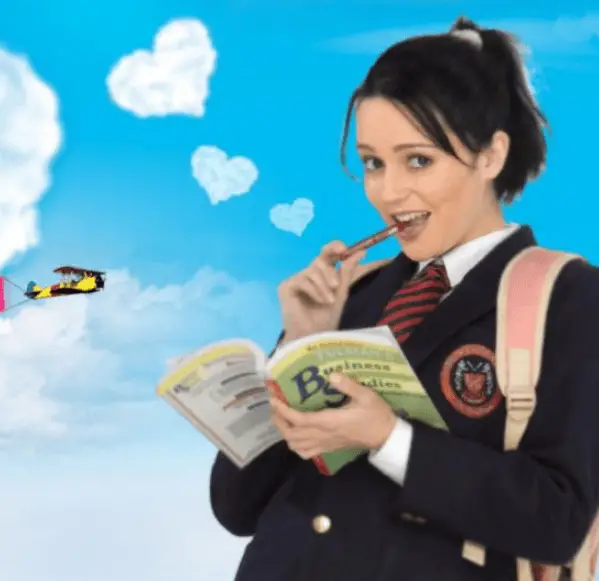 5. Yami Gautam Yami Gautam is a Hindi television and movie actres >> Read More...
...
Miss Gautam was wearing a red color school dress in Sanam Re Click to look into! >> Read More... film. Pulkit Samrat Pulkit Samrat is a popular Indian model and actor, >> Read More... worked opposite her and, he also wore the boy's uniform. Yami was looking beautiful in that red color dress. A bright red ribbon was also a part of her uniform.
...
6. Giselli Monteiro Giselli Monteiro is a Bollywood actress and a Bra >> Read More...
The film Always Kabhi Kabhi Click to look into! >> Read More... is produced under Shah Rukh Khan's production house. Giselle was cast in a school girl's role. Her school uniform's color was grey and white along with a red and yellow tie. She also worked in the film Love Aaj Kal Click to look into! >> Read More... . Ali Zafar Ali Zafar is a multifaceted personality, though he >> Read More... was also the part of the movie.
...
7. Alia Bhatt Alia Bhatt is a trendsetting actress from Mumbai, >> Read More...
Alia came into Bollywood with the film Student Of The Year. She was cast in a school girl's role, who loves fashion and makeup. Not only did Alia make her debut, but actor Siddharth Malhotra and Varun Dhawan Varun Dhawan, a new comer entered Bollywood with h >> Read More... also made their debut. SOTY was a hit at box office.
8. Kalki Koechlin Kalki Koechlin is a famous film actress, model and >> Read More...
Kalki looks alluring in a white shirt and grey skirt. In the movie Dev D, she wore the school dress. Actor Abhay Deol was the hero of the project. She has done many film in Bollywood. Her films are out of the box, and the movie story is strong.
9. Sneha Ullal Sneha Ullal is a very popular Film actress known f >> Read More...
Sneha Ullal is next on the list of actresses who were seen wearing a school dress in the film. She looks cute in a checked knee-length red skirt, white shirt and a blue blazer. Two braids, was also the part of her school uniform.
10. Preity Zinta Preity, also known as Preity Zinta is a famous Act >> Read More...
Pretty Preity in the film Kya Kehna Click to look into! >> Read More... was spotted wearing a full red school uniform. Her red blazer suited her perfectly. was opposite her in the movie. She gets pregnant in the film, and gives birth to the child.